Light & Beauty in a Barcelona Artist's Apartment-Atelier
We
independently
select these products—if you buy from one of our links, we may earn a commission. All prices were accurate at the time of publishing.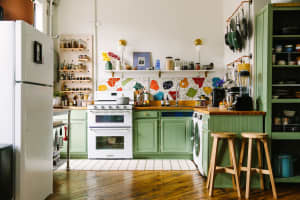 Can't-Miss House Tours Straight to Your Inbox
Keep up with our latest house tours each weekday with our House Tour of the Day newsletter
Name: Joana Santamans
Location: Eixample — Barcelona, Spain
Size: 2,152 square feet
Years lived in: Renting for 3 years
Church bells ring nearby as I stand in front of Joana's front door — her home seems like it's in some small village rather than in the center of Barcelona. An illustrator and painter, Joana established her atelier inside her Barcelona home so she could spend more time with her family while creating her art. But the stunning architecture and indoor gallery full of light, filled with easels and canvases, creates the perfect inspiring space to indulge in her brushes.
She lives in a space reminiscent of an older era, with great corridors and high ceilings, tiled floors and a lot of light. As I pass slowly through the long corridor, I'm reminded of magnificent art galleries. Her presence in her paintings permeates every corner.
Joana's artistic adventures began about ten years ago. She started studying graphic design, but felt something was missing, so she jumped to creative illustration and painting, where she's found her passion. Animals play a big part in her art, and she enjoys experimenting with recycling surfaces instead of using canvases only.
She has lived in London, New York and San Francisco, the inspiration and influence from those great cities you can see in this home. And art isn't the only thing creative about her; she tells me that she studied singing because her grandmother was an opera singer in the Lyceum Theater. She's also a yoga lover. And I'm sure she could tell me a lot of things more, because she is a restless soul, she likes to experiment with everything that connects her to herself and with the beauty of things.
Her latest adventure is called "Vida" (life, in english) and is an illustrated bestiary in the form of a book that will be released this year, in late November. I think it's a perfect name, as Joana is able to give life to anything that she decides to paint with her brushes.
Apartment Therapy Survey:
My Style: Life is change and movement, so my style also changes with my own personal evolution, interests and what I do. My house nowadays is an apartment-atelier. Painting is my passion, my profession and a way of living and being in this world for me. I like sober and welcoming spaces, at the same time, I search for a balance between functionality and cozyness. I love lived in houses with history, with high ceilings and air, lots of air. In my own house this translates to a mix of Scandinavian and vintage style. The white walls and the oak wood fuse with the hydraulic floors typical of modernist houses from Barcelona.
Inspiration: I am inspired by order and warmth, spaciousness and intimacy, and I think that Scandinavian design totally represents this concept, is rational and human at the same time.
A little too often, I fall in love with vintage and restored objects in second-hand markets. I love to restore objects and give them another chance. I could spend hours looking for wooden furniture from the past century, painted porcelain tableware, antique sofas, and so on. My mind starts to imagine how it could be upholstered or restored, and with what other elements I could combine them.
Favorite Element: Wood! I love its smell, the warmth of its touch, the unique forms that every different piece draws, and most of all, the fact that wood connects me with nature and life. Wood is my favourite element at home and also as a surface for my artworks. I really love to paint on wood. Wood is magic and has the ability to relax me.
Biggest Challenge: The first time I stepped into this the apartment, it had been uninhabited for two years. There were pigeons sleeping in the living room, the walls wore wallpaper from the last century (with all their filth and history with them); there was even an invisible cross that the sun had tattooed on the wall. The house was empty but there still was the outline of all the objects and furniture that had been there for years.
It looked like the house in the film "The Others." It was a little scary, so nobody, so far, had dared to rent it.
My partner and I, we imagined all the house painted in white, (so we could gain maximum luminosity), and we felt that with some renovations, we could transform that neglected space into a cozy house-atelier.
The biggest challenge was converting two small rooms and a part of the hall into a large kitchen-dining room that would be the heart of the apartment, and would replace the tiny kitchen that was typical of the old houses.
What Friends Say: "How much space!" Is the most repeated comment of our visitors. The high ceilings and the luminosity of our house makes the people who come feel free and relaxed.
Biggest Embarrassment: In this house, in its origins, there was only a small bathroom, with a bathtub and a hand washing sink, and two lavatories, each separated in a mini space. We don't understand what its functionality was supposed to be, being like that, one for girls and one for boys? Maybe!
Obviously we had to transform this and renovate the bathroom to a big one designed for modern life.
Proudest DIY: I love my red armchair in the bedroom. I found it on a rainy day in the street near our home. It was without legs and with an old and dirty tapestry, poor! But immediately I fell in love with its forms and design, and my mind imagined it in red and with new wooden legs.
I bought some red velvet fabric, and a friend who was learning the art of the tapestry made it so beautiful and well finished; then my trusty carpenter put on oak legs that we designed together, and voilà! I love it because it's unique, and although many professional designers would find errors or faults, I think it has a lot of personality in the way it is!
Biggest Indulgence: The main bathroom, although we renovated it, it's still too small for me. Well, I guess you can't have your cake and eat it too!
Best Advice: For me, it's very important that the house be comfortable for the activities that are done in it. A house, besides being pretty, has to be functional and must be designed to respond to the needs of the person who lives in it, and not only for the visitors.
Dream Sources: I've been dreaming about putting wallpaper in some rooms for a long time, with prints of natural motifs illustrated by me. I promise to get down to work as soon as my schedule allows me!
STUDIO
Wood and glass cabinet — Vintage, restored in a small atelier of Gracia neighborhood.
Big Wood tables — In oak and made to measure by Joana's carpenter and designed by her.
Mint desk lamp — Ikea (similar here) and Salmon desk lamp: Habitat
Big black ceiling lamps — DIY made by Joana. The lamps were second-hand from Ikea in silver color, and she changed them in black and toasted color, and the original wire for one in cloth.
Stools — Vintage, reupholstered by a craftman in Poble Nou.
Wooden shelfs — From Ikea (similar here).
LIVING ROOM
Grey sofá, cushions and wooden floor lamp — From Habitat
"A" vintage typo — From Mercat Nou in Sant Cugat.
Wooden reindeer rocker — Ikea.
KITCHEN
Solid oak dining table and chairs — Habitat
bulb lamps in ceramic — the shop Vinçon.
All the furniture in the kitchen in oak and White Wood — Ikea, designed by Joana.
INDOOR GALLERY
A DIY sofa made by pallets with a mix and match of cushions, specifically the hummingbirds ones, that are from a limited edition collection from La Mallorquina designed by Joana Santamans.