This May Be the Most Stylishly Patriotic Studio Apartment Ever
We independently select these products—if you buy from one of our links, we may earn a commission. All prices were accurate at the time of publishing.
About this tour
Home Type
Studio Apartment
Style
Traditional, Vintage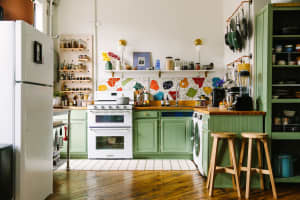 Can't-Miss House Tours Straight to Your Inbox
Keep up with our latest house tours each weekday with our House Tour of the Day newsletter
Name: Stanley Lewis
Location: Washington, DC
Size: 525 square feet
Years lived in: 2 years, renting
In the center of our nation's capital is Stanley's small studio apartment, steeped in history and style. Born and raised in Virginia, he draws inspiration from historic houses, particularly 18th century American buildings. Stanley's aesthetic is folksy, yet sophisticated. His appreciation for tradition is apparent in his curation of American handcrafts and folk art, as well as in the timeless, modern pieces he selects. Sleek elements from Restoration Hardware, Ralph Lauren, and Mitchell Gold + Bob Williams complement the checked fabrics and Shaker furniture.
The bed is the true highlight of the space with its bold red, white, and blue color palette and grand, sweeping draperies mounted at the ceiling. Despite being in a studio apartment, Stanley chose to emphasize the bed rather than tuck it away.
Stanley's thoughtfully acquired furnishings are the result of over 20 years of collecting. His home celebrates the past, adds elegance to whimsy, and boasts an unparalleled vintage brass candlestick collection. His philosophy: "An object added for effect instead of affection will always look like an affectation."
Apartment Therapy Survey:
My Style: New Traditional
Inspiration: I never miss an opportunity to visit an historic house. 18th century American buildings are particularly interesting to me. I'm inspired by the restored buildings of Colonial Williamsburg and Old Salem in North Carolina, and the work of interior designers Charlotte Moss, Nancy Braithwaite, William Diamond/Anthony Baratta, Mary Emmerling, Ralph Lauren, and DC's own Darryl Carter.
Favorite Element: I really love the juxtaposition of the sleek modern architecture of my apartment with the warmth of the pine and Shaker furniture, and the whimsy of my folk art.
Biggest Challenge: I suppose the biggest challenge for anyone living in a studio apartment is what to do with the bed? I decided to go for broke, and make it the centerpiece of the space. Rather than tuck it to the side or attempt to disguise it, I chose to celebrate it and make it grand with draperies mounted at the ceiling to mimic a draped bed. The reality is that I only entertain close friends for cocktail parties, so I don't care if they see my bed. If it's a really big party, guests sit on the bed while they gossip.
What Friends Say: "Who are Mr. and Mrs. Creepy?" Lol. (Referring to the portraits on either side of the bed.) Seriously, they can't believe how many chairs I have in a studio.
Biggest Embarrassment: I like the texture of the sisal runner in the bathroom, but its thickness prevents closing the bathroom door without folding back the rug. I don't need to close the door when I'm home alone, but it does make it a bit awkward when I have guests over. Still, I think the room looks so much better with the runner.
Proudest DIY: I'm not really a DIY kinda guy, but I am rather proud of the Smart Tile backsplash I added in the kitchen. $200 worth of vinyl adhesive tiles made a huge difference! It really does look like a glass tile backsplash, and since it's removable it's perfect for renters.
Biggest Indulgence: I recently had the wing chair reupholstered, and it cost three times the original price of the chair. But, since the chair is well-made and the perfect proportion for my space, I think it was worth it. The graphic stripes work well with the checks and buffalo plaid of my bedding and draperies.
Best Advice: Take your time furnishing a home. While I began collecting home furnishings more than 20 years ago, I never gave in to the temptation to purchase furniture or art just to fill a void. I waited until I could either find, or afford, what I really wanted. I recently ran across a quote attributed to designer Joshua Shockley that best describes my philosophy: "An object added for effect instead of affection will always look like an affectation." A perfect example of this philosophy is a blank spot on the gallery wall in my entry above the umbrella stand. I want to commission a painting of House Mountain, a geological landmark that overlooks my hometown of Lexington, Virginia. Until the next great art masterpiece is created, I enjoy the anticipation of waiting for it.
Dream Sources: As you can see, American handcrafts and folk art are my passions. eBay and Etsy are my go-to sites for art, baskets and vintage brass candlesticks. The Colonial Williamsburg Foundation, and Old Salem Museums and Gardens have wonderful reproductions programs. The annual Waterford Homes Tour and Crafts Exhibit in Waterford, Virginia showcases the work of more than 100 craftsmen, and has been the source for many of my favorite items.
PAINT & COLORS
Ralph Lauren Pocket Watch White
KITCHEN
Bellagio Marmo Smart Tiles Adhesive Tile Backsplash – Smart Tiles
KitchenAid Artisan Stand Mixer – Bloomingdale's
Stilt Chef, and Chef on Check Base – Nancy Thomas Gallery
Shaker Counter Stool – Shaker Workshops
Split Oak Baskets by Bill and Lucy Cook — eBay
BEDROOM
Pine Armoire – Built by my Father, Harry Lewis
Upholstered Wing Chair and Upholstered Shaker Armchair – The Shaker Collection by Pearson Furniture
Pine Table/Desk, Country Chippendale Chair, and Round Cricket Table – The Museum of American Folk Art Collection by Lane Furniture
Continuous Arm Windsor Chair – D.R. Dimes American Furniture
12 Months of the Year Series – Nancy Thomas Gallery
American Flag Throw Pillow – Ralph Lauren Home Collection
Patriotic 4 Star, and Lone Star Throw Pillows – Judi Boisson Home Collection
Shaker Elders Chair – Shaker Workshops
Second Family Shaker Candle Stand – Shaker Workshops
Reproduction 19th Century Portraits of Mr. and Mrs. Pearce – The Colonial Williamsburg Foundation
Buffalo Check Rod Pocket Draperies, Pillow Shams, and Gathered Bed Skirt – Country Curtains
William and Mary Matelasse Coverlet, and Pillow Shams – The Colonial Williamsburg Foundation
Navy/White Star Sham – The Lexington Company
Baby White Star Throw Pillow – Judi Boisson Home Collection
Stilt Uncle Sam, Uncle Sam on Check Base, Lady Liberty Angel and Flag Birdhouses – Nancy Thomas Gallery
Virginia Metalcrafters Brass Lamps, and Candlesticks – eBay