This Treasure Hunter Filled a Sixties Home with Fantastic Finds
We independently select these products—if you buy from one of our links, we may earn a commission. All prices were accurate at the time of publishing.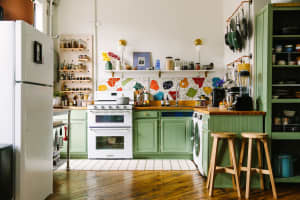 Can't-Miss House Tours Straight to Your Inbox
Keep up with our latest house tours each weekday with our House Tour of the Day newsletter
Name: Emily Waldmann
Location: Austin, Texas
Size: 1,400 square feet
Years lived in: Owned 3 years
Austin is known for its music scene and amazing barbecue. But Austin also boasts some diverse, singular design. Deep down in East Austin is where you'll find Seattle native Emily Waldmann and her incredible modern-meets-bohemian style.
This 1967 renovated charmer features welcoming common areas, ample outdoor space, and a private master bathroom ensuite. Originally, it needed a whole spectrum of renovations immediately, including structural changes, which were completed in 2013. Now, it's wide open and bright.
And, this woman owns color combinations like a boss.
The most elegant and labored part of the house is the kitchen and dining room. Emily's a master entertainer and clearly loves hosting. Her good friend Jaime Lovell made the beautiful dining table and the colorful rug beneath it is from Craigslist. The common areas open up to a back patio and spacious yard where you can grill and play lawn games until nightfall. Her next project: landscaping and adding a pool!
Apartment Therapy Survey:
My Style: Mid-Century Bohemian?
Favorite Element: My favorite elements are the things that were incredible finds, or that were sourced from friends.
My best friend Laura and I have a loose tradition of always getting each other glassware for our birthdays, and the vintage tumblers she got me three years ago have come into play in Thanksgiving tablescapes, vases for a baby shower, or votives. I started collecting the gun metal flutes back in Seattle, and she always seems to have a knack for finding one or two of them at the thrift store every time I break one.
My dear friend and neighbor Candice is the brains behind Oh! Fox Creative, and pretty much anything she designs I covet. Her hand towels and glassware get heavy use in the kitchen, but she also sourced the colorful vintage rug in the entry. Her eye for texture and textiles is one of a kind.
I snagged the "time is precious" neon sign from Kit and Ace when their shop in Austin closed. It's a constant reminder to trust your intuition, and also to make sure you provide self care, so that you can be most effective in whatever you are doing during your waking hours. In both the master bedroom and the guest bedroom, I intentionally tried to keep them simple so that sleep is the focus.
A lot of the posters I have acquired during my time with Bunkhouse, working at Hotel Saint Cecilia and now at Fair Market. The design team over there is so talented, and I love that the posters add art, but also act as a reminder of why I love what I do. Hospitality is in my veins through and through, and although I have tried to quit it, I just can't!
Biggest Challenge: My aversion to paying full price for anything! I love a treasure hunt and a unexpected find, which makes shopping for specific pieces really difficult.
Living in San Francisco and Seattle, you could scour Craigslist on the regular and find such great steals because people are always moving in and out of those cities, and with the higher density, people don't hang on to their things in transition. Here, mid-century or vintage finds go for so much more because people know what they have and hang onto them for longer. The lack of solid Goodwills or other thrift stores in Austin, and the density of people who are in the furniture trade mean that hot items go FAST! My friend Brittany owns Birch & Brass rentals, and she has the fastest fingers I know when it comes to snagging amazing pieces on Instagram sales.
What Friends Say: They always appreciate how welcoming it is, which is what I love about it, too. Lu is always the first one ready and willing to greet you! Overall it's a great house for entertaining, because the layout is so open and casual. It makes grilling outside on a weekday with friends an easy evening. My hope is that as soon as you walk in you feel welcome.
Biggest Embarrassment: It's a toss up, but my serious lack of a green thumb is the cause of both of them! Rene lovingly keeps all the plants alive, or else there is no way I would be able to sustain this indoor jungle. I fluctuate between neglectful and overbearing, and I'd rather not explore what that says about me!
In the first three years here I have focused so much on the interior that now I am starting to think about what I want to do exterior and landscaping-wise. Although it's been kind of fun having the happy interior be a surprise when you walk through the door.
Proudest DIY: I don't know if I can call it a DIY because I didn't actually DO the work, but I am very proud of designing the layout of the kitchen, and redesigning the master bathroom from two closets and a powder room into its current state.
Biggest Indulgence: Marble countertops! I know, I know there are great alternative options, but I am a sucker for the real thing. I love the way they age and show distress. All the drink circles, wine stains and knife marks are reminders of wonderful nights spent with friends and family.
Best Advice: Don't over think it! I have never once measured when hanging art, and I am not scared to put 10 holes in the wall before I get it right. I've always been a fan of the phrase "Don't let perfect be the enemy of great" and I think that's the best way to approach space. Your home is always evolving, and should be an expression of your current mood, stage in life, and outlook on the world. If you don't like something, there is always a way to change it, so don't be scared to try something new and eff things up.
Dream Sources: This is a tough one! Am I allowed to just raid the houses of the people who I admire? In all seriousness though, after having been in Austin for four years, I have still yet to venture out to Round Top antiques week, so that would be my dream source. Plus, you can throw in a few nights at Rancho Pillow, which is this ethereal boutique hotel in Round Top, and that alone would alone inspire a year's worth of design ideas. The treasures that I have seen come back from the Antiques Fair are incredible.