Gary's Recently Restored 1925 Houseboat in London
We independently select these products—if you buy from one of our links, we may earn a commission. All prices were accurate at the time of publishing.
About this tour
Location
Marina, London, England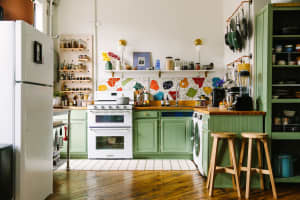 Can't-Miss House Tours Straight to Your Inbox
Keep up with our latest house tours each weekday with our House Tour of the Day newsletter
Name: Gary Marshall
Location: Poplar Dock Marina, London
Size: 92 square meters (or just under 1000 square feet)
Years lived in: 3 Months
Have you ever dreamed of living on a boat? I know I have. But while it sounds romantic, I've always been worried about having to live in a too-cramped space or a home filled with too many "nautical" themes. Gary's houseboat blows any preconceived notions about a houseboat right out of the water! (Pun very intended.)
"I have just completed a total refit of a 1925 Humber Keel boat, named Beecliffe. It is now a contemporary living environment in the heart of Canary Wharf, but on the water.
The boat is 19 metres [about 20 yards] in length and a width of 5 metres [about 5.5 yards] with a working engine. Beecliffe now has two bedrooms, two bathrooms, a sitting area and kitchen. A wheel room and of course a sun deck. Stylistically it has a light and airy Scandinavian feel, but still retains many original features that have been bought back to life and marry perfectly with the modern."
Apartment Therapy Survey:
Our Style: A mixture of traditional nautical mixed with Scandi chic.
Inspiration: The elements.
Favorite Element: The restored original sailors sleeping berths.
Biggest Challenge: Updating a 1925 working boat into a modern living space fit for 2016.
Biggest Embarrassment: When the subject of how the toilet facilities work comes up. The boat actually has been fitted with a full working pump out system.
Proudest DIY: The crash pod off the main bedroom.
Biggest Indulgence: The entire re-plumbing.
Best Advice: To make sure on a boat there is adequate heating. Winter can be tough if you skimp on this.
Shades of blue, grey, mustard and burnt orange
Wood burning Stove: Original Goodin
Wax Block Installation in Perspex Boxes: Jo Chapman
Sofa: Gplan Vintage
Armchair" Restored 1960s Greaves and Thomas Egg Chair in Bute Fabric
Kelim Rug: Ferm Living
Cushions: Hem Design
Side Table: Pols Potten
Task Floor Light: Jielde Task
Bulb Floor Lamp: Harry Koskinan
White Modular Shelving: The Goodingham Brothers
Dining Table & Benches: Brunel by Heals
Dipped Terra-cotta Light: Hand and Eye Studio London
Wax Block Installations in Perspex Boxes: Jo Chapman
Kitchen Cabinets and Appliance Cabinets: The Goodingham Brothers using Sapele Wood (which is similar to mahogany and is used by Cadillac on their interior trims.)
Paneled bed, desk and wardrobes are all Sapele wood
Rug: Linne Design
Desk Chair: Restored Benn Chair in Abraham Moon Fabric
Cement Wall Clock: Wild and Wood
Floor tiles for both bathrooms: Circular encaustic cement
Tower Ladder: Hem Design
Front double berth sleeping compartments. Restored from original 1925 fittings.
→ And see all of our past house tours here
Updated daily with fresh tours full of photos for you to pin & enjoy!