An Editor at Rue Magazine Shows Us Her Berkeley Apartment
We
independently
select these products—if you buy from one of our links, we may earn a commission. All prices were accurate at the time of publishing.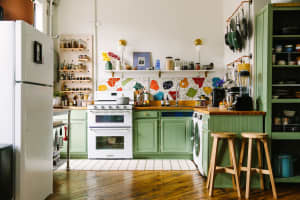 Can't-Miss House Tours Straight to Your Inbox
Keep up with our latest house tours each weekday with our House Tour of the Day newsletter
Name: Katherine McEachern, Ian Tse and Gracie (the dog)
Location: Berkeley, California
Size: 750 square feet
Years lived in: 6 years, renting
"As an editor at Rue, I'm constantly looking at inspiring spaces and filing away ideas. For me, personal style is an ever-evolving challenge," says Kat McEachern, the Lifestyle Editor for the stylish magazine. When you come across as many talented designers in your career as Kat does, it's not surprising they've all impacted her style. Or that her home is always changing.
Kat lives in a late mid-century building in Berkeley with her husband, Ian. Neither of them can pinpoint one definite style they are drawn to, but they both know what they're not willing to compromise on: functionality. Kat and Ian love to entertain, so it was clear that their home needed to be set up in a way that guests could come over for dinner, hang out and be a part of the cooking action. The extra kitchen "counter" the couple added, for example, is often a gathering space for guests to hang out while the couple cooks. And the two sofas in the living room across from each other make a perfect setting for fun game board nights.
"I wanted the public spaces to feel almost like a great hotel lounge — comfortable but ready for a party at any time."
For Kat, every room has a different style and purpose. While the living room is painted in a bold teal color, with blue pillows and over-sized art, the bedroom has more of a natural, calm feel with darker furniture, simple bedding, and sleek lines. Kat's office is a bright, airy space with bookcases for all the interior magazines she loves drawing inspiration from.
Of course, renting an apartment brings challenges. The couple loves to pin ideas together to their Pinterest board and see which ones they could eventually implement. They know that marble counters are probably out of reach, but working with color is always a great way to give your space a fresh and unique touch. "Take a bit of every style you like, and create something that works for you," recommends Kat.
Decorate slowly, is Kat's motto. Rather than going with trends, Kat and Ian choose their furniture and decorations with purpose and meaning. A customized portrait of their dog, Gracie, a hand-painted "Cheers" sign from their wedding, or printed photographs taken while traveling — those things matter more than having a specific style.
Apartment Therapy Survey:
My Style: This is a hard one for me — in fact, I wrote a whole essay on how much my style can vary from room to room. But I'd say eclectic modern — mixing antiques, mid-century modern, and new pieces together with lots of color.
Inspiration: As an editor at Rue, I'm constantly looking at inspiring spaces and filing away ideas. I wanted the public spaces to feel almost like a great hotel lounge — comfortable but ready for a party at any time. The office is equally fun but in a brighter, more airy way. And the bedroom is the calmest space and actually was one of the first to be "done."
Favorite Element: Being surrounded by plants, books and art that is really meaningful to us. My husband took the photograph above our buffet table on a vacation in Paris and my cousin commissioned the portrait of our dog, Gracie, as a Christmas present. The Cheers sign I painted for our wedding, and we have pieces from friends in the office.
Biggest Challenge: Figuring out the ideal layout. In five years, there have been about as many furniture layouts for our living/dining/kitchen. But I'm really happy with what we've settled on. It works well for entertaining — the extra kitchen "counter" table allows guests to finally be involved in the kitchen and the couches across from each other are perfect for after-dinner cocktails. They are also great for weeknights, where you'll find us on couches across from each other, as Gracie hops from one to the other.
What Friends Say: "Where's Gracie?" Unfortunately, she doesn't like entertaining as much as we do!
Biggest Embarrassment: Gosh, this is an older apartment building and as renters there has been a lot we've decided to just live with, like the places where the paint doesn't match. We did paint the living room and one wall of the kitchen. We hadn't originally expected to stay in the same apartment so long and at times I wish we had painted the rest of walls a better neutral. Ah, well, I've learned to look past it.
Proudest DIY: There are a lot of DIYs, partially due to that grad school life and partially because I always see things on Pinterest and think, "I can do that!" Sanding and painting the kitchen cart to match the blue wall really helped that space come together and was a fun excuse to play with power tools (our local library rents them out!).
Biggest Indulgence: This home has taken us from grad school to marriage and both being employed, but when I first moved out here and was transitioning my career, I actually worked at the CB2 where we bought the gray couch. For a while, everything was hand-me-downs, Craigslist or thrift stores (many pieces still are!) so buying that couch felt like a big step toward building our grown-up home. Unfortunately, I was no longer working there so didn't get to use my employee discount, but my time in retail meant I knew just when the best sales are.
Best Advice: Design your home to function the way you want to live. It's okay if you can't get the beautiful dining table you love; if you want to host dinner parties, get a table you like and throw the party that will make you love it for the memories alone.
Dream Sources: So many! But honestly the things I love the most are great vintage finds and pieces from independent designers.
DINING ROOM
Table — family hand-me-down
Chairs — yard sale
Pendant — DIY
Gracie painting — gifted
Thanks, Kat, Ian and Gracie (the dog)!