A Sunny Attic Apartment in a 15th Century Utrecht Building
Name: Kenny and Robbert
Location: Utrecht, The Netherlands
Size: 969 square feet
Years lived in: 5 years, rented
Robbert and Kenny are quite the complementary pair — Robbert's practicality balances out Kenny's flair for the dramatic — and their Utrecht attic apartment wonderfully reflects that balance. Located on one of the main canals of Utrecht, this building was once a warehouse and dates from the 15th century. The building is now home to a workshop for the Museum Speelklok, the Utrecht clock museum, and two other apartments. Repurposing old buildings is not uncommon in the Netherlands and in fact this building has undergone several lives, including being the former residence of the city's fire brigade.
When designing their home, Robbert and Kenny ran into a bit of trouble deciding how exactly to decorate it. While Kenny prefers wild and retro designs, Robbert leans more towards a traditional and modern aesthetic. They settled somewhere in the middle — incorporating bold and quirky colors with clean lines and a bit of nature. Of course, both have added their personal touches as well, like Kenny's collection of Mary and Jesus prints and Robbert's gallery wall of black and white photography.
While walking through their apartment, you're overcome with the idea of history existing as something more than just a thing of the past. Framed photographs of both Kenny and Robbert's ancestors hang throughout the space. Kenny's grandma's Delft porcelain tea cups are displayed in a glass cabinet. Even the very building they decided to make a home brings history into the present.
Apartment Therapy Survey:
Our Style: Classic/Retro/Dark timber. Robbert likes old wood furniture and classic shapes, whilst Kenny is more into retro, vibrant colors and kitsch.
Inspiration: Outdoor life, which reflects in the abundant use of wood, plants and natural colors.
Favorite Element: Definitely the homemade dining table!
Biggest Challenge: Keeping our bedroom and closet clean!
What Friends Say: Friends are amazed by the size of the space and the amazing view of the Dom tower.
Biggest Embarrassment: The humongous pile of glass bottles in the corner of the kitchen.
Proudest DIY: That would be the homemade dining table again.
Biggest Indulgence: The classic/modern rug.
Best Advice: Go to thrift stores and you might find something amazing!
Dream Sources: Our travels and a place for family in our home.
---
Explore This Style: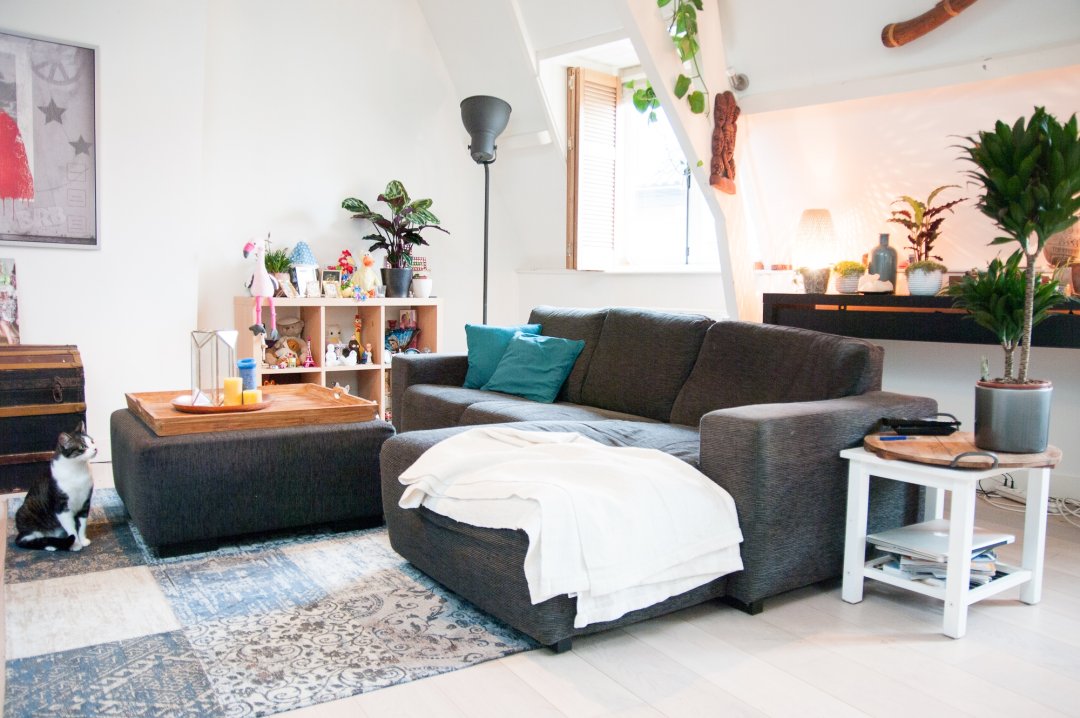 ---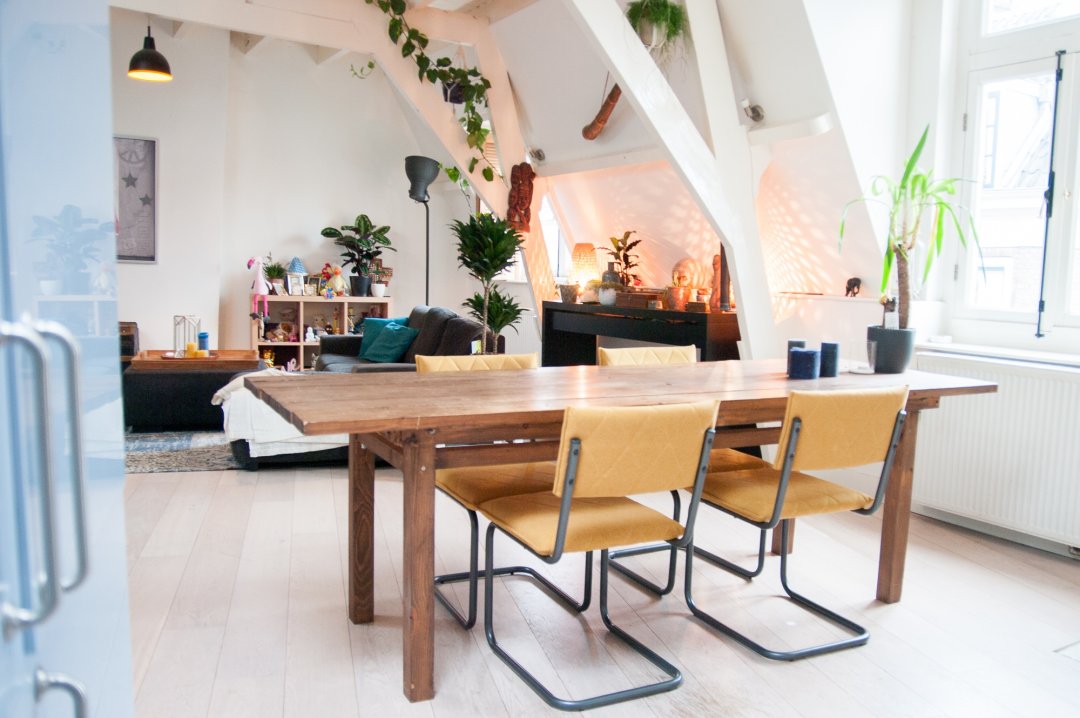 ---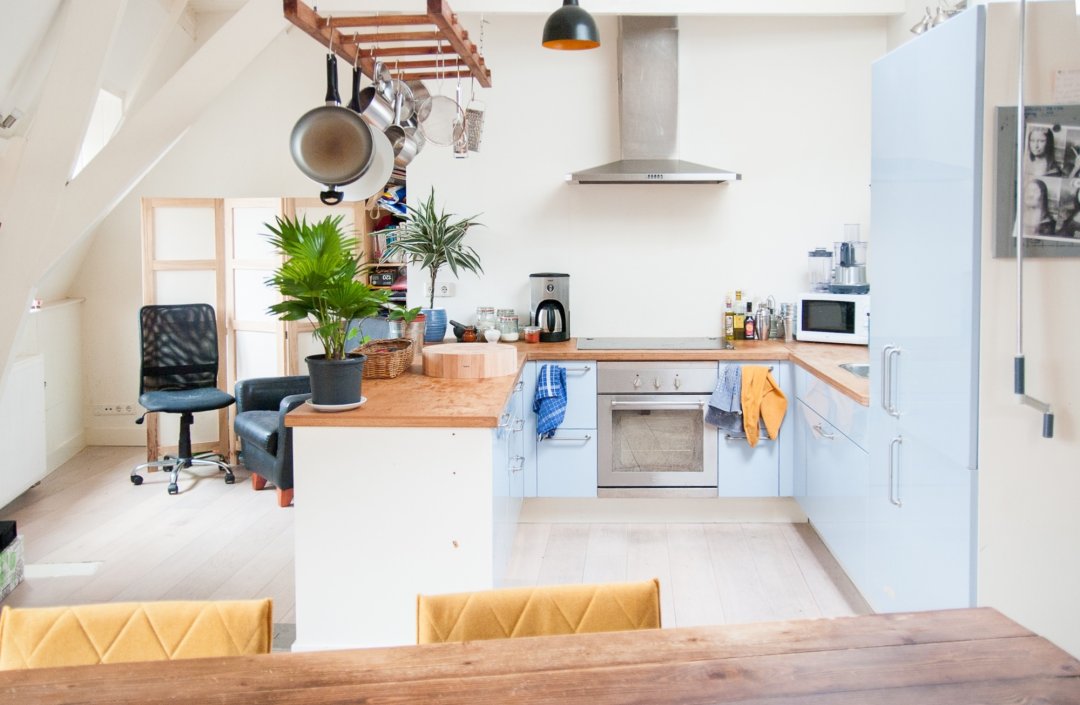 ---
More Resources:
PAINT & COLORS
White - generic white plaster
Blue - Perfection matte wall paint

ENTRY
Picture frames: Ikea Fiksbo

LIVING ROOM
Couch+stool — Profijtmeubel
Stooltray – Leen Bakker
TV cabinet – Thrift store
Brown chest – Thrift store
Bamboo stool – Xenos
Storage basket – Xenos
Rocking chair – Thrift store
Milkchurn – Family inheritance
Modern Mona Lisa – Ikea
Antique horn — Family inheritance
Rug – Kwantum
Shutter door – Second hand
Dressing table – Ikea MALM

DINING ROOM
Glass cupboard – Ikea NORNAS (DIY stained)
Dining table – Home made (pinewood)
Dining chairs – Kwantum
KITCHEN
Ladder – Xenos
Blue trunk – Thrift store
Chopping block – Bol- Butler
Room divider – Second hand

Thanks, Robbert and Kenny!
---