A Cozy and Charming San Francisco Studio
We independently select these products—if you buy from one of our links, we may earn a commission. All prices were accurate at the time of publishing.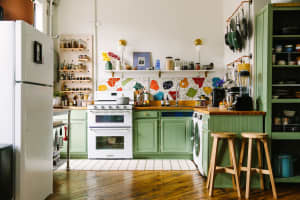 Can't-Miss House Tours Straight to Your Inbox
Keep up with our latest house tours each weekday with our House Tour of the Day newsletter
Name: Jenee Yuen
Location: San Francisco, California
Size: 400 square feet (maybe a little larger?)
Years Lived In: 8 years, renting
One of the fun things about living in an old San Francisco apartment is that sometimes, depending on your particular landlord, you get a little bit of creative control to "adjust" your living space as you see fit. Jenee did just that when she took out the carpet in her living room and refinished the beautiful hardwood floors that were hiding underneath. It took Jenee hauling an industrial sander all the way up to her apartment, but the floor was restored to its original glory.
Jenee's apartment is a beautiful bohemian dream filled with tons of plants, bright walls, and cute little touches, like the hanging jewelry collection adorning her bedroom wall. She's made a space that feels clean and cozy without being cluttered.
Apartment Therapy Survey:
My Style: Bohemian/Minimalist/Mid Century
Favorite Element: One of my best friends gave me his fiddle leaf fig tree before moving away. It really made my living room special. I remember pushing it down the block from his place to mine on a skateboard the day before he moved away. It started to lose a bunch of leaves due to the change in the environment and I thought it was going to die. Luckily about a month ago it started to sprout new ones, which made me really happy!
Biggest Challenge: My apartment is somewhat old, similar to many buildings in San Francisco, it has some quirky things about it, such as cabinets in weird places, and old floors. When I first decided I wanted to redo everything, I was a little bit overwhelmed with where to start.
I was also on a pretty limited budget, balancing work and school, so I had to put a lot of thought into prioritizing furniture, and finding affordable options for decorating. I scored some pretty cool vintage furniture for dirt cheap at an estate sale down the street from where I live in an old three-story Victorian house.
What Friends Say: My friends are pretty impressed with what I've done with the place because they have a visual comparison of what it looked like before I started improving it. They find my apartment cozy and an overall relaxing place to hang out.
Biggest Embarrassment: My bathroom was recently renovated due to a leak in the ceiling and I had to use the bathroom in a different unit upstairs for a while.
Proudest DIY: My proudest DIY would definitely be refinishing the hardwood floors in my living room. The floors were covered in old brown carpet and I pulled it all up. The whole process took about two months and was pretty painstaking. At one point I felt in over my head removing all the old carpet staples by hand and sanding over and over, but it felt really good to see the end results.
Biggest Indulgence: PLANTS!! I can't stop adding more plants to my place. I have them hanging from the ceilings, in all my window sills, and anywhere else they can survive with minimal sunlight. While my apartment gets SOME light, it's really only enough for low light plants so I'm always sure to do a little bit of research before purchasing new plants to make sure the environment in my apartment can sustain them.
Plants are really the best way to add character to a living space because they filter the air, and there is such a large variety out there! I find shopping for plants rather cathartic as well; if I'm having a day where I'm not feeling so great I'll head to Sloat Nursery or Cole Hardware and snag a few more to add to my collection.
Best Advice: Start small, one room at a time and don't rush the process. I find that my taste evolves pretty frequently. Each time I add something or move it my vision changes, so I try not to be impulsive with purchases.
Dream Sources: The Jungalow, Hygge & West, Ball And Claw Vintage, Crate & Barrel, West Elm, Etsy, Apartment Therapy
PAINT & COLORS
Olympic— Silver Charm OL128 N7
ENTRY
Natural Woven Runner in Hallway — Target
LIVING ROOM
Alderbrook Tufted Sofa — All Modern
Magical Thinking Oversized Tassel Pillows — Urban Outfitters
Kilim Throw Pillows – Urban Outfitters
Wicker Poufs — Target
Accent Table — Nate Berkus for Target
Side Table — Estate Sale
Chair — Estate Sale, DIY cushion
Leaning Shelf — Crate & Barrel
Gauze Drape Curtains — Urban Outfitters
High Shelving — DIY
KITCHEN
Kitchen Table & Chairs — Crate & Barrel
BEDROOM
Bed Frame — Ikea
Duvet — Urban Outfitters
Antique Side Table — Sidewalk Find
Dresser — Estate Sale
Macrame Hanger — Urban Outfitters
High Shelving — DIY
BATHROOM
Metal Shelves — CB2
Shower Curtain — Urban Outfitters