Southern Eclectic Minimalist Style in Atlanta
Name: Bert Smith with Biscuit and Ms. Millie Nelson
Location: Atlanta, Georgia
Size: 960 square feet
Years lived in: Owned 1.5 years
I first met Bert on an architectural tour of downtown Atlanta where he effortlessly contributed tidbits about the exterior and interior architecture we passed through, and the movements to which they belonged. He's a history buff, an artist, and actively participates in supporting artists and the arts by collecting their wares. He has a fond attachment to his home state of Georgia and all its southern sensibilities.
In every detail of his space, his passion for design and storytelling come together. Every piece is personal and purposeful, curated and intentional. He's clearly the star of his own show but incredibly humble, giving credit to all the creatives he surrounds himself with.
Apartment Therapy Survey:
My Style: Southern-Eclectic-Minimalist, Pop, Found Object
Inspiration: I'm a graphic designer who also has a background in interior and environmental branding. I love great design, especially Mid-Century and Bauhaus. I completely nerd out on interior spaces and architecture, and I love neutral and muted tones that cause color to pop off elements within a space. For me, it's all about feeling like I'm at home, while I'm at home. Just a nice cozy relaxing environment. I also love a good story, and most everything I collect has a story behind it.
Favorite Element: Definitely the large front windows of my space. Other units have a view of the skylines of downtown Atlanta or Buckhead. I have a tree. It sometimes makes me feel as if I'm on vacation. I can always walk up to the roof and feel immersed in the city, but when I'm sitting at the dining table having my morning coffee… I look at the tree, and sometimes I pretend I'm in a mountain cabin.
Biggest Challenge: Space. Prior to this space, I owned a 1940s bungalow that was actually smaller by 140 square feet. These days it's crazy to think of a house that small, but having two bedrooms meant a lot more storage. When I first moved in, I began selling off a lot of furniture and collectibles to make space. Craigslist and online yard sales became my best friends, and I'm sure my neighbors wondered what was going on in here. I've definitely learned a lesson or two in minimizing my eclectic nature.
What Friends Say: Most people seem to love it, and I get a lot of compliments. It does make me laugh when I get comments like…I can't believe a guy lives here.
Biggest Embarrassment: After a week of painting, I had a friend ask what color I was going to paint the walls. I hated to tell them that I'd gone through 12 shades of white before I landed on Origami White. They thought it was primer.
Proudest DIY: Bedroom Wall Panel — I researched all types of ideas before building this wall panel. In the end, I went with Teak flooring. After a couple of failed attempts and proudly standing back in order to watch the wall collapse, we finally got it to stay. In all fairness, we didn't heed the "not for vertical use" warning by the manufacturer. LED strip lights are hidden along the inside of the frame. A wireless remote is mounted with industrial Velcro to the side of the nightstand. With a push of a button, the wall panel becomes a nightlight.
Ministry of Silly Walks — I was trying to come up with ideas of how to utilize the long narrow hallway and make it more interesting. While researching a project on the history of comedy, I came across footage of the silly walks and thought this would be a fun way to lead visitors from the front door into the living room. I simply printed out low-res laser prints and Mod Podged them to artist blocks from Dick Blick. A little stain, and I was done. I think the whole project cost $40 and maybe 3 hours.
Best Advice: You don't have to do it all at once. You do have a 30-year mortgage, after all. This is what my dad told me when I started the renovations of my previous home.
Dream Sources: I take cues from any and everywhere I go. Hotels, office spaces, friends' homes, flea markets, restaurants, nature; anything and everything can be a design source. All you have to do is look around.
---
Explore this style: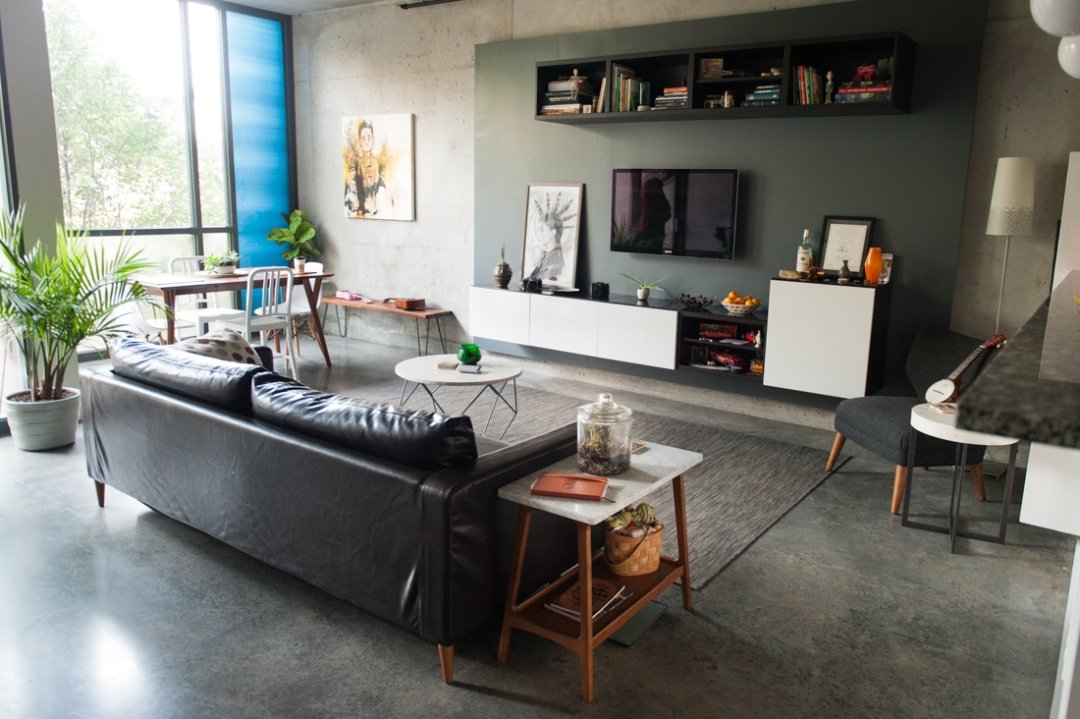 ---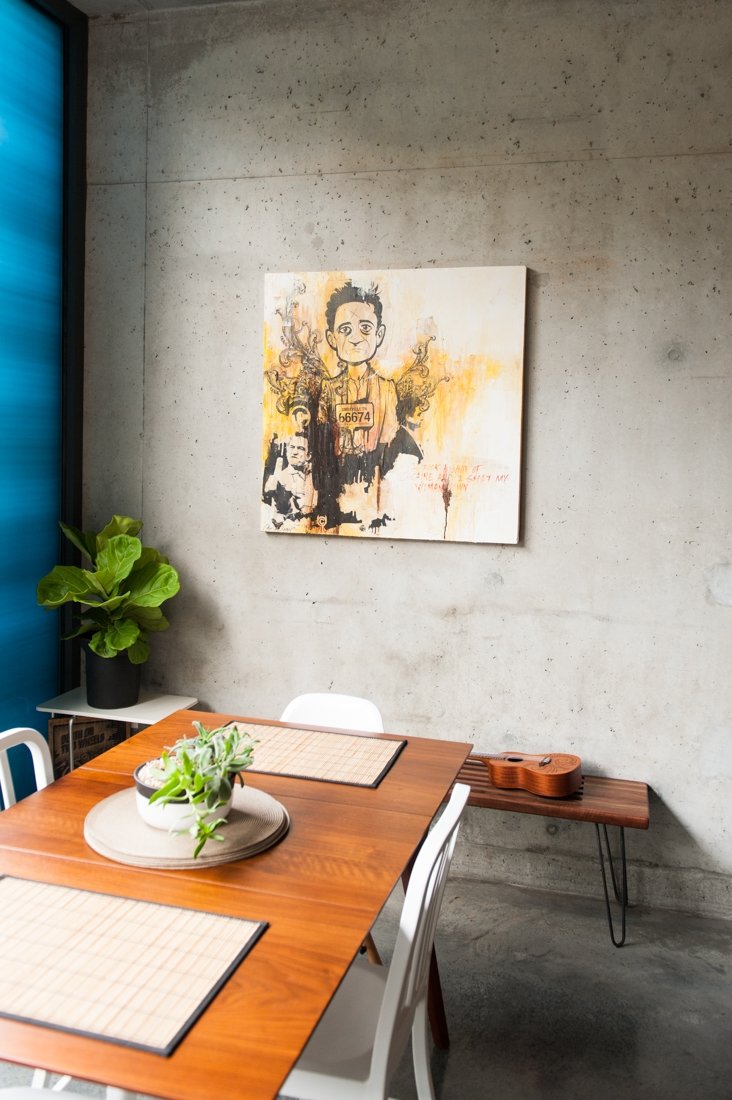 ---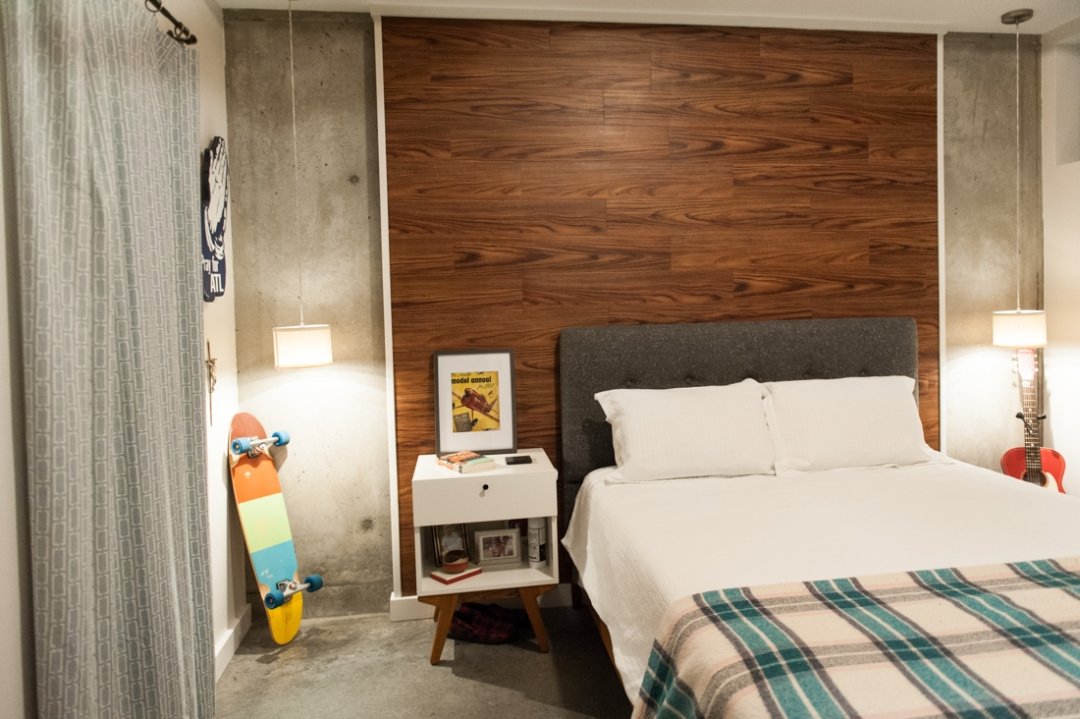 ---
More Resources:
LIVING ROOM
Origami White Paint — Sherwin-Williams
BEDROOM
Wooden Wall Sculptures — H.C. Warner
KITCHEN
Allen + Roth Venatino Tiles — Lowe's
Origami White Paint — Sherwin-Williams
BATHROOM
Phantom Surfers Poster — L'Imagerie Gallery
Thanks, Bert!
---
Apartment Therapy supports our readers with carefully chosen product recommendations to improve life at home. You support us through our independently chosen links, many of which earn us a commission.