Two Creative Friends Share a Sunny, Soothing Brooklyn Walk-Up
We independently select these products—if you buy from one of our links, we may earn a commission. All prices were accurate at the time of publishing.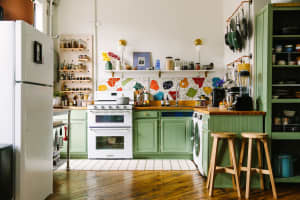 Can't-Miss House Tours Straight to Your Inbox
Keep up with our latest house tours each weekday with our House Tour of the Day newsletter
Longtime friends Mecca and Ashley planned on living together well before Ashley moved to New York. After a long and tedious search, they found a perfect sun-filled spot in Bedford Stuyvesant, Brooklyn. The two creatives worked hard to develop an aesthetic that blends their tastes. The style destination they arrived at is a soothing, plant-filled space that draws inspiration from Nigeria and Jamaica.
The apartment's Instagram handle, It's Apt 4, showcases their apartment living and various events they host. Their best advice? "…go with a piece or something that is the current you, something of your past (to keep you grounded), and something of the future you for progression."
Apartment Therapy Survey:
Our Style: Matisse meets Malcolm X meets Malick Sidibe meets Frida Kahlo
Inspiration: Frida Kahlo: Art, Garden, Life
Favorite Element: Plants, Sunlight, and Vibes, they're in unison!
Each of the plants in our house have specific names. We named each of them after influential black women that inspire us greatly! That with the warm vibe and sunlight creates the most peaceful combination.
Biggest Challenge: We are both super creatives, and mesh very well in that, but I think the biggest and most exciting challenge is bringing our space and ideas together cohesively. We disagree a lot, but in the end we come together and choose the best pieces and things that work for our place equally.
What Friends Say: "It feels like home!"
Biggest Embarrassment: For Mecca's birthday, we threw a BBQ on our roof and our neighbor called the fire department because she "feared we would burn down the brownstones on the block." The firemen extended a ladder from the street to the roof of our brownstone and stormed through the building to find nothing. It was a laughable mess; they walked away with a few hot dogs and burgers though, and we partied on! Gotta love Brooklyn!
Proudest DIY: Our Kinfolk-inspired painting in our living room. We saw this beautifully painted canvas in the Kinfolk Living storybook, immediately bought it — and used it as the main inspiration for the art piece in our living room. We sourced the color, carried the large canvas through the city to Bedstuy. Ashley then painted it, ensuring it had depth and texture and voila!
Biggest Indulgence: Our marble coffee table from Crate & Barrel. We searched high and low for the right affordable marble table, but just couldn't find what we were looking for. One day I saw this coffee table on Crate & Barrel, and just needed it! Needless to say, one month later that marble coffee table made its home in our abode. Thanks for the friends who helped us carry and assembly it!
Best Advice: Go with your instincts; they are your very essence! Home decor is super spiritual, and is supposed to inspire you daily. So when shopping/curating your space go with something that is the current you, something of your past (to keep you grounded), and something of the future you for progression.
Dream Sources: Lagos, Nigeria & Jamaica
Terra Cotta Pots – Cactus Store New York
Hovet Mirror – IKEA
Marble Coffee Table – Crate&Barrel
Pumpkin Orange Velvet Sofa – Overstock.com
Wooden Turtle Saucer – Salvation Army
Textured Canvas – Michaels (DIY)
Terracotta Vessels – CB2
HEMNES Bookcase – IKEA
Floor Cushion – CB2
Large Cove Hanging Planter – CB2
Plants: "Chaka Khan" from DIG Brooklyn (RIP) and "Nina Simone" from StoneFruit BK
Plant names: Swiss Cheese Plant aka "Chaka Khan", Rubber Tree aka " Nina Simone, String of Pearls aka "Billie Holiday"
Plant — Lacy Tree Philodendron aka "Etta James"
ASHLEY'S BEDROOM
Birds of Paradise Plant 'Diana' – IKEA
Birds of Paradise Pot – Crest Hardware
Fern Plant 'Halle' – Noble Plants
Fern Pot – Cactus Store New York
End Table – thrifted in Texas
Leather Floor Pillow – bought in Lagos, Nigeria
Shelves – Home Depot
Dahli Clock – thrifted in Texas
Aroma Diffuser – Muji
Plants — Large Birds of Paradise "aka" Diana Ross, and Fern Tree aka "Halle"
MECCA'S BEDROOM
Bookshelf— Ikea
Accessories on Book Shelf: Face Vase — FriendAssembly
Boob Plant Pot — Group
Dresser — Ikea
Dresser Knobs — CB2
Shelves — Home Depot
Birds of Paradise Plant aka "Tracee" – IKEA
Vintage Rubber Tree aka "Anita – DIG BROOKLYN (RIP)
Birds of Paradise Pot – Crest Hardware
Rubber Tree Pot – Crest Hardware
Vases — Canvas Homes
Thanks, Ashley and Mecca!