A Sustainable Single-Family South Philly Home
We independently select these products—if you buy from one of our links, we may earn a commission. All prices were accurate at the time of publishing.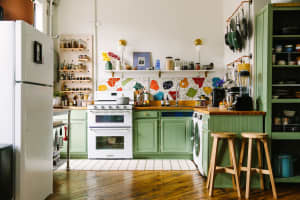 Can't-Miss House Tours Straight to Your Inbox
Keep up with our latest house tours each weekday with our House Tour of the Day newsletter
Name: Liz Solms, husband Giuliano, daughter Soleil and a dog
Location: South Philadelphia, Pennsylvania
Size: 1300 square feet
Years Lived In: 6 years, owned
This is a home full of very unique reclaimed and salvaged materials. An old fridge door to a Dietz and Watson freezer leads to a basement. Another old door is made from bowling alley wood. When a separate room was created for a nursery, old denim was used for insulation. These are just a few examples of the peculiar details found in Liz and Giuliano's 1300-square-foot South Philadelphia home they share with their daughter Soleil.
Liz's background is in sustainable agriculture, and she, Giuliano and baby Soleil spend some of the year in Jamaica. Liz runs a business called Banana Tree Consulting, where she's worked on agricultural projects for high-end hotels and coffee farms, as well as established organic farming cooperatives. It's this life-long dedication to sustainability that's positively affected this single-family house in South Philadelphia. And it's also played a huge role in the couple's other job: Liz and Giuliano are the owners of the historic apartment building The Touraine in Rittenhouse Square (they also own its sister building, The Annex).
The Touraine was a grand hotel when it was built in 1917, and in the 1980s it was converted into apartments. The building was passed down to the couple by Liz's father — a real estate visionary in his heyday — when he passed away in 2010. Not only is this the building Liz grew up in, it's also where her mother still lives today! The Touraine celebrates its 100th year as a historic landmark in Philadelphia this year, and Liz and Giuliano's slow, intentional renovations have brought the properties up to modern standards while preserving the original architectural details (even bringing back some that were lost).
These design principles and a respect for a structure's past are seen in the house in South Philadelphia they share as a family. Along with the unique reclaimed doors in the apartment, all the cabinetry was made of reclaimed wood with glass or chicken wire. The countertops are reclaimed old marble steps from another historic building in Philadelphia, The Divine Lorraine. This is all complemented by thrift store finds, travel treasures, Liz's own art and some clever space-maximizing ideas.
Apartment Therapy Survey:
My Style: Bohemian meets the desert meets a place of plain white.
Inspiration: My travels through the years, especially those to West Africa and Joshua Tree. And as for designers…these days I am really feeling Sera of London. She has a way of combining old and new and dust and plants and fabric.
Favorite Element: I have to say my favorite space is our bedroom. It's very spare and white on white compared to the rest of the home and there's no wall between the bathroom and the sleeping area, so our room feels like one wide open loft with a lot of sun and air. My inclination is usually to crowd walls with art and books and every last thing I love, but I had the exact opposite feeling about our bedroom and it has remained pretty much the same since we moved in.
Biggest Challenge: Our stairs! They are super narrow and twisty as are most stairs in historic row homes in Philly like ours. So furniture had to be chosen very wisely and creatively as to whether it could get up the stairs. We ended up getting a bed custom made so it could be brought up in pieces.
What Friends Say: Some of our friends wonder how we make it work in such a small space, especially with our almost two year old. The key for us has been to maximize the small space we have as much as possible (ie the second floor landing is now a play kitchen area and a reading nook where before it was just an office), and to keep the baskets/ containers we store things in as pretty as possible. I'd much rather see colorful woven baskets full of toys than the plastic bins actually meant for the job.
Biggest Embarrassment: The time my husband fell down our windy treacherous steps in front of a food delivery guy. Needless to say we put a carpet runner down soon after.
Proudest DIY: Our reading nook, though not DIY in the sense that I hand-sewed the mattresses or anything, is my most proud DIY. I saw a tiny space, knew I wanted a place to read with our daughter and for a guest to sleep over, and just went for it with all the pillows in the world. It's insanely comfy and we use it all the time.
Biggest Indulgence: Our dining table is probably the most valuable piece of furniture that we own though it doesn't stand out in a weird way. (I think).
Best Advice: More pillows!
Dream Sources: If I had an unlimited budget….a full day in ABC Carpet and Home and a nice long trip to Bagru India for the block printed fabric!
ENTRY
Art on wall — Upper left-hand block print by Brazilian artist J. Borges; Lower left-hand block print by Cary Shryrock; Middle painting by Cuban artist Odilia Mezquia; Top right print by Art in the Age; Bottom right vintage print from my mom
Console — West Elm
LIVING ROOM
Double goose neck lamp — Vintage
Kilim Rug — esalerugs
Pink Shibori Ottoman — Territory Home Goods
Indigo Throw Blanket — Flea Market in South of France
Pillow s —Pink: Territory Home Goods; Diamond Pattern: bought in Mexico, Larger pillow behind handmade by OSxN
Green Velvet Couch — Urban Outfitters
Curtains — Custom linen by Allure Window Treatments
Custom metal curtain rod — Paul Lichtenstein, local welder
DINING ROOM
Dining table — Roche Bobois
Mid-century Moller wood dining chairs — Vintage, Shoppe Amber Interior
Yellow bentwood bistro chairs — Rejuvenation
Reclaimed floating shelves — Etsy
Bowl — vintage Pyrex
Toaster — Hamilton Beach
Small moon vase with plant — Ritual Ritual
Small rug — vintage from Turkey
Wood-burning stove — Napoleon
Stovetop humidifier — LL Bean
Photography on shelves — all mine
KITCHEN
All cabinetry — reclaimed wood with glass or chicken wire
Countertop — marble steps reclaimed for the Divine Lorraine
Sconce — Rejuvenation
BEDROOM
Bathtub — Vintage cat claw tub
Macrame planter hanger — Etsy
Clothes tree — Anthropologie
Mahogany vanity — vintage, from thrift store
Geometric brass and wood wall hanging — Electric Sun Creative
Shearling Pouf — Iceland
Shibori dyed pillow on reclining chair — Riverside Tool and Dye
Custom platform bed — Boulder Elements
Pink mudcloth pillow on bed — Maewoven
Long Hmong pillow on bed — Territory Home Goods
Dreamcatcher above bed — First Nations People of Canada purchased in Mt. Tremblanc
Bedside stool — Jinxed
Custom narrow dresser — True Connection
Shearling throw rug on chair — The Citizenry
Reading Nook:
Daybeds — Urban Outfitters
Shelves — Ikea
Lamp — Vintage
Block print above daybed — Laura Murdoch
Rug — Land of Nod
Black and white blanket — RCVA