A Tiny "Bohemian Vintage" Studio with a Twist
Name: Emily Ogden
Location: Historic German Village — Columbus, Ohio
Size: 350 square feet
Years lived in: 1 year, renting
People laughed a little when Emily Ogden would say she wanted to live in German Village. A pricey part of Columbus, it was a long shot that Emily might be able to find a place she could afford. But the area was her dream. "The quaint brick streets, historical homes, coffee shops, restaurants, a great park, all within walking distance. A fairly safe neighborhood for a single female moving to a new city. Neighborhoods where I felt safe walking after dark," she writes.
It only took about a week for Emily to find this small, just-over 350 square foot studio, upstairs above a venue on the edge of the area she dreamed of living in.
Though the discovery meant she'd be moving from a "fairly roomy, one bedroom in Dayton, Ohio, to a very cozy, upstairs studio," this studio space is undeniably cute, and as someone who loves to cook, the big kitchen didn't hurt. Though downsizing is always a bit of a challenge, Emily made it work (and beautifully). She writes:

"I pared down on furniture and decor — giving things away or lending out pieces that just would not fit, or that I didn't truly love. My large credenza I found at a thrift store was the focal point in my living room and I accessorized with lots of candles and plants to add color and scent to the small space. I'm a big fan of Mid-Century Modern decor, but I also like to have things cozy and colorful.
In the end, I decided to not attempt to create walls. To leave it open and airy. After all, it was just me living there! I didn't mind that my bed was in my living room and vice versa."
Apartment Therapy Survey:
My Style: Mid-century modern with a twist of bohemian vintage
Inspiration: My inspiration comes from vintage and bohemian textures and color, and I have always loved mid-century modern furniture. Music and travel also heavily influence wherever I am living. I'm an interior designer and although I strive for well-designed spaces, I want to have my home feel and look lived-in, cozy and welcoming.
Favorite Element: The three pieces of mid-century modern furniture I've collected over the years. The dresser that belonged to my uncle when he was younger, the credenza I picked up for a song at a thrift store and the little nightstand I thrifted over two years ago. Also, my hat collection.
Biggest Challenge: Definitely space/storage. I've always lived in at least a one bedroom apartment, and am a recovered pack rat — this studio has ZERO storage and I learned to keep what I love and need only.
What Friends Say: "I don't know how you put it all together — but it works!" I'm eclectic and I love to pair colors that wouldn't normally seem as though they go together.
Biggest Embarrassment: That I'm an artist/photographer but I rarely print or frame my work to hang on my walls!
Biggest Indulgence: Choosing to live in German Village in such a tiny space — it's pricey, but totally worth it — such a beautiful area, with so many restaurants, bars and coffee shops within walking distance. Sometimes I feel like I'm living in a Meg Ryan movie!
Best Advice: Surround yourself with things that you love and will use/appreciate every day. Use that fancy china, sit in your furniture, and make your bedroom a place you dream of spending time. Have people over and let your home be a welcoming environment — that's its purpose!
---
Explore this style: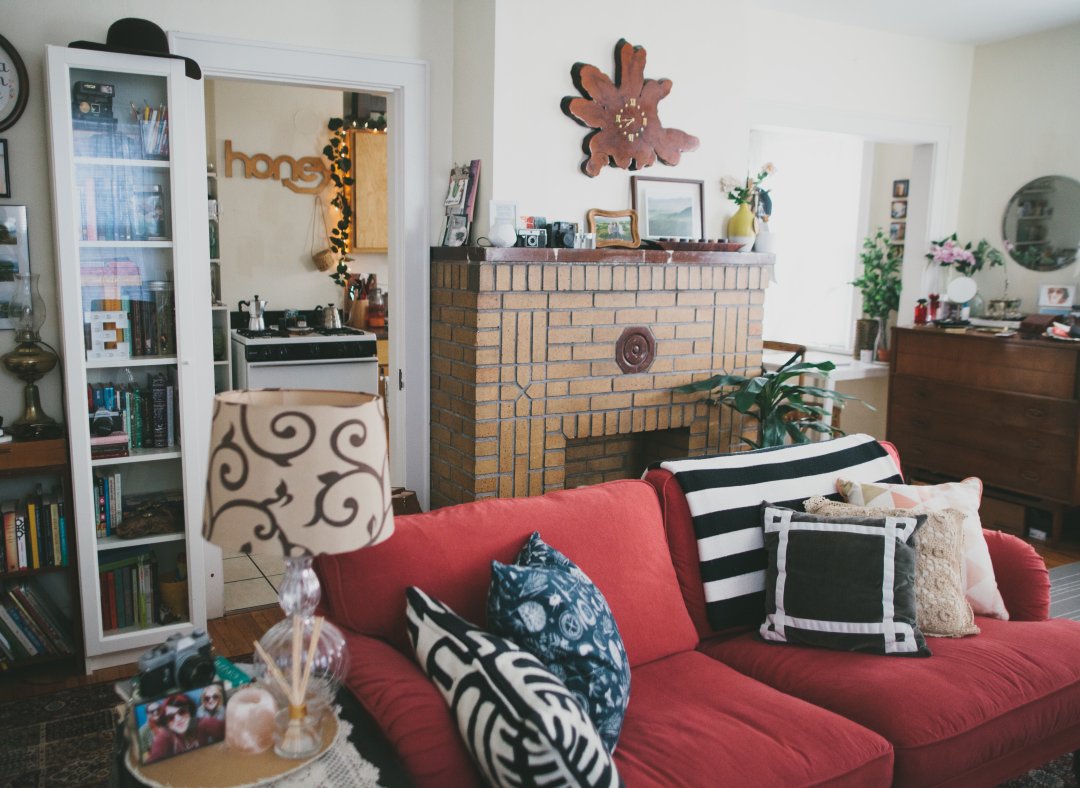 ---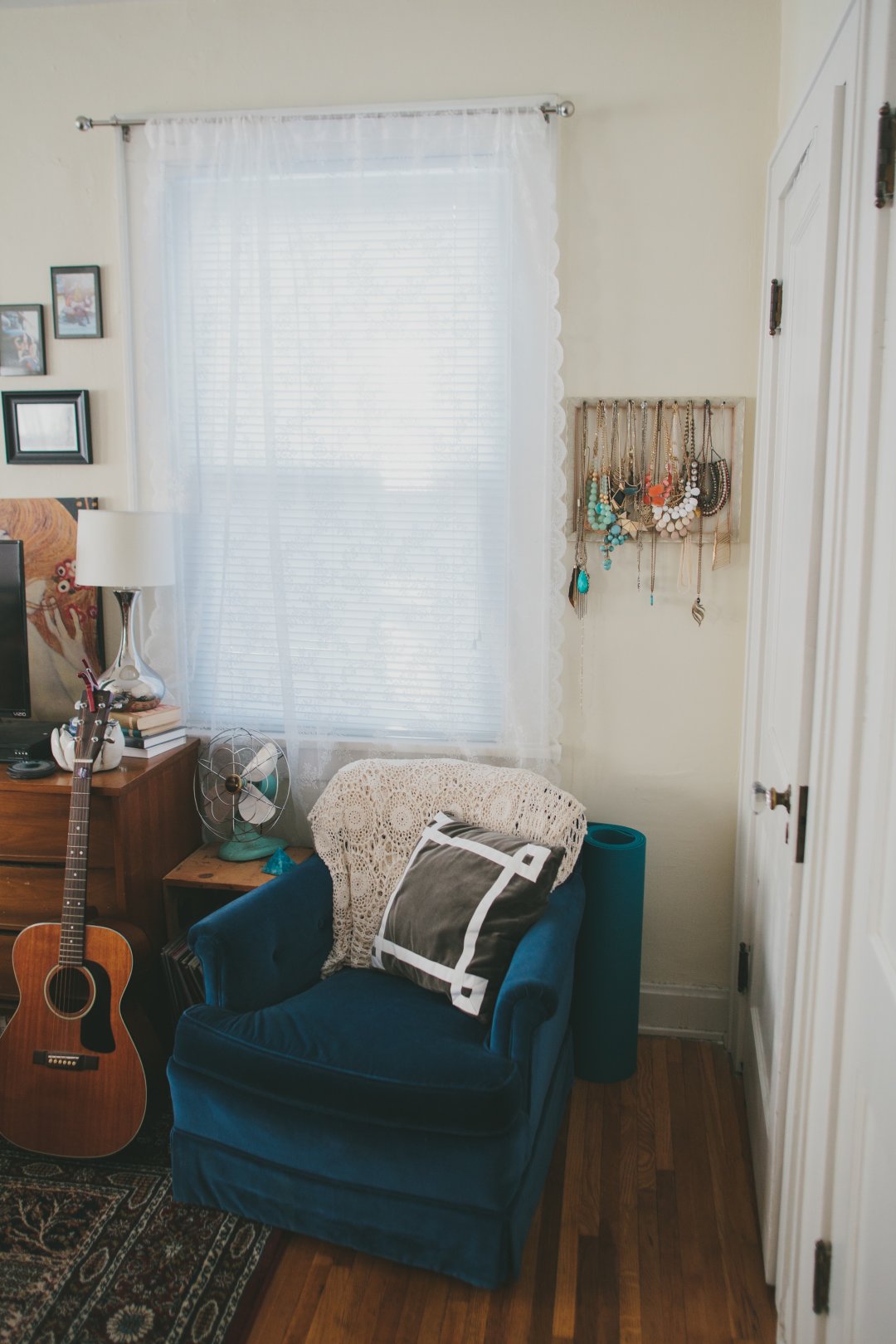 ---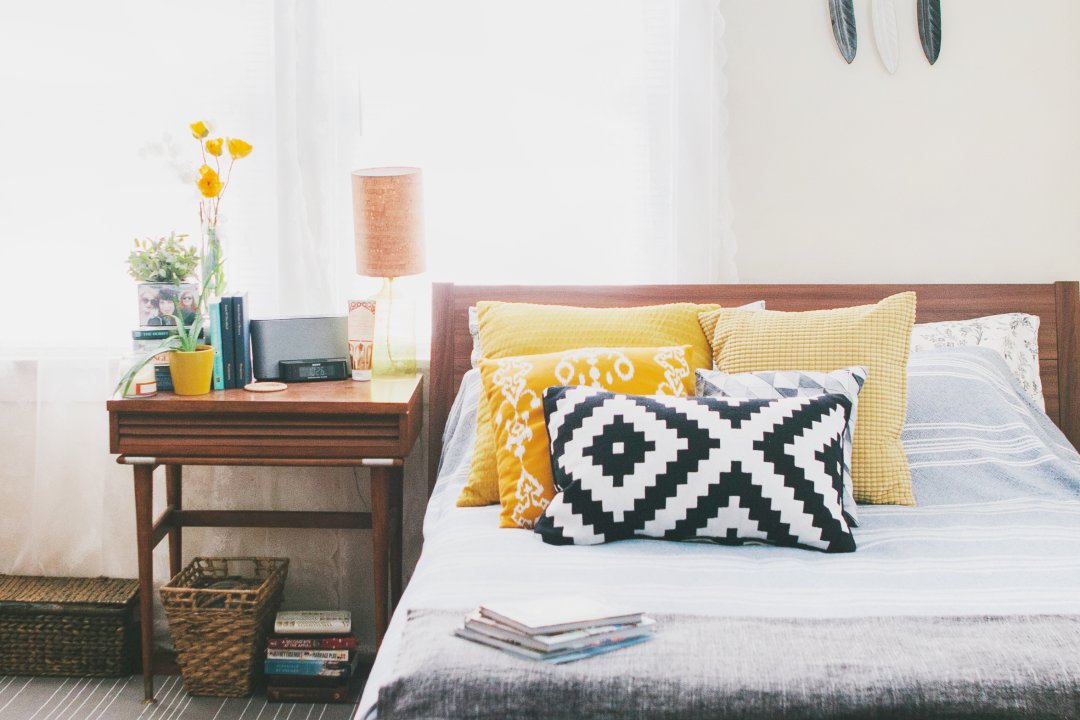 ---
More resources:
PAINT & COLORS
Sherwin Williams - Summer White
ENTRY
Small bookshelf - Hand-me-down
Tall shelf - IKEA
Globe - Thrifted
Kerosene lamp turned electric - Wedding present parents received in the 70's
Mirror - Vintage shop in Boone, NC
Faux fiddle leaf fig plant - IKEA
Runner rug - IKEA
Shake It Off banner - Small boutique in Columbus
LIVING SPACE
Sofa- IKEA
Large area rug - IKEA
Throw pillows - IKEA, Target and gifts
Credenza - Thrifted
End table - Vintage hand-me-down
Clock above mantle - Vintage/thrifted
Turntable - Vintage (the one I grew up with at home!)
Silver lamp on credenza - Thrifted
Blue velvet chair - Vintage (gift from my best friend)
Frame with necklaces - Vintage frame DIY
Vintage cameras all over the space - thrifted/collected from family members
Lace curtains throughout - IKEA
Ottoman - Vintage
Wood tray - gift
KITCHEN
White table - IKEA
Bistro chairs - Arhaus
Antiqued gold candle holder on table - Target
Work cart - IKEA
AWESOME canvas - Target
Glassware/mug collection - IKEA, vintage, and items from travels
Honey cut-out - Vintage (spray painted gold)
Crate shelf - DIY
Printed India rug in front of sink - World Market
Copper colander - World Market
BEDROOM
Bed - IKEA
Bedspread - Target
Pillows - IKEA, Target, gifts
Nightstand - Vintage/thrifted
Gray area rug - IKEA
Bedside table lamp - Target
Dresser - Vintage hand me down
Round mirror - Walmart
Small, pedestal mirror on dresser - Thrifted/vintage
Porcelain feathers above bed - Arhaus
Large floor length mirror - Handmade by my dad
Large faux plant by the fireplace - Thrifted
Thanks, Emily!
---