A Mini "Beatnik Chic" Studio Apartment
Name: Courtney Croxdale
Location: Old Louisville — Louisville, KY
Size: 330 square feet
Years lived in: Renting 1.5 years
Artist and writer Courtney Croxdale lives in a tiny studio apartment in historic Old Louisville. It's the location, the neighbors and great landlords that Courtney describes as her home's "best attributes." But I think it's how she has created a cozy, beautiful home in only 330 square feet.
"After a few different layouts, I am so happy with how the apartment looks AND functions; each part of the space feels separate, like a room of its own. This is only enhanced by a nearly detached kitchen space and ten foot ceilings," writes Courtney.
Courtney credits three things to helping her make a tiny studio look and function so great: Being incredibly organized, combining beauty and function, and working with what you have—not against it. She writes:
"The chaos of a small space is contained when everything has a place of its own. Because there's only 330 square feet, my apartment only ever feels terribly messy or wonderfully clean—unfortunately there's no in-between. Being organized makes cleaning, living, and simply thinking innately easier.
I live my life by the rule of William Morris: 'Have nothing in your house that you do not know to be useful, or believe to be beautiful.' I'm a style-obsessed artist so having something that works but is an eyesore is just not option. Great design includes both great function and great beauty.
Having a small and unusual space can be discouraging or frustrating, but not with the right attitude. By working to find solutions, rather than accepting quirks as limitations, I've found ways to have a welcoming space with all the furniture that I want. Don't let the size of your home be an excuse to not host friends or enjoy life."
Apartment Therapy Survey:
My Style: I like to think of it as beatnik chic.
Inspiration: Scandinavian design, travel, the sixties, and the golden age of Hollywood.
Favorite Element: Possibly my "Goldfinger" Life Magazine; it doesn't get much better than Hollywood glam from the sixties. Although, most of the objects in my home are antiques, heirlooms, or travel souvenirs with stories of their own that make them treasured and special.
Biggest Challenge: Size and storage. It is definitely important to allow your home, no matter its size, be a place where you live/entertain (hence my dining table) but living small does demand prioritization. It keeps me humble and prevents me from over-indulging, which admittedly comes naturally to me. Thankfully, I've found some multitasking furniture pieces and I am addicted to organization. It's almost silly how happy the kitchen cabinet with all of my dishes makes me, but I'm always amazed that everything is tidy and accessible and fits in ONE cabinet. It's the best example of my desire to have a home with a balance of function and appeal.
What Friends Say: I'm honored by many compliments about how cute and clean it is. Typically people are impressed that I have included all that I want and have still managed to create an impression of separate spaces. Humorously, we always find ourselves referring to the different areas of my space as if they were separate rooms.
Biggest Embarrassment: The wall "treatments." I was so wanting to paint my walls white when I moved in, and though my landlords are wonderful, they decided not to let me paint. (The walls are the color of the kitchenette, which one of my friends nicknamed "band-aid brown.") In an impulsive mood I had shortly after moving in, I decided to cover the walls with a low cost treatment...of parchment paper. I love the brightness of the space and the feel of the color but...the obvious and odd paper texture seems to be an alternative nuisance.
Proudest DIY: My Chocolate Klaus painting is possibly my proudest DIY, though the antique bar cabinet is a close second. At the time I was moving into my first apartment I had become enamored with the ad but couldn't find an affordable print. Being an artist who had become very determined to have it in my home, I decided to paint a version for myself. I will slyly and proudly admit it's an impressive look-a-like. I found my bar cabinet while thrifting; I fell in love, took it home, and my dad helped me convert it from a record console to a cabinet with a door and shelves.
Biggest Indulgence: The display cabinet for my shoes is probably my most indulgent piece. Despite having a meticulously organized closet, it is unsurprisingly small. When I finally relented and decided I needed more storage space, rather than getting a closed wardrobe, I settled on a display cabinet to store my favorite gems. It is easily the most feminine thing in my home, and though it may not have been a costly cabinet it definitely encourages my indulgent vintage shopping habits.
Best Advice: Give your things and yourself a home–work to find functional and organized choices but still include what makes you feel happy and cozy.
Dream Sources: I'm more inclined to buy unique, vintage pieces from antique stores but I never stray from IKEA. If I had no budget I'd buy more Anthropologie pieces and shop endlessly at Mid-Century Mobler.
Explore this style:
---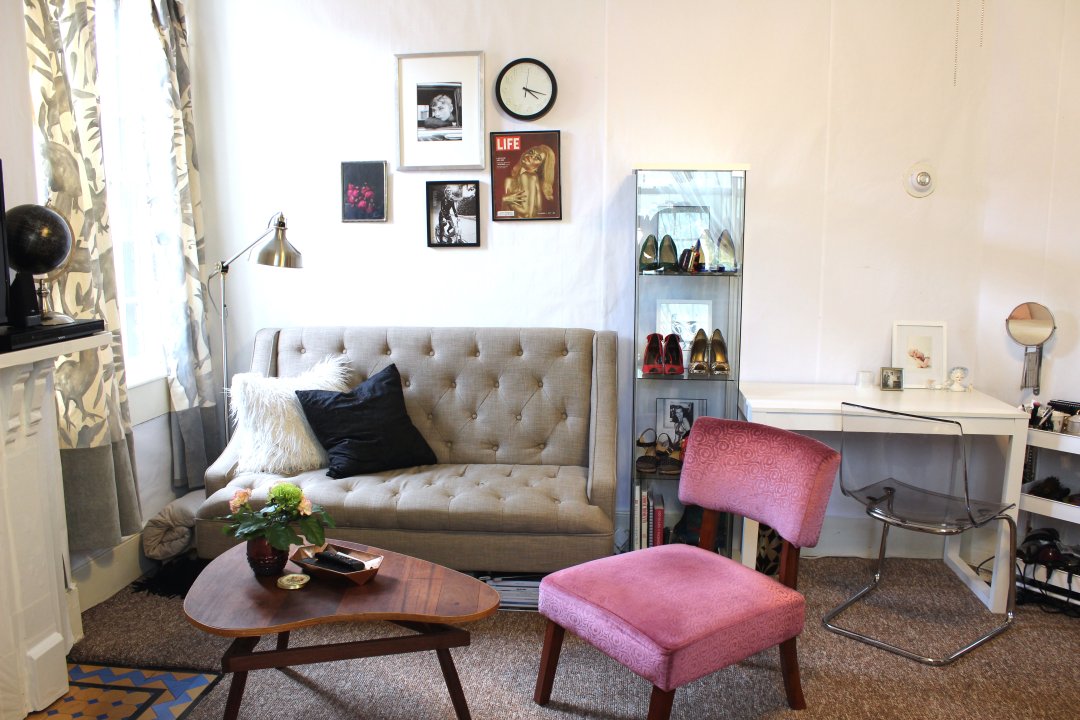 ---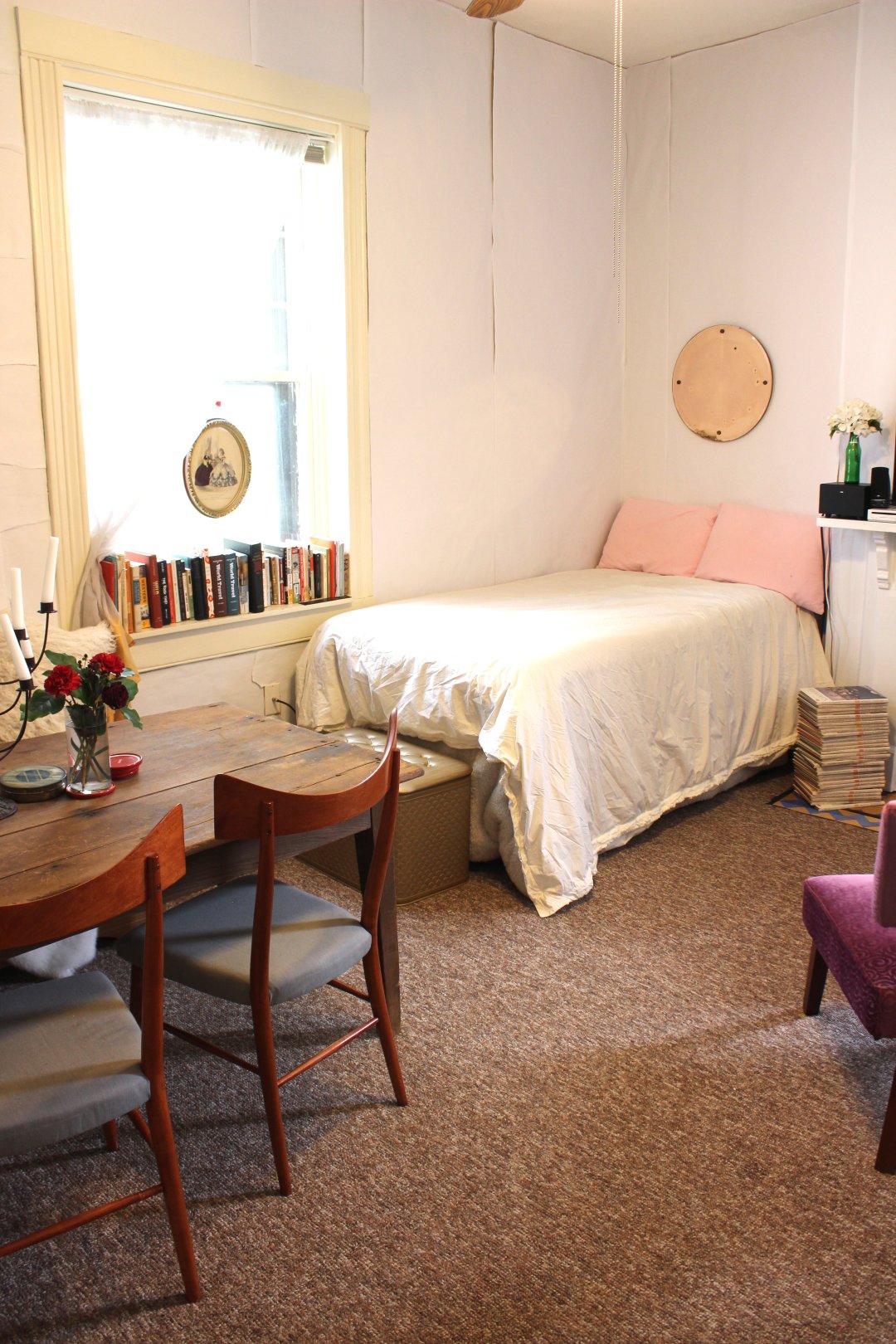 ---
Further resources:
ENTRY
Trones Boxes — IKEA
KITCHEN
Floating Shelves — Lowe's
Storage boxes for my art supplies — Similar: Wayfair
BATHROOM
Floral Hand Towel — Target
"THE LOO"
Capri Blue Iridescent Jar Candle — Anthropologie
Paris Vu Par Hollywood poster — Paris exhibit, available via Chisolm Gallery
Thanks, Courtney!
---
Apartment Therapy supports our readers with carefully chosen product recommendations to improve life at home. You support us through our independently chosen links, many of which earn us a commission.