A Vibrant Urban Jungle Paradise in Downtown LA
We independently select these products—if you buy from one of our links, we may earn a commission. All prices were accurate at the time of publishing.
About this tour
Location
Downtown, Los Angeles, California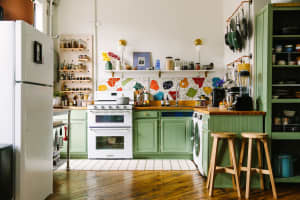 Can't-Miss House Tours Straight to Your Inbox
Keep up with our latest house tours each weekday with our House Tour of the Day newsletter
Name: Rory Rockmore
Location: Downtown LA, California
Size: 890 square feet
Years lived in: 1.5 years
Rory's house is a wonderland of wild colors, impeccable attention to detail and over-the-top accents. When most people imagine Downtown Los Angeles, the images that appear are usually dark and gritty. Rory's house is the antithesis of this vision.
Rory is the Creative Director for NCLA, a beauty brand based in Downtown LA. He and his dog Betty recently moved here from New York for work, better weather, and the pursuit of more closet space. It's pretty impressive how much he has added his own personality and touch to this open layout loft.
Apartment Therapy Survey:
My Style: Lately I've embodied this sort of Paradise lifestyle—blame the weather. I'm really drawn to mid-century modern anything, infused with gaudy and the overdone, and a sprinkle of white trash. Also: PLANTS.
Inspiration: The Beverly Hills Hotel / Peg Bundy
Favorite Element: Besides the windows—the Paradise neon sign. I've always had an affinity for neon lights and I especially love when people have them in their home.
My mother royally destroyed the Christmas of '96, mistaking a New York JETS Starter jacket for a sold out Chicago BULLS Starter jacket. This past year she made up for that by surprising me with this custom Paradise neon sign—the gift that keeps on giving.
Biggest Challenge: Storage. My boyfriend Chris recently made the move to LA as well, and we quickly learned the closet isn't big enough for the both of us or our shoes. We found temporary solace in small storage solutions but that would imply we won't be acquiring any more…
What Friends Say: "Do you ALWAYS have fresh flowers in your apartment?" with sort of a half eye-roll.
Biggest Embarrassment: Getting caught fluffing pillows while my friends are over.
Proudest DIY: I've never really been a DIY guy and once I discovered TaskRabbit I can safely say I won't ever amount to one.
Biggest Indulgence: Probably my couch. I used to own couches for aesthetic value only, typically no one ever wanted to sit on them—including the dog. This time I went the extra mile and chose one that delivers comfort and character.
Best Advice: Switch it up. Editing minor elements and layout keep the space feeling fresh and to be honest, fun to come home to.
Growing up my mom was constantly switching up her decor from table arrangements, to furniture layout, to paint colors. There was always something to zhuzh and I can appreciate that more now. Still trying to appreciate her refinishing the coffee table on the front porch at 1 a.m. on a Tuesday in her bathrobe, but some things take time.
Dream Sources: Once I'm a homeowner cover my body and home in Flavor Paper.