This House Doesn't Half-Ass Halloween
We
independently
select these products—if you buy from one of our links, we may earn a commission. All prices were accurate at the time of publishing.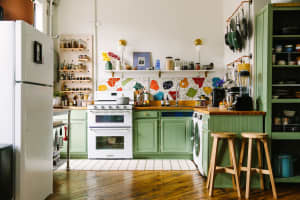 Can't-Miss House Tours Straight to Your Inbox
Keep up with our latest house tours each weekday with our House Tour of the Day newsletter
Name: Jennifer Perkins and husband Chris Boehk along with daughter Tallulah and son Baxter
Location: Shady Hollow Neighborhood — Austin, Texas
Size: 2,900 square feet
Years lived in: 3 years, owned
Crafter, blogger and extremely cool mom Jennifer Perkins excels at many things — and transforming her Austin home into a Halloween land of enchantment every year is definitely high on the list. You may remember her decorating skills from a previous tour: Jennifer's Spooky, Kooky Halloween Ready Home. She's let us photograph her home again, and not only is it delightfully excessive, it's different than any year she's ever decorated before!
I rewrote our usual Apartment Therapy survey questions to dive a little deeper into the holiday decorating genius that is Jen Perkins. Below, get answers to burning questions like how much money she spends on decor, where the heck she keeps all this stuff, and whether or not she has any Halloween-themed tattoos:
Apartment Therapy Spooky Survey:
What percentage of your everyday home decor gets switched out for the holidays?
I'm not sure I know an exact percentage, but all smalls go. I change out all the etageres, vignettes, mantels, hutches — you name it. Sometimes I even color code my bookshelves with orange, black and white spines. There is no half-assed Halloween for this house. It either looks like the Great Pumpkin threw up in here or nuthin'. Plus the fun of doing it this way is that when the holiday season is over and you get to put back out your "normal" things you get a chance to redecorate every year.
"There is no half-assed Halloween for this house. It either looks like the Great Pumpkin threw up in here or nuthin'."
How long does it take to decorate?
Months, no really. I start in August (okay maybe late July) and am usually tweaking right up until Halloween. It's a work in progress. I'm pinning and scheming all year long. I tend to see the world through pumpkin orange-colored glasses 365 days a year. I say that and I actually probably decorate for Christmas more hardcore than I do Halloween. My poor children are season-ly confused, but when you work on an editorial calendar like I do you have to turn in Halloween content early. Last year I had to have Christmas decorations up before it was actually Halloween.
How long have you been decorating your home for Halloween?
This will be the eighth year I have decorated hardcore. There might have been the occasional pumpkin carving or spiderweb pre-kids, but when I started popping out the puppies it was go big or go home when it came to seasonal decorating. I threatened not to have our annual party this year just due to other commitments and my children acted as if I told them Santa was dead. Needless to say the party is on and if they have their way will continue. I have to at least make it to 10 years. I'm getting a new Halloween tattoo this October to commemorate.
What's this year's Halloween decor theme or inspiration?
There is never really a theme. I have a lot of old doll heads around this year so maybe that is the theme. My collection of vintage Halloween costumes is also close to 50 and spread over two trees, one mirror, a garland and a mantel so that could also be the theme. I love the neon colors and kitsch of the vintage costumes, especially brands like Ben Cooper.
Do you like to incorporate scary decor?
Last year at my annual Halloween party I had decorated the shelves in the powder room with vintage medical equipment — dentures, old doctor tools, skeletons, microscopes and beyond. I was later told by a few parents that their kids were afraid to go to the bathroom alone. On the flip of that other adults told me it was their favorite room in the house. This year I have done the shelves in a funky '70s Halloween neon orange type theme. No one should get stage fright this year. Since I have a five and seven year old I really try and steer clear of things that might scare them or their friends. This year I have a feeling my dining table will get a few looks. There are doll heads with plants inside, tarot cards, crystals, bones and lots of black glass. I like subtle spooky.
Okay confess: How much did you spend on Halloween decor this year?
Honestly on decorations not that much so far. It's hard to say since I shop all year, especially for items like black glass that is not really a Halloween decoration. On my recent trip to Round Top I bought four masks for $40 (one included Mork from Ork in the box for $5). What really costs money is the party (food, photographer, reptile petting zoos). Plus ya know I'm the brand ambassador for a Christmas tree company so those are on the house.
How can someone incorporate their own everyday items into Halloween decorating?
The easiest thing is to look at the color of things. For me I have my mother's typewriter from college as a Halloween decoration because it is orange. I collect vintage cameras and in the right setting they can be spooky. I mentioned I like subtle spooky. Not everything has to scream BOO in your face — black and orange Murano glass ashtrays, vintage Band-Aid tins, doll heads, game pieces and more can be Halloween decorations in the right setting.
"This year I have a feeling my dining table will get a few looks. There are doll heads with plants inside, tarot cards, crystals, bones and lots of black glass. I like subtle spooky."
Where do you store your decor — and where does your "everyday" decor go when the house is Halloween-ified?
When the boxes and tubs of Halloween come down from the attic the everyday decor goes inside and back up in the attic. Don't dare open a closet or a cabinet as a sea of folk art might come tumbling down on you. As with holiday decor you have to take into account the heat in attics when you store things. They can turn white trees yellow, melt spooky candles and God forbid warp Halloween masks.
My house has two attics — one is entirely holiday decorations. Okay I might have taken over two closets and possibly a few shelves in a linen room to store holiday decorations, but who is counting? It's for the kids people; I need that closet space.
Looking for tons of DIY Halloween project ideas? Visit Jennifer's blog for lots of inspiration.