Amelie Mancini's Colorful, Antique-Filled Home
We independently select these products—if you buy from one of our links, we may earn a commission. All prices were accurate at the time of publishing.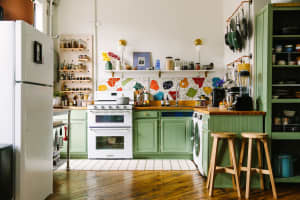 Can't-Miss House Tours Straight to Your Inbox
Keep up with our latest house tours each weekday with our House Tour of the Day newsletter
Name: Amelie Mancini, Rami Metal, and their daughter Babette
Location: Crown Heights — Brooklyn, NY
Size: 1,000 square feet
Years lived in: Rented, 2 years
Before getting pregnant with their daughter, artist and designer Amelie Mancini and her husband Rami Metal called Greenpoint, Brooklyn home. They loved where they lived, but knew that their tiny apartment (less than 400 square feet total) wouldn't accommodate a growing family. After looking for apartments the usual online way, they decided to stop in an old, beautiful building in Crown Heights and ask the doorman if he knew of any openings. They were in luck — a sunny two-bedroom apartment had recently opened up.
Originally from Lyon, France, Amelie moved to NYC after graduating from the Université Sorbonne in Paris in 2005. You may know her from her block printing, surface pattern and product design work that features whimsical illustrations of plants, cacti, cats, and more. Or you may know her from her beautiful and popular Instagram feed that features snapshots of her art, home and life.
Before, when the couple was living in that tiny apartment in Greenpoint, Amelie ran her art and design business out of a studio in Queens. But once she and Rami made the move to this Crown Heights apartment (and after their daughter Babette was born), the commute became too long, so she found a smaller studio by the Brooklyn Navy Yard. It didn't take long after that for Amelie to realize she rarely had time for her new studio (even though it was closer). So she put some things in storage, closed the old space, and made room in this apartment's dining room for a place to work.
Amelie admits she wasn't sure if she would like the change, but thanks to lots of light, lots of plants — and of course getting to spend time with a cute baby — she's found she enjoys her new home studio.
Many homes these days seem to lean towards white walls and minimalism, but this space is a refreshing celebration of color, pattern, texture, and personality. And it's about to be home to even more cuteness; Amelie and Rami are expecting baby number two.
Apartment Therapy Survey:
Our Style: Part handmade (by myself or friends), part thrifted, part IKEA. Lots of plants, lots of patterns, lots of art. Not afraid of color.
Inspiration: The greenhouse in the Green Card movie; my great-grandparents' old house in France where I'm from (filled with old dusty mostly broken but entirely magical antiques); the Met, especially the Ancient Near Eastern Art galleries; old interior design magazines from the '60s and '70s; the art studios of Picasso, Matisse, Brancusi, David Hockney; curiosity cabinets and old rugs.
Favorite Element: The Louis XIV armoire I inherited from my grandparents. My grandfather kept his record player and vinyls and his collection of assorted liquor and spirits in it, and when I was a kid it looked massive and mysterious and had an amazing hundreds of years old smell whenever he opened it to play my favorite record ("Emilie Jolie," a French musical for kids). The armoire grew a bit smaller as I grew a bit bigger (although it's still pretty big by any standards!) and after my grandparents passed it came to live with me in New York, where it now holds our own record player and vinyls and a few bottles of scotch — and my stash of yarn. We open it to play my daughter's favorite record ("Fiddler on the Roof") and just like that years and miles and generations fade away for a few moments. Warms the heart — and the scotch doesn't *not* help either.
Biggest Challenge: Living with a cat, a toddler, another baby on the way and a lovely Moroccan rug that sheds a ton, it's not easy to keep the place clean and tidy. We bought a Roomba to help with the continuous shedding of both cat and rug, now if only I could teach it to also pick up our socks and put toys away… And get dinner ready…
What Friends Say: Our friends usually first comment on the dark blue accent wall in the living room, which makes Rami very happy because he picked the color. Then they comment on the amount of plants I have, which I take as a compliment (a jungle is a good thing to have, right?).
Biggest Embarrassment: We moved in three months before our daughter was born, and it took us a really long time to settle in. Our previous apartment was a tiny studio with an alcove for the bed — less than 400 square feet total. When we moved into this apartment we basically had no furniture — we had to buy a couch, a table, a bed, on top of setting up a nursery and preparing for a big life change. My daughter arrived three weeks early, nothing was ready in her room, it was basically a storage space to hold our stuff while we figured out where to put it. It took us about a year to finish it.
I felt like a bad mom whenever we had visitors who excitedly wanted to see the baby's room, and I had to mumble some excuse about why there were still unopened moving boxes in there, and unframed artwork on the floor and random furniture that we hadn't decided where to put yet, but hey, things take longer when you have a baby. We eventually made it, although now we have to figure out how to add another crib in there!
Proudest DIY: The landlord gut-renovated the kitchen and the bathroom right before we moved in. From what I understand it was badly needed, but the new tiled backsplash, run-of-the-mill cabinets and faux granite countertop they installed in the kitchen are decidedly not what I would have picked. I dream of repainting the cabinets in a lighter color and replacing the laminate countertop with butcher block one day… For now I just stuck some contact paper on the cabinets, avoid eye contact with the countertop and as far as the wall tile (strips of muddy green, gold and brown in unfortunately not-cool '70s vibes), I covered it with faux tin tile wallpaper from Lowe's — it was easy to install and will be easy to remove when the time comes. And no one can tell it's fake! Win.
Biggest Indulgence: Having my grandfather's armoire shipped from France… Not cheap. Totally worth it, but not cheap.
Best Advice: It takes time to make a home. Probably never ends. Be patient and build it piece by piece. Fill it with art and plants and things you love and it will grow and evolve with you. Knowing when to let go of things is important too. Life brings change and your home will change too. Hold on to the heirlooms and let go of the rest when it starts feeling cluttered or overwhelming.
Dream Sources: I love searching eBay and antique stores in little towns for vintage finds but in my wildest dreams I'd have a shipping container waiting for me to fill it up every time I went to another country, instead of being limited to what I can fit in my suitcase. Looking at you, Puces de Vanves flea market. For new things, I love looking at what stores like Hawkins New York, General Store LA, Brookfarm General Store, Primary Essentials, Joinery and so many other well curated small shops have in stock — dream shops for sure! If only I had a dream credit card…
PAINT & COLORS
Behr — Midnight Sky (living room)
Behr — Dragonfly (bedroom)
ENTRY
Console — handbuilt
Ketubah — painted by Amelie, Hebrew calligraphy by Rami's mother
Blue lamp — West Elm
Candlesticks — Hawkins New York
Tall metal cabinet — scrap metal dump find
Bookcase — Land of the Nod
Assorted ceramics from friends
Copper hooks and mail basket — CB2
LIVING ROOM
Couch — Anthropologie
Pillows — Blockshop (geometric), IKEA (yellow), Amelie's (black and white pattern)
Armoire — antique, inherited
Plant table, TV console, lamps — thrifted
Rugs — eBay
Painting — Amelie's
Mirror — thrifted
Slab bench — handbuilt
DINING ROOM
Table — CB2
Chairs — thrifted
Bookcases — handbuilt
Desk — handbuilt
Mirror — thrifted
High chair — Stokke
Painting — Amelie's
KITCHEN
Shelves — handbuilt
White cabinets and butcher block unit — IKEA
Rug — eBay
Ceramics — Recreation Center, Clam Lab, East Fork Pottery, Small Spells, Workaday Handmade, thrifted
Cactus towel — Amelie's
Faux tin tile wallpaper and contact paper — Lowe's
BEDROOM
Bed — IKEA
Mud cloth on headboard — eBay
Linen sheets — In Bed
Martha Washington bedspread — thrifted
Shapes pillowcase — Dusen Dusen
Mattress — Helix
Rugs — inherited or eBay
Credenza — thrifted
Painting — a friend's grandmother's
Planters — handmade by Amelie
Hanging planters by windows — Small Spells
Bed light — IKEA
Ceiling light fixture — eBay
Metal cabinet — street find
Curtains — IKEA
Mirror — IKEA
Treasures on shelf and in typesetting drawer (rocks, cones, bones etc) — collected during trips or inherited from grandmother
Art — mix of thrifted and Amelie's grandmother's and her sister's artwork
BATHROOM
Oak shelves, bath toy caddy — handbuilt
Towel hooks — CB2
Planters — Heidi Anderson, Shayna Stevenson
Bath mat — IKEA
Gouache drawings by Amelie, screenprint by Kaye Blegvad
Vintage wallpaper taped to cabinet — eBay
NURSERY
Crib — Babyletto
Rocking chair — thrifted
Cotton rug — Joinery
Dresser/changing table — thrifted
Otomi embroidery — bought in Mexico during honeymoon
Bookcases — IKEA
Giant framed puzzle — handmade by Amelie for Rami when we first started dating
Animal alphabet wall hanging, pennants, baseball print — Amelie's
HALLWAY
Runners — Rugs USA
Art — mix of thrifted, Amelie's artwork and family photos
Peg hook racks — Container Store