An Eclectic, Provocative Italian Home
We independently select these products—if you buy from one of our links, we may earn a commission. All prices were accurate at the time of publishing.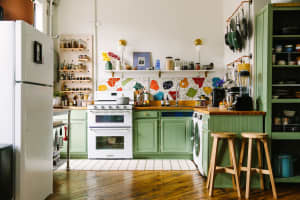 Can't-Miss House Tours Straight to Your Inbox
Keep up with our latest house tours each weekday with our House Tour of the Day newsletter
Name: Michal Turner
Location: Vicenza, Italy
Size: 1,900 square feet
Years lived in: Less than one year, renting
Michal's apartment is a testament to her personality. Whether you've just met her, or have only been able to see photographs of her apartment, you immediately know this is a woman you want to befriend. Her extroverted, conversational personality is on display throughout her walls, leading you to a million fast-paced, deep discussions you want to have all at once — just like it is when interacting with her in real life.
As a single mother and middle school teacher, Michal's journey to this beautiful apartment, with its classic Murano glass chandelier and rustic wooden ceilings, was a long one. Each piece she owns was thoughtfully chosen. When she was younger and a new mother, many of her furniture pieces were hand-me-downs or gifts donated to her by a local church. She now makes it a point to be intentional with each piece she brings into her home, as being able to make investments is a gift to herself that she hasn't always been able to afford. Michal lives in the apartment with her teenage daughter, Greta, who is clearly inspired by her mother's style, but manages to put her own unique and youthful spin on things.
Their Italian apartment, which sits in the historic downtown area of Vicenza, features beautiful architectural bones, such as marbled fireplaces, sweeping archways, built-in libraries and floor-to-ceiling windows. However, Michal's additions still manage to compete to make a statement against the centuries-old charm. Her taxidermy pieces, macabre inspirations and artwork complement the space, adding extra layer, texture and story to an already beautiful home.
Apartment Therapy Survey:
My style: I tend to select pieces that start a conversation. I have always had a tendency to lean toward the irreverent and provocative, so themes such as religion, mortality, and sexuality all play heavily in my home. The other key element of my style is comfort and utility. I would not want a guest to feel there is something in my home they could not touch or use.
Inspiration: My closest friend, Lezli Clendening, has had a profound impact on how I decorate. Not only has she given her honest opinion whenever I am on the fence about a piece, she has helped direct me back to my goals and purpose in crafting my home and motivated me to always move forward with the next project and the next goal. Her style is this wild industrial warehouse meets opulent hunting lodge aesthetic that makes me drool.
Favorite element: The brass-cast alligator skull was one of the first new pieces of art I have purchased. I felt that it encapsulated both my past and my present. I am from Florida and alligators were as common as opossums and squirrels in our back yard. Also, the wildness of the beast and the luxury of the medium felt representative of my lifestyle and choices: brassy and dangerous.
Biggest challenge: This apartment is my first "adult space." I am a single mother. I furnished my previous apartments mostly with a few special pieces I inherited from my mother (she passed away when I was a teenager) and other pieces that were donated to me by members of my family's church when I struck out on my own with my daughter. The biggest challenge of this space has been editing. Developing a cohesive style takes self-understanding. For me, it has entailed letting go of pieces that no longer represent my narrative while holding on to pieces that pay homage to my past. Committing to new pieces has taken confidence and determination: scouring thrift stores and antique markets to find pieces that resonate without cluttering the space; walking away from items out of my budget; and prioritizing investments in the special pieces that really speak to me.
What friends say: There are a lot more phalluses here than you typically find in a home.
Biggest embarrassment: My biggest embarrassment is not aesthetic, it is allergic. I use an alarming amount of Kleenex and the need to creatively conceal the boxes and the resulting rubbish has influenced every room in the house!
Proudest DIY: I felt very creative and empowered building the stands for the masks displayed on my mantel. They are made from simple dowels and wooden bowls I purchased from Ikea, but I feel like they were successful and look elegant.
Biggest indulgence: The bar, which is a repurposed vintage communion altar with panels of hammered bronze featuring the Last Supper. I had to make a lot of sacrifices to move on that piece when I found it, even with the great deal the proprietor gave me!
Best advice: Be persistent. Look yourself in the gut and commit to what you like. Try to let go of what you have been told is "correct." Then, work for it. Even if I had unlimited funds, I would be a thrift store shopper, but you have to be determined. Keep going back to search, but only buy when you find what you love. Release the rest.
Dream sources: I would love to have a piece by Polly Morgan. She is a British artist who fuses sculpture and taxidermy to make really beautiful, macabre works. Her pieces are both elegant and editorial.
ENTRYWAY:
Oriental cabinet — Family heirloom
"Beetlejuice" lamp — Casa del Peltro, Nove, Italy
Chest — Included in the apartment
Painting of dancing lady — Jef Taylor
Striped orange couch — Inherited from grandmother
Office chair — IKEA
Marble coffee table — Italian thrift store
Rug — IKEA
GRETA'S BEDROOM
Linens — Martha Stewart sheets
Quilt — Steinmart
Poufs — Bought off friend
Table — Pier One Imports
Lamp — French Thrift Store
Chalkboard — Blik Surface Graphics
Globe — US Thrift Shop
Art over her door — Italian Thrift Shop
Dinosaur planter — Flying Tiger
MICHAL'S BEDROOM:
Quilt — Steinmart
Zebra blanket — Street market in Seoul, South Korea.
Bench at the end of bed — Thrift shop purchase covered with IKEA Fabric
Headboard — Furnished in the apartment
Rug — Leroy Merlin (Italian hardware store)
Art above bed — Alison Causer
Boudoir candles — A brocante in St. George di Didonne, France
Bedside tables — Local thrift store
LIVING ROOM
Longhorn — Abalone, interior design shop in Mornac-sur-Seudre
Alligator Skull — Abalone
Saw-fish cash — Abalone in St. Georges di Didonne
Last Supper bar — Mercantino dell'Antiquariato e del Collezionismo in Treviso, Italy
Moroccan brass spider table — Family heirloom
Rug — IKEA
Couches — Included in apartment
Chandelier — Murano, Italy
Throw pillows — IKEA
Brass beetle on coffee table books — Shop in Berlin
Entertainment center — Salvation Army
Bookshelf — IKEA
Assorted candle sticks — Vicenza antique market, thrift stores
Ostrich Egg — South African outdoor market
Lamp on which the egg perches — Italian thrift shop
Tall colorful African Mask — NY thrift store
Medium African mask — French thrift store
Small mask — Handmade by daughter Greta for a class project
Shells & Coral — Collected in Tonga and Tahiti
Coral mount — Flying Tiger
Baby-doll head — Shop in Ribeauville France
Gold Beaded Skull — TK Maxx in Germany
White Skull Bottle Topper — Abalone in France
Mauve Buddha Decorative Tassel — Abalone in France
Marbled glass bottle stopper — Shop in Murano, Italy
Assorted bar bottles — Italian and French thrift stores
Marble bistro table on balcony — French thrift store
KITCHEN
Table and chairs — Included in the apartment
Mixer — Kitchenaid
Art — Molin Vecio
Food canisters — Italian thrift store
Copper plate — Italian thrift store
BATHROOM
Jewelry displays — DIY