An Italian Chef's Maximalist Apartment Is Actually in an Old Castle
We
independently
select these products—if you buy from one of our links, we may earn a commission. All prices were accurate at the time of publishing.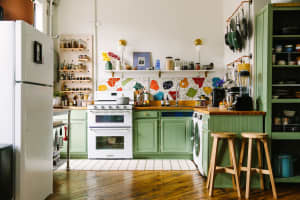 Can't-Miss House Tours Straight to Your Inbox
Keep up with our latest house tours each weekday with our House Tour of the Day newsletter
Name: Lucas Migliorelli
Location: Vicenza, Italy
Size: 750 square feet
Years lived in: 4 years, renting
Walking into Lucas Migliorelli's home is like walking into a candy shop if you're a cook. Almost every surface is lined with prized pottery or beautiful copper pieces, as well as beautifully displayed dry goods and an impressive pantry system. And adding to that envy factor? Almost all of Lucas's cookware was handmade by local artisans that he's sourced over the years and built relationships with.
Lucas is a chef who teaches private cooking classes out of his home for his business, Cooking with Lucas. He brings his classes into his small apartment, which thankfully has an open floor plan with the living room, kitchen and dining area all in one gorgeous space. A functional kitchen and prep space are essential not only to his lifestyle, but to his livelihood, so he's crafted a perfectly functional workspace, with plenty of storage for the items he sells to customers (and that's beautiful to boot).
Not only is his apartment functional — with great open storage concepts to show off his Polish pottery and handmade copper pieces — but it happens to be located in an old Italian castle. Lucas's apartment was originally part of the castle that is connected to the old city wall and fortification tower, and the main area of his apartment makes up the space that originally housed a little girl's bedroom, hence the gorgeous fresco and chandelier on the ceiling. As if we didn't want to move there already!
Apartment Therapy Survey:
Inspiration: Just comes with the years of accumulating little things; my house is a little bit of an organized mess.
Favorite element: I like that all the food I have is stored in glass; it makes it so much easier to get inspired to cook and know what you have. I also love all my copper pans and Polish pottery.
Biggest challenge: Storage space at my place is very limited. Everything I put inside the house I have to think very hard of a place to put it.
What friends say: Some friends say that I have too many things in the house and the house looks crazy, but the majority like it.
Biggest embarrassment: Because of the high ceiling, it's very hard to heat or cool this house. It's sometimes cold in January and hot in July.
Proudest DIY: I like the shelves I made.
Biggest indulgence: The biggest indulgence is my addiction to buying copper pans and Polish pottery. Eventually I will need to move out of this house because I will have no more space for my pans and plates.
Best advice: When you buy something for your house, buy something of good quality or don't buy it. Sometimes you think you are saving money buying low-quality products but you are actually not saving any money. Buy beautiful things that will last a long time. I avoid shops like IKEA; I prefer to buy original things made by good people.
Dream sources: Having a kitchen with Italian hand-painted tiles with a copper stove and marble sink.
KITCHEN
Moka pots — Bialetti
French press — Germany
Copper canisters — purchased in Lyon, France
Polish pitcher — Ada's pottery shop in Boleslawiec, Poland
Olive utensils — Dal Toso copper shop in Vicenza, italy
Polish utensil holder — Boleslawiec, Poland
Polish canister — Boleslawiec, Poland
Copper kettle — Italian mercantino
Copper next to stove — Dal Toso copper shop in Vicenza, italy
Spoon rest — Boleslawiec, Poland
Kitchen island table — from an Italian mercantino, with the wheels and white top DIY'd
Marble mortar & pestle — Genova, Italy
Shelf for pottery — DIY'd
Assorted Polish pottery — Boleslawiec, Poland
Copper pots — Dal Toso copper shop in Vicenza, italy
Demijohn — Italian mercantino
Polish mugs — Boleslawiec, Poland
Copper pot with wine — included in the apartment (it's an old cheese-making pot!)
Pantry shelves — DIY'd
Copper pots — Dal Toso copper shop in Vicenza, italy
China cabinet — Italian mercantino
Pot lid holder — gift from a friend
Pasta poster — Florence, Italy
Pasta maker — Marcato factory
LIVING ROOM/DINING ROOM
Alpini Moka pot — Bialetti
Couch — Italian mercantino
Serving tray — Italian mercantino
Owl pillow — Coin department store
Sunflower painting — painted by mother
Coffee table — Italian mercantino
Dinnerware — purchased in France
Copper pitcher — Dal Toso copper shop in Vicenza, italy
Copper cups — Dal Toso copper shop in Vicenza, italy
Tablecloth — Purchased in France
Dinner table/chairs — Italian mercantino
Mirror — Venice, Italy
Lucas painting — painted by mother
Chicken painting — painted by mother
Knight — Italian mercantino
Assorted painting above radiator — purchased in Germany
Bigoli bench (special bench for making pasta) — from factory
Rug — Italian mercantino
PANTRY
Assorted Polish pottery — Boleslawiec, Poland
Copper pans — Dal Toso copper shop in Vicenza, italy
Polish pottery salt and pepper shakers — Boleslawiec, Poland
Italy Moka pots — some from Bialetti, some Italian mercantini
BEDROOM
Map bedding — Amazon
Greek painting — painted by mother
Desk — Italian mercantino
Wardrobe — Italian mercantino
Dresser + mirror — Italian mercantino
Rug — Italian mercantino
Radiator decorations — purchased in Germany
BATHROOM
Da Vinci poster — the Louvre in Paris
Knight toilet paper holder — purchased in Germany
ENTRYWAY
Sideboard with mirror — Italian mercantino
Mask — Venice, Italy
Painting hanging from doorway — painted by mother