Cole Escola's Candy-Colored, Granny-Chic Brooklyn Apartment
We independently select these products—if you buy from one of our links, we may earn a commission. All prices were accurate at the time of publishing.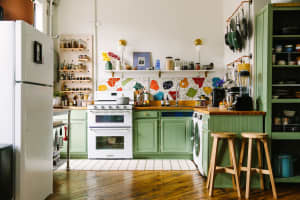 Can't-Miss House Tours Straight to Your Inbox
Keep up with our latest house tours each weekday with our House Tour of the Day newsletter
Name: Cole Escola
Location: Brooklyn, New York
Size: 425 square feet
Years lived in: 6 months, renting
If your sweet nana from the 1970s lived in Brooklyn in 2017, you can be pretty certain that she'd fan herself over Cole Escola's candy-colored apartment. After having lived with roommates for years, Cole was excited to make this one-bedroom home reflect their own unique style, and Cole has worked diligently to make this happen over the short time they've been in the space. From the mod Victorian murals painted by a friend, the artist Steven Hammel, right down to the very last doily, Cole's home is infused with passion for all things granny-chic.
Cole is an actor, known most recently for the role as Matthew on Difficult People. I love that their cozy, Victorian-inspired apartment isn't a straightforward throwback to the era of lace and waistcoats. What I appreciate most about the space is its modern twists, and the way Cole's style naturally plays on the notion of time and inspiration itself.

As we chatted about the core of their style, Cole shared that one of the reasons they love Granny-chic comes is because of fond memories of their own grandmother's home. Her home contained many items from the 1970s' resurgent interest in the Victorian era, and Cole's style unfolds with that feeling: nostalgia for a bygone era's nostalgia for another bygone era, all within the space of a relatively modern, updated Brooklyn apartment framework.
The fun of this is that each item is like a story-within-a-story, and the colors and quirkiness of the place all add to a home fingerprint that is uniquely Cole's.
Apartment Therapy Survey:
My Style: Dollhouse/Grandma's Guest Room
Inspiration: I started with the publicity portrait from The Virgin Queen. I like that it's sort of a classic portrait of a monarch but it's slightly off because it's Bette Davis.
Favorite Element: My living room and kitchen murals painted by Steven Hammel.
Biggest Challenge: I never want to leave.
What Friends Say: "Is that a real cake?"
Biggest Embarrassment: Almost everything is from Amazon, Wayfair, or eBay. That's been devastating. Also, I wouldn't say this is an embarrassment, but my bedroom isn't complete. I don't have anything on the walls because I love the way the paint reflects light at night. This pink glow pours out into my kitchen.
Proudest DIY: There's nothing particularly DIY about my place. The closest I've come to anything DIY is painting my dresser and putting on new knobs.
Biggest Indulgence: The whole apartment is a big indulgence.
Best Advice: When I moved in I spent every free moment I had putting the place together, day and night. It took about a month and a half. I hardly slept, I had bruises everywhere and anytime I had to assemble something there would come a point where I collapsed in tears. I'm so happy I put all that work in though. Whenever I'm feeling low, I look around and see all this proof that I actually care about myself, or at least did at one point. So I guess my advice is, leave me alone!
PAINT & COLORS
Living Room — Serenity by Benjamin Moore
Kitchen — Wheatfield by Benjamin Moore
Bedroom — Salmon Peach by Benjamin Moore
LIVING ROOM
Tillery Crimson Newton Chaise — Birch Lane, Wayfair.com
Crocheted Ivory Granny Square Afghan with Purple and Pink 3D Flowers —eBay
Lavender and Deep Purple Afghan — eBay
Wembley Graphite Lacefield Arm Chair — Wayfair
Floral Pillow Cover — Amazon (Pillow, IKEA)
Victorian Tufted Parlor Chair — eBay
Blue and Gold Tasseled Pillow — Life Boutique Thrift Store, Park Slope
Black Side table —Yesterday's News, Carroll Gardens
Gray Pinewood TV console — Amazon
Victorian Porcelain Lamp with Gold Shade —Life Boutique Thrift Store
Vintage Side Table with Drawers and Painted Roses —Time Galleries, Park Slope
Brass Wall Sconce with Crystal Prisms —eBay
Brass Leaf Wall Hangings — eBay
Glass Lady Figurines —Fishs Eddy
Ceramic Victorian Reliefs —eBay
Fruit Tray Beige Area Rug — Wayfair
Brass Corinthian Column Lamp —Life Boutique Thrift Store (white shade, IKEA)
Waverly Sanctuary Rose PeekABoo Valances —Amazon
Yellow Foam Roses — Amazon
Kitten Figurines — Yesterday's News
Victorian Walnut Gingerbread Shelf —eBay
Owl Clock — Amazon
Mirror with Rose Gold Wood Frame —Life Boutique
Various doilies — Amazon
Brass Pig in a Rocking Chair — eBay
Milk Glass Hobnail Oval Footed Candy Dish with Lid —eBay
Pottery Bunny Rabbit Planter —eBay
Tiffany Style Floor Lamp — Amazon
Pub Style Coat Rack —Amazon
DINING ROOM
30″ Round Pub Table in Black — Amazon
Glass Cake Stand — Fishs Eddy
Fake Cake — an online prop store
Bar Stools with Off- White Vine-Patterned Vinyl Seats — Yesterday's News
Portrait of Bette Davis in The Virgin Queen — Allposters.com
KITCHEN
Marseille Blue Le Creuset Set — Williams Sonoma
Owl Utensil Holder and Matching Spoon Rest —Amazon
Vintage Seasons Trays — Estate Sale
Rooster Paper Towel Holder —eBay
BEDROOM
Tarva Bed Frame — IKEA, (painted Gray)
Tarva Dresser —IKEA (painted Gray)
Ceramic White and Red Rose Knobs — Amazon
Victorian Lady at Mirror Figurine — Tio Calvino's Thrift Store, Clatskanie Oregon
Victorian Gentleman Figurine — housewarming gift from my friend Max
Marlene Dietrich's New York Library Card — eBay
Lamp with Floral Shade — IKEA
Ivory Granny Square Afghan with Red and White Roses — ebay
Rochelle Gray Queen Quilt Set — Amazon
Dark Gray Valance — Amazon
BATHROOM
Fake Waffle — online prop store
Farm Animal Figurines — eBay
Violife UV Toothbrush Holder —Amazon
Bamboo Bath Mat — Amazon
White Woven Shower Curtain — Amazon
Autographed Portrait of Vicki Lawrence — housewarming gift from my friend Jenn
Queen Elizabeth II Coronation Souvenir Mug — gift
Correction: Since this tour's first publication, Cole Escola has announced that they use the pronouns they/them. This tour has been updated to reflect that.