House Tour: Jennifer's Cool and Kitschy Austin Home!
We independently select these products—if you buy from one of our links, we may earn a commission. All prices were accurate at the time of publishing.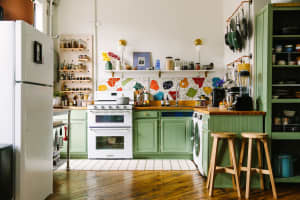 Can't-Miss House Tours Straight to Your Inbox
Keep up with our latest house tours each weekday with our House Tour of the Day newsletter
Name: Jennifer Perkins, owner of the Naughty Secretary Club, and her husband Chris Boehk (also Ella the English Mastiff, Georgie the black cat and Lucy the older pup)
Location: Austin, Texas
Years lived in: 6 years
When Jennifer Perkins and her husband Chris moved into this South Austin home six years ago, it was clear it had previously been a rental home for college students, featuring bad paint jobs, gross surfaces and evidence of neon signs. Still, Jennifer saw potential in this old home and liked that the house sported two separate living rooms–plenty of space to carry out her visions. Using her imagination, a hefty dose of DIY and her signature style, she's transformed this home into the epitome of Austin cool. If you've ever wanted to know how a family, lots of amazing collections and a ton of style could all fit into one home, this is the house tour for you!
Each room in the house has a different feel and theme, but still has cohesiveness to it. If there's one thing Jennifer's best at (well besides running a successful business) it's knowing how to combine styles and objects to create amazing displays and rooms. Though we often speak about thinning down our stuff on AT, Jennifer's home is a lesson that it's okay to love collecting stuff too! Jennifer has so many collections; it's hard to say how many different ones this home contains. But the most amazing thing about this space is that even though it's filled with childhood objects, thrift store finds and kooky collectibles, it never feels too cluttered. Instead, Jennifer has created a house with an interesting story everywhere you look. Most importantly, this house is just plain fun!
Inspiration came from varied and sometimes unlikely sources. A major conversation piece, the dining room floor was inspired by a Target brand tissue paper pattern featured long ago. Using things like large trays, pots and small jar tops, Jennifer traced circles on her old floor and painted away, covering the dots with a protective coat when done. And as if the floor weren't interesting enough, Jennifer retold the funny story of its debut: At a party held for the new home, a guest bearing a housewarming gift did a double take when she noted that the pattern on the floor was the very same pattern on the tissue paper that the present was wrapped in! Everyone had a good laugh and it just goes to show you: inspiration doesn't have to come from expensive sources.
We loved that collections were found everywhere, and also in appropriate areas. Old camping thermos cans, cookie jars, and weird fruit heads can be found in the kitchen. The bar area features "naughty" playboy glasses and paraphernalia. The Florida room sports, well, everything tropical, but not garishly so. Furniture, accessories and artwork all work together to create a fresh and brightly themed room that's complimented by the light coming from the patio's sliding glass doors.
Having always admired Eastern decor, Jennifer knew she would have to have a room in that vein. Dark red walls and conservative black leather couches anchor the main living room, while collection upon collection adds layers to the space. Some of the collections featured in this room are records, Asian-inspired accessories and vintage children's toys. You might also notice the giant panda's head sitting conspicuously in a corner. While its origins were a mystery at first, it was soon discovered that this panda head used to take residence on top of a trashcan and was featured in a famous movie (can you guess which one?). The most fun part of walking around her house is realizing that everything truly has a story. Sometimes meaning is lost in homes when we try to design too quickly or for the wrong reasons, but everything you see in Jennifer's home has a story, an origin, a reason and a purpose.
The master bedroom doesn't have a specific theme per se, but does feature a custom vintage barkcloth headboard and drapery valance. As you might imagine, the owner and designer of a custom jewelry craft business has a ton of wonderful jewelry, and jewelry lovers could take notes on the amazing ways that Jennifer both organizes and displays all of hers. Creating art pieces with her jewelry, not only is everything accessible it also looks good.
The guest room features more vintage fabric, a little bit more of the Florida theme and more collections, like Jennifer's comprehensive collection of Enid Collin's purses, the purse designer from the 1960s.The guest room also sports a fake tree that Jennifer hauled back from a thrifting trip all the way from Peoria, Illinois with an already packed vehicle full of other shoppers. It stands forever as a testament to her love of a good deal and a great find.
The hall bathroom offers guests custom mosaic work courtesy of Jennifer's equally crafty mom, Fredda, who can be found in the latest issue of Craft: magazine and whom she credits with her love of all things crafty and thrifty (her parents having drug her and her sister, Hope, vintage and thrift shopping all their lives). Jennifer's collection of fish kept falling off the wall, so her mom crafted a mosaic framework with which to display her aquatic collection, and the result is quite the whimsical experience. The pink color theme was inspired from a shower curtain that was won in a heated eBay battle by Jennifer.
Though Jennifer loves running her successful business, she cites house design as one of her first loves, and you can see that love in the amazing way she's tackled her home's design. It truly is amazing how you don't feel overwhelmed by the great stuff in her house, nor does it feel like a stuffy museum. Jennifer frequently encourages guests to explore her collections and even remarked that sometimes spontaneous dance parties occur at her events and end with everyone breaking into her vintage sunglasses collection for a good laugh. If you've ever been overwhelmed by your own collectibles or wanted to start collecting, take a cue from Jennifer: she never passes up a deal and only buys what she really loves. When you really love what you bring into your home, it's easy to incorporate it into your space. The result is a magical, layered and interesting home!
My style: Eclectic comedy. Some people take home decorating way too seriously for my taste, I like to have fun with it and mix in unusual elements. I used to have a very strict Mid-Century Modern Asian only influence throughout the house, but eventually I had to bend to make room for my love of stupid toys and Burt Reynolds.

Favorite Room: That is probably a tie between the Florida Room and the spare bedroom. Both have this tropical feel with shell lamps and hula girls. The Florida room is always bright and sunny with all the windows. Also both are the least utilized rooms in the house so they manage to stay the cleanest.

Inspiration: I don't have one set place where I get my inspiration from. I pick up Elle Décor and Domino and thumb through. I love vintage home decorating books and books with a vintage feel like the Pad series. I get inspired when I see pieces calling out to me on a dusty table at a flea market. When my mother who I am usually shopping with gives me the "what in the world are you going to do with that thing" lecture I usually know it is a score. However my mother is a huge source of inspiration herself. She lives in a pristine Victorian home with all the age appropriate fixin's except for the occasional lamp with an armadillo shell shade or shelf in a corner stocked with doll heads. She loves the home decorating surprise as much as I do.

Biggest Challenge: Living in a house built in the 1970's with mid century modern taste in the year 2008. Well that and the fact that our house was a beat up rent house when we moved in that needed a ton of TLC. I'm talking bad floral wall paper and wood paneling that had to be taken down.
Most Talked about Element: I try to have little decorating surprises throughout my house that make people smile or catch them off guard. Tucked into the books in the entertainment center is a mannequin part that we lovingly refer to as "man crotch". In the Florida room there are bowling balls in the built in planters around the windows, bowling trophies above our CD case and a taxidermy marlin high on a wall. The main thing that people take a minute to notice, but typically laugh their arse on when they do is the large picture of Burt Reynolds laying naked on a bear skin rug above our fire place. People always do a double take and that is why I love it there.
Biggest Embarrassment: I thought my black leather couches were such a great idea when I bought them, and now they feel so Miami Vice to me. I had a beautiful vintage looking fabric sectional all picked out but then I reminded myself of why I was having to buy new couches in the first place – I have a cat with nails and over 200 pounds worth of dogs. Now with a baby on the way to add to spillage maybe leather was the more practical choice, they just looked a lot better on the show room floor than they do in my living room.
Proudest DIY: I really love my polka dotted dining room floor. When we first moved into the house getting new flooring was not an option due to money so we pulled the carpet from the dining room and made it work. My husband traced all the circles using a coffee table, serving tray and dinner plate. The polka dots have always been everyone's favorite part of the house. I just wished I had used more polyurethane top coats and I might rethink having a white floor.
Oldest Item you Own: Besides the TV's there are not a lot of new things in the house. Hell I have my grandmother's vacuum and father's training potty chair on the shelves in my bedroom. Not the oldest things in the house, but the oldest things in my collection are probably my pieces of Bakelite jewelry which I collected as a child. In community college while still living at home I began picking up 50's Murano glass, Franciscan Starburst dishware and anthropomorphic fruit head wall plaques. The first pieces of furniture I bought were my chrome dining room table set and the 50's bar and stool.
Best advice: Go by your gut and what you like, not what the magazines and principles of design tell you. Margaret Russel would tear my house a new A-hole if I was a contestant on Top Design, but she does not live here I do. I always try and remember that. It might not look like what is in my favorite magazines and considered hip with the kids, but it makes the hubby and I giggle. After all, I am the girl known for making jewelry out of plastic gnome cupcake toppers did you really expect my house to look normal?
Cleaning or Organizing Tip: Break down and hire and a housekeeper, it is the best money I spend all month. Also when you have that housekeeper don't be embarrassed to ask them not to pick things up off of the shelves to dust each time. If you have as many knick-knacks as I do crammed into shelves when someone picks up everything to dust them everything ends up looking like a tornado hit it because it is never put back quite right.
Biggest Indulgence: Well in terms of size my biggest indulgence is the huge panda head in my living room my husband still won't let me live down. In terms of price it is probably the rattan chairs with the rounded backs in the Florida Room. They cost me enough that I still can't rationalize paying to have the chairs recovered which they desperately need.
Photos by Adrienne Breaux
And check our archives of ATLA's past house tours HERE