House Tour: Michele Masters an Old School Loft
We independently select these products—if you buy from one of our links, we may earn a commission. All prices were accurate at the time of publishing.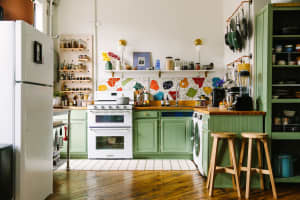 Can't-Miss House Tours Straight to Your Inbox
Keep up with our latest house tours each weekday with our House Tour of the Day newsletter
Name: Michele and Brad
Location: SoHo
Size: 1600 square feet 1-bedroom rental loft
Years lived in: 10 years
Walking into Michele and Brad's home elicits a gasp. It's not everyday one sees such evidence of creativity, time, talent, and skill. After a career in fashion design, Michele migrated to accessories and tried her hand as a sole proprietor. Since 2001, she's been creating pillows and textiles as well as curating cool stuff for her eponymous store on Crosby Street.
Michele moved into Brad's loft when it screamed out 80's bachelor pad. Though they couldn't add more light, Michele did her best to create the impression of more light. She added transoms in the hallway and in the bedroom, she lightened the walls and painted the hodge podge of tin ceiling tiles white, lined some of the rooms with great wallpaper, and added a lot of whimsy along the way.
Brad's biggest fear was to live in a house that was too precious. As former lead singer of the rock band, Crash Test Dummies, Brad wasn't entirely interested in a delicate home. So, Michele continued to morph the loft, while never taking any of its content, or the process, too seriously. She created a real home, full of personal touches, that is very comfortable.
This home is from the era of real New York City lofts — big empty space with no amenities, no rooms, and a bit of plumbing and electricity — when tenant improvements weren't optional. Michele loved the opportunity to stamp her personality on this space. And stamp she did!!
Apartment Therapy Survey
Style: Old school rustic NYC loft meets eccentric English manor owned by world traveler and collector.
Inspiration: The love of "things" with character. You could say beautiful objects, but that beauty is very subjective. We have paint by number paintings, taxidermy animals, all of whom have names and some have costumes. Industrial machine parts share shelves with 10k gold plated porcelain vessels. Kitsch objects picked up from music tours and junking sit next to Russell Woodard metal mesh chairs.
Favorite Element: Wood framed screen between the bedroom and "big" room made from repurposed metal door mats. It allows light and air to circulate and creates a mosaic pattern of light and shadows on the walls.
Biggest Challenge: Creating light and airflow with no windows in the middle. Not alienating Brad by making the space too precious.
What Friends Say: It's like walking into a cabin. There's so much to look at, I keep seeing new things. You don't see old school lofts like this anymore.
Biggest Embarrassment: The occasional holes in the original wood floor where furniture legs have sunk thru the old wood.
Proudest DIY: Hanging the wallpaper, including wrapping it around various pipes and creating a box to hide the multiple utility boxes. I also created the oak counter tops in the kitchen from multiple pieces, but they look like single big slabs of old oak. The 4'x7′ mirrors that help reflect light into our bedroom are wall mounted with wood frames that I made. The wooden window seat I made myself with left over pieces of wood from renovating our store. The thick "floating" shelves in the living room were the precursor to the wooden shelves suspended by steel cables in my store.
Biggest Indulgence: Our antique Indian carved wood bed from ABC. There's a little mirror in the headboard.
Best Advice: Only buy things that you LOVE and then figure out how to work them into your space. That way you're always surrounded by things that make you happy and your home will be a reflection of you and not look like anyone else's. So many people walk around with swatches and have to find "just the right shade of blue" so that everything matches. I am not about matching. It's more fun to create atypical compositions by moving around the things you love until they become interesting.
Dream Source: I wish there were more old school thrift shops and flea markets, where there was less knowledge by the sellers and buyers of an objects heritage. I liked it more when value was derived by how much you or the seller "liked" it.
I wish like in the UK, the US had large retailers or government subsidies for new, young designers. As the economy has become more challenging, many small design companies have been forced to close.
I guess I would like anything that would encourage less mass market appeal and more individuality in design.
Resources:
Note: Most furniture & objects are from the flea market, some were even left in our apartment by the previous tenant, including the brass orbit lamp. –
Crate & Barrel: linen couch and chair
Mitchell Gold: reclining leather arm chair
Michele Varian: reproduction Russell Woodard chairs
Ikea: wooden utility shelves used in kitchen and in Michele's office area – and then stained and reconfigured ABC: bed and rugs
by/from Michele Varian: all pillows & throws, except crocheted circle pillow (by Patch), tree scrim, indian saris, gold porcelain bottles (by Eva Menz), Dutch Boot (by Qubus)
Neisha Crosland: wallpaper
Penine Hart: lots of the paintings
Ebay buying binge by Brad for a record of songs composed on toys: toy instruments
Nova Scotia junk shop: Brad's Fender Jaguar Guitar
And check our archives of past house tours HERE
We've had an amazing response to our Apartment Therapy House Tour Submission Form. While we will work with homeowners of our favorite homes to feature full tours, we will also share the best as House Calls — short, quick tours of readers' homes. Submit your home here.