Stephanie & Bob's SilverRidge Sanctuary
We independently select these products—if you buy from one of our links, we may earn a commission. All prices were accurate at the time of publishing.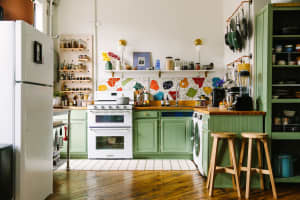 Can't-Miss House Tours Straight to Your Inbox
Keep up with our latest house tours each weekday with our House Tour of the Day newsletter
Name: Stephanie & Bob Walker
Location: Silver Lake, CA
Size: 1435 sq. ft. (with downstair bonus room it's close to 1,600 sq. ft.)
Years lived in: 2
Follow Topics for more like this
Follow for more stories like this
Sitting ontop of winding section of Silver Lake known as Silver Ridge, the home of nearby neighbors Stephanie and Bob Walker affords the couple a near 180 degree view of Los Angeles that stretches from the Hollywood Sign across to nearby Glendale, and all the way to the eastern most San Gabriel Mountains. Although the home is modest in size by modern standards, the home feels expansive thanks to the open floor plan, a liberal amount of large windows and the thoughtful placement of furnishings that are all accentuated by individual colour schemes for each room that runs the gamut from bold and graphical to subtle and soothing. Take the full tour below…
My/Our style: Mid-Century modern eclectic
Inspiration: Silver Lake, the colors of the sunset, my mom and stepdad's 1957 ranch house in Barrington, IL, things we find at the Rose Bowl Flea Market, good design wherever we find it (even in coffee packaging,) books like Bohemian Modern & Atomic Ranch, blogs like Apartment Therapy, the desert climate, the Modernist Homes Tour we went on in Silver Lake two years ago and the accumulation of all the homes I've seen over the last 25 years of life as the daughter of a realtor.
Favorite Element: There are too many elements to name just one. So to name a few: We love, love, love our views. The beautiful and interesting views of L.A.'s juxtapositions—the freeway and the mountains, the power lines and the palm trees, the Hollywood sign and the Griffith Park Observatory (real stars and dreams of becoming a star,) city lights and nature's beasts (the occasional skunk and coyote.) The openness and vibe of the house is another favorite element. From the first moment we walked into this house, it felt right. As though we already lived here. The newest additions to the house are also favorite elements- the kitchen and the yard. Favorite element in the yard would have to be the fire pit.
Biggest Challenge: Doing everything we wanted to do without killing my husband and cashing in the insurance policy. Ha ha. Ha. No, seriously. We are both thrilled to have survived our remodel and can now enjoy it together as a happy couple.
What Friends Say: "Please let me move in."
Biggest Embarrassment: The ratty Ikea rug under our dining room table that suffered through the puppy years with our pug dog using it as a chew toy. With everything else, we haven't brought ourselves to replace it. Too
Proudest DIY: The vegetable garden. It was my first time making any attempt at growing veggies and herbs and I'm so proud every time I make a salad, sauce or side dish using ingredients from the garden. The tomatoes are delicious! I'm definitely proud.
Biggest Indulgence: Both our major renovation projects were indulgences- the kitchen and the yard. Both were essentially stripped down to the bones and rebuilt. Also, the Hastens bed in our bedroom is another indulgence.
Best advice: "Share your home." It seems so simple. But when we bought the house and moved in, I felt so privileged and almost unworthy to live in such a space with such incredible views. I felt guilty (thanks to my Catholic upbringing) that we lived in such an incredible house. My mom was the one who gave us the advice. "Share the house and it won't be just yours." We did just that. Every Sunday, for example, during football season we had all of our Chicago friends over to watch the Bears play. Those Sundays turned into a wonderful ritual of eating, lounging, catching up and watching football. Some days our friends would arrive for a morning kickoff and brunch and wind up staying until late at night. No one ever wants to leave this house. We certainly don't want to. But it makes us happy knowing how much we got to share it with the people we love.
Dream source: Pasadena Rose Bowl Flea Market as well as our designers: Rebecca Rudolph from RST Design and Stephanie Bartron from SB Garden Designs. Both of these design saavy women always had wonderful ideas for resources. I love Pot-ted in Los Feliz and have been drooling over their outdoor egg chairs for a while, but haven't been able to afford them. I found the white vintage metal swivel chairs at the Rose Bowl Flea Market and bought those instead. I do love the chairs we bought, but whenever I drive by Pot-Ted, I still drool a little.
Appliances: The Viking stove came with the house.
Stackable washer/dryer- purchased at Lowes
Furniture: Living Room:
The two chairs in the living room were purchased at the Melrose Flea Market for less than$300
Swedish platform bed with floating nightstands purchased from the Rose Bowl Flea Market for $500
Swedish credenza and hutch in the dining room purchased from the Rose Bowl Flea Market for $300
3 Vintage Herman Miller fiberglass counter stools purchased from the Modernica warehouse sale for $150 each. (We bought them as bar stools and we had someone cut them down to stool height for free)
Dining table- Sweet Smiling Home warehouse sale downtown L.A.
Dining chairs, bookcases, kitchen cabinets, patio dining table and chairs & green plastic stools- IKEA
Bed in master bedroom (big splurge): Hastens bed (two twin beds put together to make a king)
White Iron vintage swivel patio chairs- Rose Bowl Flea Market
Accessories: Cartoon juice glasses- collected over the years by my mom and given to us as housewarming gift
Polka dot juice bowl and mugs- Pasadena City College Flea Market
Penguin ice bucket- Pasadena City College
Paper lanterns- Chinatown
Lighting: Living room floor lamp with green and white shade – West Elm
Cast Floor Lamp in living room from EQ3
Le Klint Pendant from ylighting.com
Rugs and Carpets: Persian rug by fireplace bought at Robinson May's closeout sale
Sisal rug under dining room table – Ikea
Tiles and Stone: Kitchen counters are Caesar Stone
Beds: Hastens bed (2 twin beds put together to make a King) bought at the Hastens store in Culver City
Guest bed frame is a Swedish frame w/ floating nightstands bought at Rose Bowl Flea Market and the mattress is from IKEA
Artwork: Mosaic in kitchen from the Rose Bowl Flea Market
Manipulated polaroid of Red Wall by Michael Going (our next door neighbor in our old building in Silver Lake)
Beatles silk screen- purchased at a silent auction for Moving Arts Theatre Company
Obama Native vote given to us as a gift from a friend who got it in New Mexico
Monkey painting from the Melrose Trading Post
Blue and orange poster in hallway bought at flea market in Salzburg, Austria
Painting of two kids- my brother and I posed for that in London many years ago
Paint: Mostly purchased from Jill's Paint in Atwater Village.
Flooring: Original hardwood floors (except for kitchen… we put those in as part of the renovation to match the original flooring)
(Thanks, Stephanie & Bob)
And check our archives of ATLA's past house tours HERE