45+ Awesome Housewarming Gift Ideas that Beat a Bottle of Wine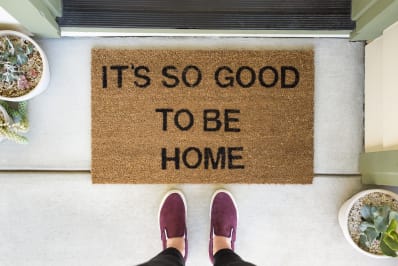 (Image credit: Amy Covington/Stocksy)
Someone you care about has a new home! Show them how excited you are for them with something from this extensive list, packed with options from the sweet and petite to the wildly indulgent. Three words: Ice. Cream. Subscription.
Celebrate their new set of keys with these elegantly spare key rings.
If a housewarming gift is good enough for Phoebe Buffay to give ("Salt, so your life always has flavor!"), it's good enough for anyone. This generous bag will enhance the recipient's meals and life for a long time.
While a one-time delivery of three pints (or even just one pint brought on your first visit if there's a brick-&-mortar Jeni's nearby) would be an amazing gift, a subscription (4 pints, 4 times a year) will make you a hero.
Garden Street at Britt Ford, Starting at $225
Artist Britt Ford creates a beautiful line of heat-embossed maps, home facades and more. Look into custom options to get your new homeowners something truly special.
This is a gorgeous piece that your friends will surely serve you many fine cheeses upon for years to come.
Face it: you're probably going to break some of your friends' glasses at some point, so apologize in advance with a set of these unusual and affordable glasses.
Bring new life into a new home with this set that contains nine types of seeds and nine sweet little jars.
Heath's ceramics are widely coveted, and this little set is one of their most affordable options. Everyone needs another S&P set, right? One for the kitchen and one for the dining room (AKA coffee table).
Burn off the previous residents' scents with this sweet little kit that contains 26 cedar-vetiver cones and a teeny ceramic burning plate.
This is a great go-to gift whenever anyone you care about moves. It might even motivate them to send you more cards!
These elegant cards (available in six scents) are a modern take on drawer sachets.
This black steel set is beautiful and ridiculously handy, especially since new homes need tons of tune-ups!
There are a lot of scented candles out there, but Diptyque remains the gold standard. The mini candles are more affordable than the full-size versions yet still totally indulgent.
This very special soap is made in France in cauldrons, probably by witches.
Beautifully packaged cleaning products make a great gift; an even better gift might be letting the new homeowner choose the exact ones they need.
Sage Tea at Gravel & Gold, $14
Make a nod to the tradition of smudging with this delicious, wildcrafted sage and mint tea.
Here's another elegant sage alternative to smudging if your loved ones aren't the smudging type.
Commemorate your loved one's beloved new home (or their beloved previous home) with a house portrait done in a style that's perfect for them.
You know what they say about first impressions. Help your new homeowner friend set the tone just right from the very beginning.
I cannot overstate how magical and beautiful these are. They make a very festive addition to a housewarming party (especially if the home in question is still empty), but you might want to consider bringing a little air pump with you.
This is one of the best bottles of bubbly I've ever had, and it's only $7.99/bottle. One bottle would be a lovely gift, but go ahead and stock their bar if you can afford it.
Simple Syrup Set at Kaufmann Mercantile, $26/set of two bottles
This set of simple syrups (Ginger Spice and Honey) is perfect for drinkers and nondrinkers alike. Throw in a pretty bottle of sparkling water for an extra treat.
Those who don't imbibe deserve to christen their new home in style, too. This elegant potion is infused with spearmint, rosemary, thyme, and other botanicals.
It will be tempting to keep one of these cuties for yourself, but don't break up the family!
Available in four fresh scents, this kit contains five excellent cleaning products already in a gift box.
Muji diffusers are the most beautiful around, and they create the most delicate steam possible. Throw in an essential oil if you can afford it AND you know what your friend likes.
This is a cute little set that will make cleaning a teensy bit more pleasant (and a lot prettier).
"Small but important" is such a powerful phrase; I would fill this jar with perfume samples.
Kitchen witches are good luck; this beautiful beech version is practical as well as magical.
If you're looking for something a bit more robust to gift a loved one for their new home, this playful, authentic German cuckoo clock—made in the Black Forest—may be just the thing. This company offers a wide variety of other clocks, as well, including a quirky yet fun array of modern clocks (on top of their catalog of more traditional options).
Pineapple Vase/Planter at CB2, $6.95
Here's a modern take on the hospitable pineapple! For bonus points, present it with fresh flowers or a small plant.
Beeswax Taper Candles at Heath Ceramics, $9/pair
A pair of tapers makes such an elegant gift (especially tied together with twine and perhaps a sprig of fresh herbs), and these beeswax beauties are special.
RuPaul (or other pop culture icon) Holy Candle at HolyPopCulture on Etsy, $13.95
At the other end of the candle spectrum are pop culture holy candles, featuring such saints as Dolly Parton and RuPaul.
Bar Tartine by Cortney Burns and Nicolaus Balla at Amazon, $23
A cookbook makes a lovely housewarming gift, and this gorgeous volume is full of recipes that are great for entertaining, such as fascinating pickles, elegant dips, and cocktail syrups.
Various Sheet Masks at Sephora, $4-$6
Moving is hard on your hands, your feet, and your general state of mind. Give a little healing and pampering with a selection of masks you think the new homeowner would enjoy.
Netflix (or other streaming service) Gift Card, Any Amount
When you buy a new home, chances are you're going to be spending more time at home for two reasons: 1. You're excited to be in your new home! 2. You just spent all your money on your new home! Improve the at-home experience with fabulous shows and movies.
Framing Gift Card at Framebridge, Any Amount
A new home means being suddenly faced with blank walls (and possibly art in frames that no longer make sense). Give the gift of properly displayed art!
Gift Card at Target, Any Amount
Everyone in the world, from Daddy Warbucks to the Little Match Girl, could use something at Target—especially when they've moved into a new home.
Salt, Fat, Acid, Heat by Samin Nasrat at Amazon, $22.04
Since it was published last year, this cookbook, subtitled "Mastering the Basics of Good Cooking," has garnered nothing but rave reviews. It's a great gift for novice cooks and passionate chefs alike.
Coffee Subscription at Stumptown (or your favorite roaster), Starting at $96
This is a great gift to give if you can't attend the housewarming in person. A 3-month, 2 bags/month subscription starts at $96, but you could always just send one bag of beautiful beans.
Green Herb Linen Spray at Zara, $16.50
Zara's linen sprays, available in 6 scents, make an elegant, affordable gift.
On The Spot Kit at The Laundress, $30.50
The Laundress makes very high-end cleaning products for the home; this darling starter laundry kit is a great introduction.
Post-Poo Drops at Aesop, $29
If the new homeowners love classy packaging AND scatological humor, this is the perfect gift. If they're not into poop jokes, check out the rest of Aesop's lovely home line.
Dark Chocolate Pearls at Food52, $22 each
These French tins are as exquisite as the chocolate they contain, and they're sure to be used to hold pushpins for years to come.
Pineapple Candle at H&M, $6.99
Pineapples symbolize hospitality, and this sweet little ceramic one filled with a candle is so cute (and available in white and chrome).
Basic Witches by Jaya Saxena and Jess Zimmerman at Amazon, $12.56
While everyone needs a kitchen witch, this book should be reserved for your witchier friends. It includes such chapters as "Witch's Pantry," "A Ritual for a Relaxing Netflix Binge," and "Which Pet Should Be Your Familiar?"
Apartment Therapy supports our readers with carefully chosen product recommendations to improve life at home. You support us through our independently chosen links, many of which earn us a commission.