You Can Live in a Gorgeous Italian Town Practically Rent-Free—Here's How
We
independently
select these products—if you buy from one of our links, we may earn a commission. All prices were accurate at the time of publishing.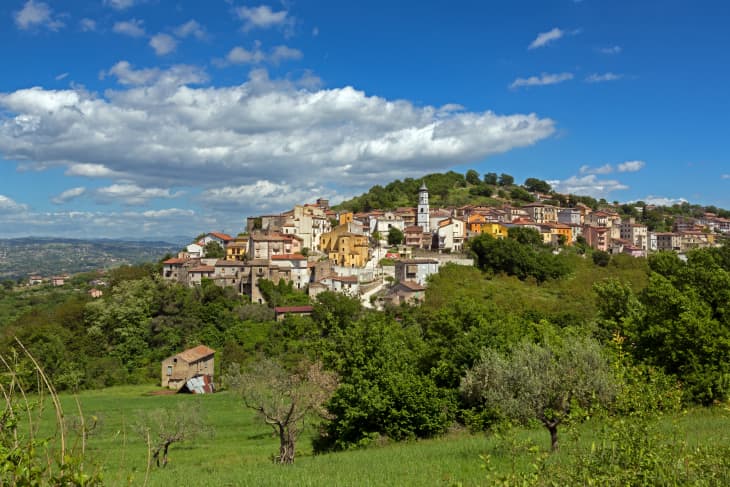 Moving to an idyllic Italian town might feel like something out of an "Under the Tuscan Sun"-inspired dream, but one town in southern Italy is making it happen for anyone willing to relocate for at least three years. The exchange? You get to live there virtually rent-free. Yes, really.
The picturesque Teora, a territory located in the province of Avellino, Campania, was largely destroyed in a 1980 earthquake that devastated much of the town. The local government is hoping to revitalize and rebuild many of the dilapidated homes by offering up a pretty plush incentive. If you agree to move in and rent or buy one of the empty houses, you'll receive €150 per month (about $162) toward the cost of rent over the course of two years, or €5,000 towards a home purchase, per CNN Travel.
With rentals costing as little as €200 per month, while 1,000-square-feet homes are on the market for just €30,000 (or around $32,000), it's a bargain no matter how you slice it. The one important caveat to this deal, though? Takers must already have a child in order to qualify.
In recent years, we've seen Sicilian homes for $1 and an Italian village in Puglia paying people to move there, Stefano Farina, the mayor of Teora, feels these deals don't do much to promote long-term growth.
"I don't believe in selling empty houses for €1, that doesn't incentivize people to stay in town," Farina told CNN Travel. They just come a few months a year as holidaymakers. That's not the solution. But taking up residency and enrolling kids at the local school, that does breathe new life."
After the earthquake 40 years ago, the population has taken a sharp hit—and it hasn't recovered. "Two babies are born [in Teora] each year versus 20 elders who die," he said. "We're down to barely 1,500 residents. After the terrible quake many young people fled. I want to invert this negative trend. Children are our future, new families will be the building blocks of our shrinking community, so we encourage those with more kids to apply."
It seems the houses available are in good condition since they were rebuilt from scratch after the earthquake, and some even come equipped with furniture. Farina will even waive school meal fees and local taxes as an added incentive. Three families have already moved in, and Farina hopes more will come soon.
What exactly would a life in Teora look like, though? With winding streets lined with balconies and terraces overlooking the countryside, as well as a location close to the sea, it apparently features a lush, hilly landscape and equally gorgeous gardens, with Farina adding that "chirping birds wake you up in the morning while at night, foxes scuttle beneath the benches where old men sit."
Several pieces of ancient architecture are still standing despite damage from the earthquake, including an amphitheater, some fountains, a water mill, and an ancient church with an open-air altar, as well as decorated pillars and arches.
And there's no shortage of tradition or entertainment: Teora also has a longstanding romantic serenata tradition in which women residents are treated to a "beautiful serenade" at least once in their lifetime, with Farina adding, "Serenata is more than a song, it's our way of being. We're lively people who enjoy playing around and teasing."
There's an annual festival of love songs where couples reenact the balcony scene from "Romeo and Juliet," along with local fairs, parades, and carnivals. Food lovers will enjoy Teora's local cuisine, along with the St. Martin's potato pizza pie village eating ritual, when a coin is hidden inside pizza dough. Whoever finds it in their slice of pizza rules the table for the day and gets to order whatever they want.
Farina notes that these traditions—as well as Teora's lively community—are what make it worth not only visiting, but staying for a while.