How the World Sees American Design Might Surprise You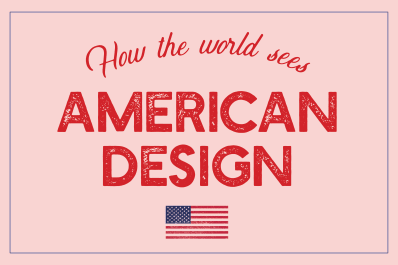 America is a diverse nation and the design scene here is absolutely reflective of that. Different cultural influences aesthetics have prevailed over the years, so it's tough to say what's characteristically American. Though personally, if I had to hazard a guess at what American design appears to be from the outside looking in, I'd think most non-Americans would say Ralph Lauren is about as "Americana" as it gets, with all the denim, classic stripes and bandana prints the iconic brand is known for.
Because American cities are young compared to the rest of the world, it seems hard for us to compete with Scandinavian design centers like Copenhagen or Stockholm, or for American homes to be on par with a French chateau or English manor. So I went straight to the source and asked some international born-and-bred tastemakers for their thoughts on American Design and whether their perceptions matched up to reality when they first came here. Turns out, the 50 states may be less cowboy and more cosmopolitan than I initially thought.
Christiane Lemieux of Cloth & Company
Growing up in Canada, designer Christiane Lemieux had lots of access to American television and movies. That exposure played a big role in her initial impressions of American design as both pulled together and chic. "I remember watching movies like Pretty in Pink and marveling at the cross section of interiors," says Lemieux of the film's new wave spaces. "Everything from Molly Ringwald's room to Andrew McCarthy's big home. It was American glamour to me."
When Lemieux later moved to New York, she saw that same level of detail in homes, restaurants and buildings. Sure, every space here doesn't look like a suburban John Hughes movie set, but American homes are often fully designed from top to bottom. "I still believe that Americans drive the interior design business," says Lemieux. "Totally finished homes that are executed beautifully and move-in ready is quintessentially American."
These days, Lemieux, along with business partner and Skyline Furniture president Meganne Wecker, is at the helm of her own American Design company, Cloth & Company, which prints fabric on demand for custom pieces in as little as six days time. "American design means individuality, and expressing through design and decor in a truly individual way," says Lemieux. And that's exactly what Cloth & Company is tapping into, by allowing design enthusiasts to pair a given furniture silhouette with any of their patterned fabric offerings. What could be more American than that?
Lauren Emerson of Walter G
Prior to launching the fabric line Walter G, designer Lauren Emerson and her business partner Genevieve Hewson hadn't traveled to the U.S. much and were relatively uninformed about the American design scene. "I guess our only exposure was through movies, television and blogs at the time," says Emerson, who is based in Sydney, Australia. The two designers thought their relatively casual line might not be quite right for American interiors, where formal florals, velvets, and other sumptuous fabrics have been so popular over the years. "We were a little concerned that our range, which is quintessentially Australian in its relaxed, relatively rustic aesthetic, was not traditional enough for the US market," says Emerson.
Instead, Emerson and Hewson found Americans super receptive to their hand blocked designs. "Americans use fabric on everything from butcher's doors to walls, valances and tables skirts," says Emerson. "Funnily enough, sometimes we have to Google the comments that describe what our fabric is being used for!"
According to Emerson, fabric is not used as extensively in Australian interiors as it is in American spaces. "This is possibly a combination of the climate in Australia and absence of a rich textile history, which often sees a lean towards hard finishes," says Emerson. "We love how confident American designers are with layering pattern, textures and color in their spaces. It's always so inspiring to see where our fabrics end up!"
So who knew? From an Aussie's POV, America's the land of ingenuity with an appreciation for textiles.
Abby Kellett of Gretel Home
When it comes to design, America was lacking a little bit for Abby Kellett, the interior stylist behind the Miami-based online design shop Gretel Home. "I moved from London 15 years ago, and the wealth of interesting design available in the UK didn't exist here to the same extent," says Kellett. "I remember being lost without stores like Habitat and Heal's. And good, affordable design was not widely available in the US. Design Within Reach was not within reach for me!"
But all that has changed, Kellett says. IKEA opened the floodgates for fast home design here, and the American maker movement has made a major impact on inspiring work being done domestically. "NYCxDESIGN and DesignMiami/ are now truly important global events," says Kellett. "And there are more and more talented, independent designers emerging here every year. Her faves? Cali furniture designer Eric Trine, ceramicist Ben Fiess, the husband-wife duo behind Calico Wallpaper and the Florida-based Yield Design Co.
So, maybe I'm the one who has made false assumptions about American design and its perception around the globe. Because these days, people from outside the States find it pretty unique, inspiring and high style—all classifications we'll gladly accept.
Apartment Therapy supports our readers with carefully chosen product recommendations to improve life at home. You support us through our independently chosen links, many of which earn us a commission.