It Takes a Lot Longer Than You Think to Become BFFs With Someone New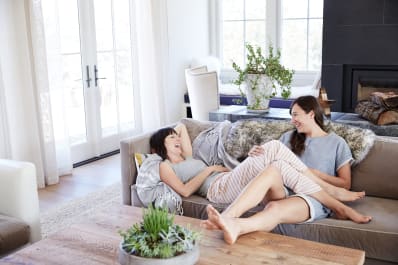 (Image credit: Trinette Reed/Stocksy)
Friendship is an amazing, incredible, frustrating, annoying, and beautiful thing. Each friendship that you have is different from the other. You might have one friend you've known since you were five that knows every embarrassing childhood story possible. But then you can have a best friend that just knows you on every single level, even though you've only known each other for a year. We have casual friendships, intense friends, and we even have friendships from the past that we still mourn.
Have you ever met someone and thought, "Yup, this is my new best friend!"
Sometimes, we vibe really well with someone as soon as we meet them. Then other people, it takes us a while to actually get to know and like them. It is nothing personal, friendships are all unique and special.
Did you know that there actually a timeframe on how long it takes to become friends with someone?
A new report published in the Journal of Social and Personal Relationships University of Kansas professor Jeffrey Hall has deducted just how much time it takes to become friends with someone. So, that friend you think you instantly became BFFs with – not the case unless you've already spent hundreds of hours together.
In fact, sometimes those instant connections do seem to come back and bite us in the butt, right?
The report states that it takes about 50 hours for an acquaintance to become a friend, 90 hours to become a good friend, and 200 hours to become a best friend. Just think, it can take anywhere from 20-50 hangouts with someone just to become friends with them according to this report!
Professor Hall researched college freshmen as they formed relationships with one another. While speaking with Inc., the professor said:
"When people transition between stages, they'll double or triple the amount of time they spend with that other person in three weeks' time. I found freshmen who spent one-third of all waking hours in a month with one good friend."
I'd love to see what these friendships between college freshmen look like in 10, 15, and 20 years! I'm still best friends with my college BFF and I'm sure many women my age can say the same thing.