When It's Time to Replace Your Roof, Here's How Much It Could Cost
We independently select these products—if you buy from one of our links, we may earn a commission. All prices were accurate at the time of publishing.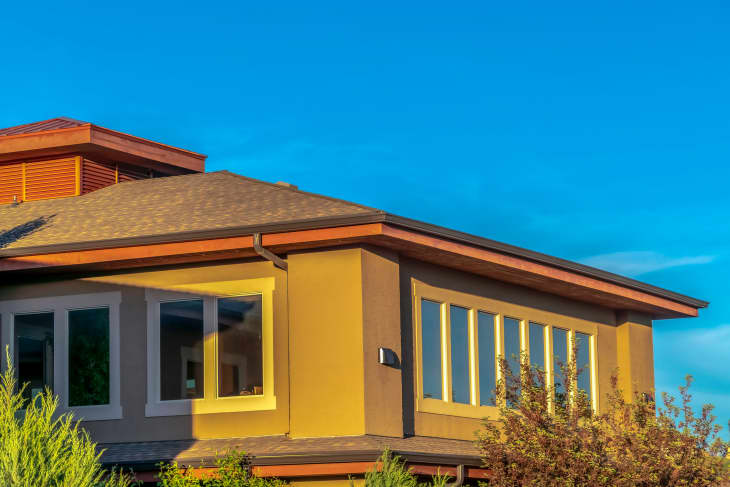 Whether your roof sustained damage due to weather or unforeseen circumstances (like a tree falling), you want to explore eco-friendly roof options, or it's just time to replace a time-worn roof, understanding the cost of replacing your home's roof will allow you to plan and budget.
While it can be difficult to pony up the money for a repair that may largely go unnoticed when you're indoors (upping the resale value but not necessarily the fun factor), a roof that's in good working order is incredibly important to the safety and security of your home. 
What is the average cost to replace a roof?
The average cost to replace a roof is around $8,000, according to Forbes Advisor. Modernize gives a range from $3,250 to $12,586 — and the cost may go up substantially from there.
The cost to replace a roof can vary greatly depending on a number of factors, including:
The type of roofing materials: Depending on your location, climate, and budget, you can choose from a variety of roofing materials. According to Prime Roofing, some of the most common are asphalt shingles, metal, slate, clay tiles, and wood shake. 
Asphalt shingles are the most popular and affordable option for many homeowners. But even within each category, there is cost fluctuation. For instance, if you choose a metal roof, the actual cost will depend on whether you choose steel, zinc, aluminum, or copper.
The state of the existing roof: If the existing roof or the materials that support it are damaged and need to be removed or rebuilt, it will add to the total roof replacement cost.
Insurance coverage: Depending on the reason for the roof replacement, your insurance may cover all or part of the cost, affecting the final bill.
Who is doing the labor: Labor costs account for roughly 60 percent of the total bill, according to Forbes Advisor. So, if you do the roofing yourself, you'll save a substantial amount by just purchasing the materials and tools that you need. But choose this option with caution as there are situations where a professional crew is the best choice.
What are some roof replacement cost calculators?
There are a number of roof replacement cost calculators out there, so I tried a few to get a feel for how they worked and what information you can gain from each.
HomeAdvisor's calculator asks for your zip code, the type of work you need help with, whether you're repairing or replacing, and the type of material you want, among a few other things. This cost calculator then refers you to a number of roofing professionals in your area. 
Be advised, you have to enter your address and email, and you will spend the rest of the day fielding phone calls, emails, and texts from local companies — which is great if you're ready to talk details. (Less so if you're just doing research to write an article about roof replacement costs.)
For an actual cost estimate, Modernize's cost calculator asks for square footage, number of stories, roof style, if you have a garage, how steep your roof is, and roofing material. At the end, you get a range of costs and can change the roofing material on the results page to better compare what each would cost.
Does a new roof have a good return on investment?
While you likely won't get a full return on your investment, Zillow says that a new roof can have a nearly 70 percent return on investment, depending on the style of roof you choose to install. 
When it's time to sell, a new roof can have other benefits as well. For instance, a roof that is clearly in need of repair may deter buyers from making an offer, and the sale process may take longer if buyers want to negotiate or make the sale contingent on a roof repair.