Resale Value Is Stupid. I Think My House Should Have a Bowling Alley in the Basement
We independently select these products—if you buy from one of our links, we may earn a commission. All prices were accurate at the time of publishing.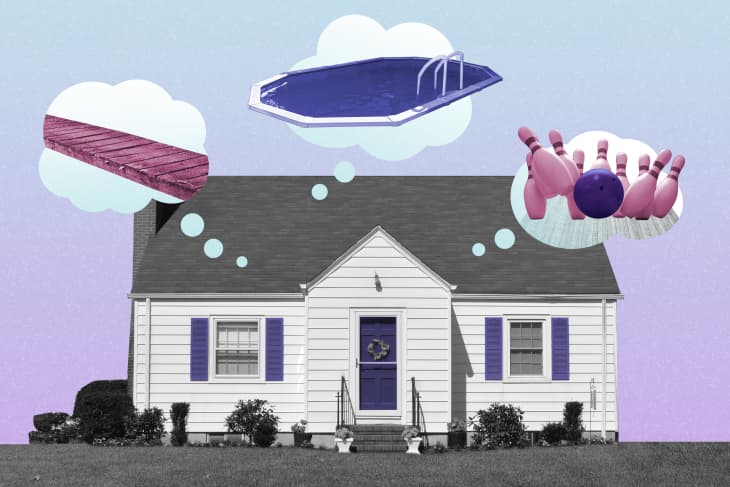 When we bought our two-bedroom, one-bath, 1940s Cape-style home in November 2009, one of the first things my husband did was measure the unfinished basement to see if the house was long enough to fit a single bowling lane.
It wasn't, but that hasn't prevented us from fantasizing about equally oddball upgrades ever since. 
In the past, we've stopped ourselves from advancing past the initial daydream stage of weird house projects, mostly because we've both been brainwashed about the importance of resale value and return on investment. But in early March, when it became apparent we'd be spending our days and nights in and around our house for an unknown amount of time—my husband is immunocompromised and I am his primary caregiver—we started thinking: what if we made some improvements to the house? You know, things that might make living here a little bit nicer. A new roof would be practical, new windows would probably reduce our home heating costs, but those are sensible, boring ideas. Those are ideas that make a house feel solely like an investment (yawn). We wanted—scratch that—we needed our home to feel like a vacation from *gestures wildly* everything.
It didn't take long before we were talking about building a track around the house, boardwalk-style, with smooth wooden slats so we could run laps barefoot. We could bank the corners, so when we took our bikes for a spin we could really build up some speed. Could we even build it through a loop-de-loop swooping over the driveway? My mostly practical engineer husband tells me this isn't physically possible with our mountain bikes. But the fantasy was so tempting, suddenly we were envisioning a future we'd never considered before—spending the rest of our lives in our first house, return on investment be damned.
Once spring was well underway, the plants started pushing out of the soil and the piles of dead leaves clumped up around the hedges. Hunched over a bucket full of raked-up debris, my brain wandered—what if we converted the entire north facing wall of our house into a living wall? An elaborate two-story shelving unit to hold as many species of shade-loving ferns as we could find? There are approximately 20,000 different species of ferns. Could we amass the Northeast's largest collection on the side of our house? I'm scared of killing my small collection of house plants, sure, but the idea of a house-sized plant collection distracted me for weeks—the daydream had been a blessedly welcome interruption from crazy, stressful times.
As the days were getting longer and hotter and we were still quarantining with no real end in sight, we kept grasping for more distractions. We'd always talked about retiring somewhere with a lap pool so we could swim back and forth in the slow lane well into our 90s. But what if the lap pool was in our side yard? A single-lane, 25-yard pool with professional timing pads and a starting block?  
On a bright day in the sticky heat of summer, the voices of the neighbor kids screeching "MARCO! POLO!" from their pool echoing into our yard, we grabbed an old 100-foot tape measure we'd inherited and started measuring, trying to figure out exactly how much pool we could fit in the yard and still meet city zoning requirements. 
The space we have is too short to fit a proper lap pool, and a massive loop-de-loop feels like an ill-advised project for a house we now plan to retire in. Yet we're still daydreaming about other far-fetched home improvements because it's the only future planning either of us feel mentally equipped to handle right now. And it helps the time pass. Anything that nixes a feeling of impending doom is OK in my book.
The pandemic is teaching all of us lessons about the lives we led before, and the lives we hope to lead after. Even if we don't wind up constructing an elevated wooden track encircling our house, or a two-story living plant wall, we could easily manage a boardwalk path through the shady backyard, winding its way through a mini forest of ferns and a small ocean of Pennsylvania sedge. We've even started saving up for a small pool so one day we can swim tiny, slow laps right in our very own yard. ROI and resale value don't matter to us anymore because, for once, our wild ideas feel less like a fantasy and more like a solid plan.