How Renting Crappy Apartments Prepared Me for Life in a Fixer-Upper
We independently select these products—if you buy from one of our links, we may earn a commission. All prices were accurate at the time of publishing.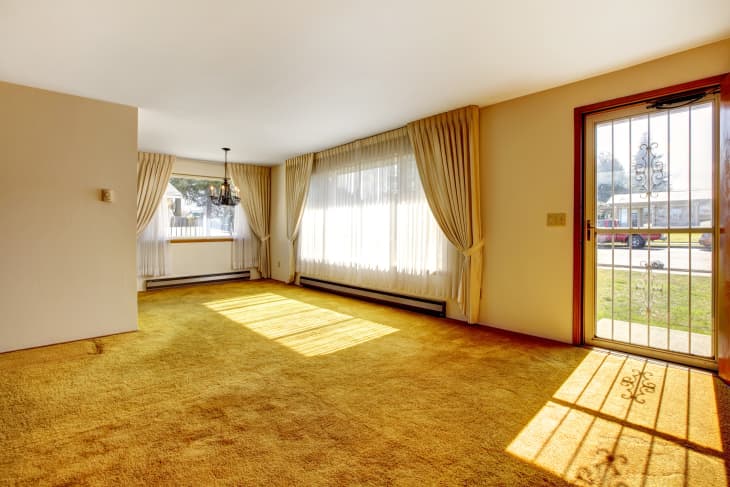 When we first bought our house, the kitchen was very 1974. It had banana-yellow laminate counters and gold wallpaper dotted with fondue pots and — I'm 100 percent serious — real glitter. The grimy vinyl floor was two shades of mustard: Yellow and spicy brown. And while the appliances thankfully weren't the avocado green you might expect, there sure as hell wasn't a dishwasher among them. 
As much as we yearned to update our "Brady Bunch"-era kitchen, we knew it would be awhile — three years, it turned out — before we'd have enough money or time to take it on, or to remedy some of the home's other issues.
For one thing, we had used up pretty much all of our savings for our meager down payment. But for another, the kitchen at least functioned. We had more urgent problems to tackle with what little money was left over for improvements: A dying hot water heater. A soon-to-be leaking roof. The insanely dangerous second-floor "deck" with a flimsy railing and no balusters. 
The deck came first, since it was a 20-foot-high death trap. Then we replaced the hot water heater, because you can feel a part of your soul wash down the drain during a lukewarm winter shower. The next year, ice dams wrecked the roof, as well as our spring remodeling budget. 
The key word in all of this is eventually. In the intervening years, we just had to live with our house's medley of maladies on a daily basis. Its quirks were simply like an annoying roommate. We brushed our teeth over the unsightly '80s bathroom vanity every morning, and I continued to hand wash every dish, bowl, glass, utensil, and pan we used each evening. 
As frustrating as our fixer-upper was, we didn't really know any different, because my wife and I had been renting just-as-crappy apartments for a full decade. 
The studio we'd lived in for the prior three years was in a prime location in Boston's Back Bay. But it had a dorm room-sized fridge and only two cabinets in the kitchen, plus a windowless bathroom, no laundry or parking, and inexplicable mosquito infestations in the middle of winter. Simply having a driveway and full-sized stove felt like a major upgrade to us — and we no longer had to schlep our dirty laundry across Boston Common, just down to the basement.  
Before that, our flat in Galway, Ireland, had dank, dingy carpet, mildew for miles, and no toilet seat in the first-floor bathroom. Not that anyone wanted to use that loo anyway, since a steady stream of snails crawled in there through the window, which wouldn't shut.  
In another Boston apartment, I slept in the dining room, where for two years my only "closet" was a built-in hutch. In a Cambridge, Mass., four-bedroom, our slanting second-story deck was held up by a pair of bowed two-by-fours wedged underneath it. (Even at the invincible age of 25, I didn't linger out there.) Our off-campus college apartments were little better, of course, with bruised walls and surfaces marinated in spilled beer for semesters at a time. 
In London, I shared a flat — and one working shower — with nine other housemates from all over the world. The pilot flame deep inside in the shower's gas water heater often blew out for whatever reason, and the best way we discovered to relight it was to ignite a single piece of spaghetti over the stove in the kitchen, carefully carry it to the bathroom while sheltering the precious flame, and then delicately stick the pasta torch into the appliance, like a game of Operation. Fun fact: That house was later condemned! 
It should go without saying that not a single one of these apartments had air conditioning, stone counters, or a dishwasher. They were absolute dumps for the most part. I loved them anyway, because of the people I shared them with and the big-city adventures they played host to. 
What's more, living in those wretched apartments made my wife and I much more comfortable with the idea of buying our decaying, 100-year-old fixer-upper, and prepared us for the ongoing indignities of living with its quirks and imperfections while we slowly fixed it up. 
It's not that we dreamed of living in yet another beat-up house. But after nearly a full year of house hunting, it was the one place we could afford in the location we wanted. That had pretty much been the story of our lives as tenants, too — even that heap in London devoured 52 percent of my income at the time — so the sequel wasn't much of a departure. 
Unless you're able to invest in renovations before you move in (which I highly recommend, if you can swing it—there are even rehab loans to help), living in a fixer-upper can be a slog. Nothing about the house will be perfect at first — maybe not even "acceptable"— but life goes on. And as it does, with each improvement, you get a little bit closer to the home of your dreams. In the meantime, it helps if you're accustomed to overlooking ugly details and can soldier on through frustrations and failures. 
That patience can pay off in the form of sweat equity, because people are willing to pay a premium for an already-fixed-up house. Agents I've spoken to say younger buyers, especially, want a home that's move-in ready, and don't want to deal with a fixer-upper.  
"The average millennial buyer wants a property that's already fixed up and in good condition," says Marie Presti, a broker and owner of Presti Group in Newton, Mass. If they're currently renting a modern apartment or living in their parents' house, they're likely accustomed to a certain level of comfort, Presti says, and they don't want to feel like they're taking a step backwards "by moving into a house that needs a lot of work." On top of that, home prices in some cities have risen so far out of reach that buyers understandably think, "If I'm going to pay that much for a house, it better not need any work."  
While Presti sympathizes, she says first-time buyers who write off fixer-uppers are missing a huge opportunity: Instead of handing over all that home equity to a house flipper, they could be keeping it for themselves, even if it takes them a few years to get around to the renovations.  
So if you're living in a janky or bare-bones apartment, take heart: At least it's good training for life as a fixer-upper homeowner.