You Need to Clean Your Diffuser — Luckily, There's a Good Chance You Already Have the Supplies
We
independently
select these products—if you buy from one of our links, we may earn a commission. All prices were accurate at the time of publishing.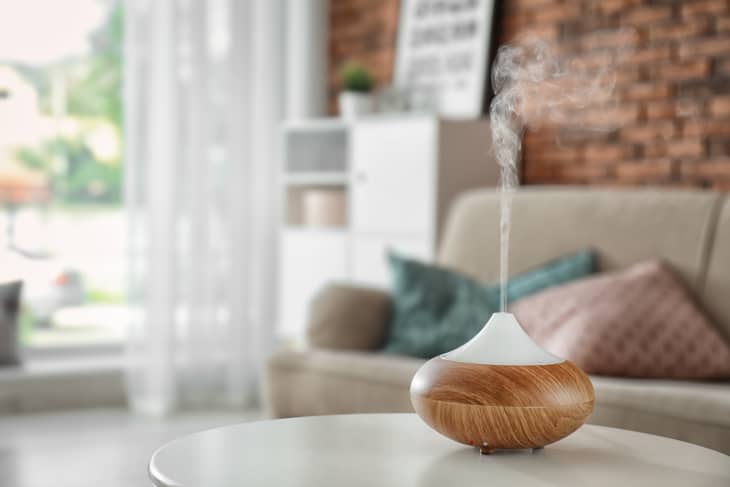 Need a simple, cost-effective way to upgrade your home's ambiance? Easy. Pick up a diffuser and add some of your favorite essential oils. I'm a big fan of lavender, frankincense, and lemon at my house, since they can create a relaxing environment without the potential risks of lighting a candle. But like any other appliance, diffusers do require routine cleaning for optimal performance and safety — and you're probably not doing it enough.
First, a quick rundown on how it all works. Ultrasonic diffusers, probably the most common type of electric diffuser, uses vibration to break up essential oil molecules and disperse them through a mist in the air (very similar to ultrasonic humidifiers). Like a humidifier, it's extra important you keep your diffuser clean on the inside, because it affects the air you breathe. Left uncleaned, diffusers can harbor potentially harmful mildew and mold, says Steve Evans, owner of the Tennessee-based house cleaning company Memphis Maids.
Luckily, it's a pretty quick and easy job, and you probably won't need to run out to the store to buy any special supplies. Here's exactly how to clean a diffuser, according to pros. 
Water
White vinegar
Microfiber cloth 
Dish soap
Cotton swab 
Rubbing alcohol (optional)
According to Evans, it's a good idea to empty, rinse, and dry your diffuser every time you use it. Not only will it look better when it's cleaner; you may not want the smell of the oil you used last to taint the actual diffuser. For an extra touch, you can use a bit of soap and water, too (normal dish soap, Evans says, should work just fine). Then, use a microfiber cloth to dry it off before using it again. 
Once in a while, depending on how often you use it, you should also deep clean your diffuser to protect its electric components and make sure it's releasing only clean liquid into the air.
While how often you deep clean your diffuser with vinegar may depend on how much you use it, Schulz recommends doing so about once a month. "Think of it as a regular deep clean that you already do for the rest of your home," he says 
Step 1: Unplug and empty the diffuser.
First, unplug and empty the diffuser of any leftover water. Then, use the product manual instructions to disassemble the diffuser, suggests Toby Schulz, CEO and co-founder of the Australia-based cleaning service Maid2Match. 
Step 2: Fill the diffuser with your DIY cleaning solution. 
Next, Schulz suggests filling your diffuser with water and about ten drops of distilled white vinegar, the hero of this deep-cleaning process. 
As you probably know, vinegar has antimicrobial properties — and it reduces unwanted odors — so it's a great way to rehab your diffuser. Plus, says Alex Varela, general manager of Dallas Maids, vinegar is a great way to cut through any lingering oil residue. 
Step 3: Run the diffuser. 
Plug in and turn on the diffuser to allow the vinegar to run through it. Aim for about ten minutes for maximum effect. You can sit back and relax — the diffuser does most of the work during this step. 
After 10 minutes, it's time to spot clean the inside. Schulz suggests unplugging and emptying the diffuser for a second time. Dip one end of a cotton swab in either rubbing alcohol or white vinegar, and use it to thoroughly clean the ultrasonic chip inside the diffuser. 
Lastly, rinse the newly clean diffuser with clean water, and then wipe it down well with a dry microfiber cloth. You can use your fresh-and-new essential oil diffuser whenever you want!