How to Clean Vintage and Recycled Clothes, According to Experts
We independently select these products—if you buy from one of our links, we may earn a commission. All prices were accurate at the time of publishing.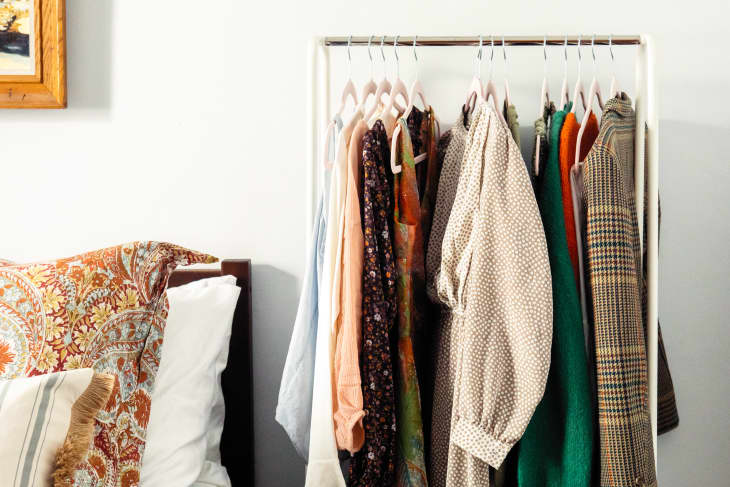 Giving secondhand clothing a new lease on life is a sustainable and often budget-friendly way to refresh your closet. Of course, the next best thing to scoring a fantastic vintage find is being able to make it last. 
Follow Topics for more like this
Follow for more stories like this
Laundering everyday essentials is demanding enough without having to worry about the level of care required for some older items that may be more delicate and susceptible to damage through modern-day wash techniques. That's why it's worth understanding the ins and outs of how to properly care for vintage and recycled clothing. So we turned to a laundry professional and a vintage purveyor to get the lowdown on cleaning secondhand pieces. Here's what we learned. 
Keep the clothing separate at first.
"Most thrift stores do not clean items before they offer them for sale," says fabric and laundry expert Mary Marlowe Leverette, so keep newly purchased vintage or secondhand pieces apart from your other clothing until they're washed to help prevent mold or odor transfer. 
If you're worried about the presence of unwanted critters, place an item in a sealed plastic bag and store it in the freezer for at least 72 hours. This method can kill bed bugs, silverfish, and moths.
For anyone who's brought home a garment only to find themselves completely unaware of how to care for it, you're not alone. Of course, you should first look for a care tag, but the older an item is, the less likely it is to have one. In fact, items made before the early 1970s probably won't (although that's not a hard and fast indicator of a garment's age). Even though the informational label was introduced in 1971, it wasn't immediately adopted, says Shilla Kim-Parker, CEO and co-founder of Thrilling, an online marketplace featuring vintage and secondhand items sourced from around the country. And these days, it's common for people to remove labels for comfort or aesthetics. 
The fix? Take the piece to a reputable dry cleaner, who may be able to determine whether it's made of a natural or synthetic fabric, Kim-Parker says. 
In addition to sussing out what a garment is made out of, you'll also want to try to figure out its age and how well it's held up. "If the item has a designer label, there are resources online, such as Vintage Fashion Guild, for dating an item by the design of the label," Kim-Parker says. If not, it's going to require some research and perhaps a conversation with a reputable shop owner. "Vintage experts will look at the construction, the seams, the zipper or closures, and the material to make an educated guess," she says.
As a rule, "the older a garment is, the less it should be washed or handled," says Kim-Parker. Take, for example, a gown from the 1940s: "It's still fit to wear but may need extra care when washed because it is delicate," says Kim-Parker. (That said, logic still applies here: An older synthetic will be less susceptible to damage compared to a newer piece made from silk.)
The way an item was stored will also influence whether it can be cleaned at home or needs to be handled by a pro, according to Leverette. "Antique fabrics that have not been properly curated can often be brittle and may crumble under your touch," she says. This can result from exposure to excessive heat, moisture, sun, and even temperature fluctuations. 
Once you have an idea as to what the tactile makeup of your garment is and you've looked up the specific type of material to see if it's better suited for the wash or if it should be dry-cleaned, you'll have taken a lot of the guesswork out of the laundering process. "If you feel the garment is washable, handwash or place it in a mesh lingerie bag and use the gentle cycle, cold water, and a gentle detergent," Leverette says. And just as you stored the vintage item separately when you first purchased it, remember to wash it separately the first time to ensure that the garment's dye doesn't run. 
If you want to be extra careful before taking the garment for a spin, you might test a gentle, colorless laundry product on the underside of the item, says Kim-Parker. "Wait until the garment is fully dry to inspect for any damage or discoloration. If the area looks intact, the solution is safe to use on the entire garment."
For rinsing and soaking fabrics, Kim-Parker suggests using cold water for synthetics and warm water for natural textiles. If you're working with a blend of materials, use cold water to err on the side of caution. 
You also always have the option of only spot-treating, which will both help to avoid damaging the entirety of a fragile, aged item and mean you won't expose the whole garment to today's harsher laundry products, according to Kim-Parker.
Lay a delicate piece flat to dry. If it can be hung, Kim-Parker says, be aware of hangers that can permanently distort the shape.
If a vintage piece has a slightly musty smell to it and you've determined it's fit for the washing machine, Kim-Parker recommends placing half a cup of vinegar in a normal wash, or two tablespoons if you're laundering a single piece. If you want to remove the smell without washing the garment, "you can also mix a third cup of vinegar and two-thirds cup of water in a spray bottle to deodorize more delicate vintage clothes," she adds. 
When in doubt, take it to the pros. 
Structured garments like coats and suits are better left to the care of professionals, says Leverette. "The outer fabric may be washable, but inner linings and fabrics used to give the garment shape may not be." 
Kim-Parker also suggests finding a reputable dry cleaner for suiting and outerwear, as well as leathers, velvets, furs, and anything with embellishments on it. Give the dry cleaner a heads-up that the piece is vintage so that they take extra care when tending to it. 
"As a vintage shopper, part of the joy is extending a garment's life for as long as possible," says Kim-Parker. Take the right steps, and you can continue to savor it for years to come. 
Apartment Therapy's Laundry, Sorted vertical was written and edited independently by the Apartment Therapy editorial team and generously underwritten by Samsung.