9 Smart Tricks for Getting Musty Odors, Yellow Stains, and More Out of Your Vintage Finds
We independently select these products—if you buy from one of our links, we may earn a commission. All prices were accurate at the time of publishing.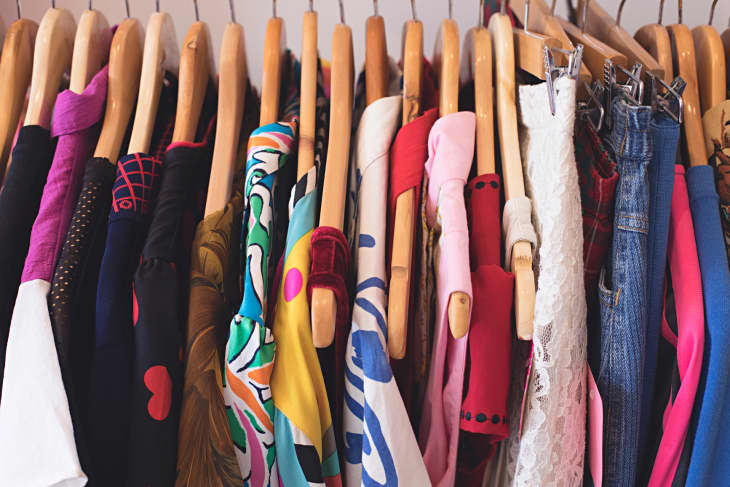 Vintage is having a revival now, and I couldn't be more ecstatic that something I love is newly popular. Vintage is not only a powerful way to express yourself in a unique way, it's also economical and good for the environment. One fast-fashion piece may only last you one wash; a vintage piece from the 1950s has already survived 70 years — and with care and attention it will continue to last for another lifetime. 
Follow Topics for more like this
Follow for more stories like this
The one downside? Those secondhand finds aren't always in the best condition. But I feel it's always worth investing for a piece of fashion history, especially if you have some tricks of the trade up your sleeve for cleaning and removing all manner of stains and smells.
Below is my ultimate guide to cleaning and repairing vintage. I have tested each of these recommendations and can vouch for all of them. Some processes may need to be repeated and patience will be your best friend.
Tackle Yellow Underarm Staining with Baking Soda and Hydrogen Peroxide
Make a paste using equal parts baking soda and hydrogen peroxide. Cover the stain and let it sit for over an hour in direct sunlight. At this point, check your progress to see how much of a dent you've made in the stain. Continue to let sit, then hand wash or launder according to care instructions.
Get Rid of Permanent Marker with Lemon Essential Oil
A big downside to shopping at thrift stores is that they often mark the prices on shoes in permanent marker. You may not want everyone to know you paid $6.99 for those platforms! Luckily, a little lemon essential oil will do the trick — or, try another cleaning staple, the Magic Eraser.
Eliminate Sticker Residue with Heat and Goo Gone
Stickers are another big problem that leave a sticky residue on just about everything! You can use the heat from a hair dryer to lift it, or just apply a little Goo Gone.
Reverse Color Bleeding with Carbona Color Run Remover
Have you had a very bright colorful sweater and unfortunately put it in the wash, causing the color bleed to all over and create a Picasso-like pattern? There is a miracle product called Carbona Color Run Remover, which you can purchase at any craft store. I am obsessed with it and also with the company. They have a product for every type of stain, so I highly recommend researching the brand if you have a specific stain you want to remove.
Use Lemon Juice and Steam on Rust Stains
For rust stains, soak the stain in lemon juice for 15 minutes and then apply hot steam. Repeat this process until you see the spot fading. You may have to repeat several times, depending on the stain. Then, once you've seen it lighten let it sit in direct sunlight for a final blast, the spot should disappear completely.
Note: This applies for light fabrics only, as lemon juice and sun will leave you with an even bigger problem with anything dark-colored.
Turn to the Freezer (or Vodka) for Musty Odors
Most vintage comes with an odor, and 99 percent of it can be hand-washed or even laundered in the machine. But there is always that 1 percent that's too delicate to wash. To sanitize and remove odors without laundering, the freezer method works for small items. Just let your item sit overnight in a zip-top bag and odors will disappear.
Another method is cheap vodka in a spray bottle. Spritz the garment, don't drench it. If possible, let sit in direct sun. The combination will kill any odor.
Try a Pencil Eraser for Suede Stains
Suede is a tough fabric to clean and spot treat. I have had success with a regular pencil eraser. Once the stain is removed, go in with a suede brush to smooth out the nap and blend it in with the rest of the material
Repair Moth Holes with Tear Mender
It is almost impossible to buy vintage cashmere or wool without finding a few tiny holes from moths. If you aren't an accomplished sewer, Tear Mender and Leather Adhesive is a great adhesive that will bond the fabric without having to take out your sewing needles.
Dye Last-Resort Stains That Won't Budge
For any stain that won't budge but I love the piece too much to pass up, I'll dye it. I absolutely love using avocado skins and pits, which produce the most perfect pink hue. I've also used turmeric and there are a ton of options for using vegetables in the dying process.
Did I miss anything? I'd love to hear any tips that have worked for you!