How to Clean and Maintain Your Vinyl Floors
We
independently
select these products—if you buy from one of our links, we may earn a commission. All prices were accurate at the time of publishing.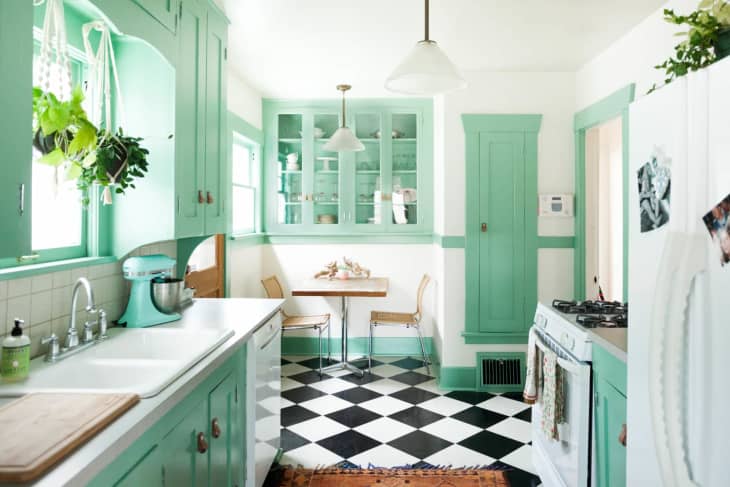 Vinyl flooring isn't just easy to install, it's also relatively easy to take care of — it's generally stain-resistant and can withstand heavy foot traffic and even water, making it ideal for bathrooms and kitchens. But to maintain your vinyl floors for years to come, you'll need to put in some work.
Here's what you need to know about how to clean vinyl floors, according to Grove Collaborative cleaning experts Angela Bell and Georgia Dixon.
What are the best steps to clean vinyl floors for daily maintenance?
Always remove dust and dirt from floors before you clean with liquid — in this case, you can either sweep or vacuum. Not only will your cleaning job be easier without debris; you're also removing grit that can, over time, damage your floors. (Another way to prevent that type of damage is using mats and throw rugs on high-traffic areas.)
After sweeping or vacuuming, Bell and Dixon suggest grabbing a microfiber cloth and squirting a bit of spray cleaner on the floor to tackle small spills or spots. As little moisture as possible is always best for vinyl floors, so spray sparingly and always wipe dry.
What's the best way to deep clean vinyl floors? 
Aim to do a deep clean on your vinyl floors about once a week (or as needed). 
When the time comes, Dixon and Bell suggest using a microfiber cloth (or microfiber mop) — or, for a smaller area, fill a bucket with warm water and mild soap. Then, use a damp cloth to scrub the area by hand; Dixon says she likes to use a microfiber cloth for extra scrubbing power. "The key here is to avoid soaking the floor since excess moisture can seep under the vinyl and cause deterioration and warping," she says.
As an alternative, you can also whip up your own mixture of warm water and a few drops of Dawn dish soap, which will cut through grease on kitchen floors. 
To remove scuffs from shoes, wait until the floor is totally dry, then spray a few squirts of WD-40, then wipe it away with a dry microfiber cloth.
Can you clean vinyl floors with a steam mop?
Save your steam mop for ceramic surfaces; according to Dixon and Bell, anything involving hot water isn't a good idea for vinyl floorings. The high heat from steam can lead to warping on vinyl floors, and the extremely hot water (or excessive water) can seep into joints and affect the integrity of the glue that holds the floor together. When you clean with water — like if you make your own solution for a weekly deep clean — use it sparingly and always aim for warm water instead of hot.
Can you put bleach on vinyl flooring? 
Avoid cleaning a vinyl floor with bleach: It's a harsh cleaner that can lead to corrosion or damage to the vinyl finish. To that end, skip the ammonia and "mop and shine" products, too.
Instead of strong chemicals that could wreck your floors, Dixon and Bell suggest using a DIY baking-soda-and-water cleaning paste to lift stains; the soda will also provide a slightly abrasive texture for scrubbing away residual gunk. Simply rub the paste on the vinyl flooring with a microfiber cloth, then clean it off with white vinegar diluted in water. If you're dealing with tougher stains, you can also try applying a bit of rubbing alcohol to the affected area and scrubbing with a paper towel or microfiber cloth. 
To clean up a germy mess and disinfect your floors, a disinfecting wipe or spray is a good option for removing germs without affecting the vinyl surface. Just make sure to allow for ample dwell time, per the packaging instructions, and dry thoroughly afterward.