Here's What You Need to Know Before You Disinfect Your Floors
We independently select these products—if you buy from one of our links, we may earn a commission. All prices were accurate at the time of publishing.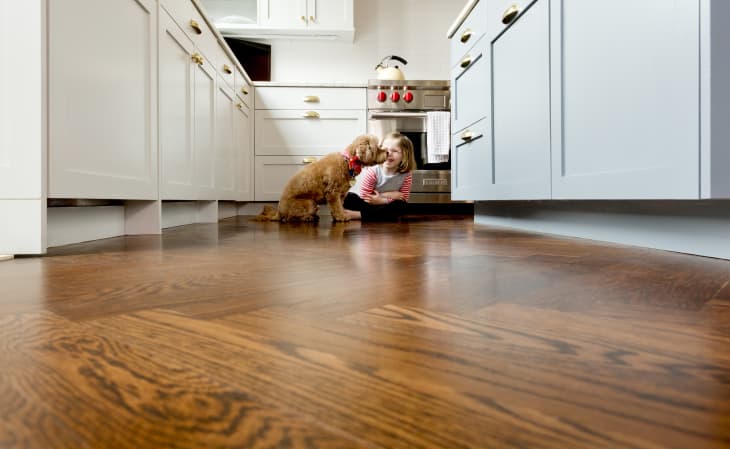 Follow Topics for more like this
Follow for more stories like this
But what about areas you don't touch with your hands, like your floors? In some scenarios, it's worth taking an extra step to prevent the spread of germs that could make someone in your home sick—even if doing due diligence means adding the floor to your disinfecting routine.
Do We All Need to be Disinfecting Our Floors?
Cleaning experts Georgia Dixon and Angela Bell, who are Grove Guides with Grove Collaborative, recommend families with small children or multiple pets or individuals with weakened immune systems spend a little more time scrubbing the deck. Individuals who live in urban areas may also be more susceptible to bringing in germs from the city sidewalks.  
As with all disinfecting, it makes sense to take a targeted approach. You don't need to sanitize every floor in your home, every day. Think about where you're stepping into the home with shoes on, then take those shoes off and regularly clean floors in that area if you fit the above criteria. If someone happens to walk beyond the mud room or entryway with shoes on, disinfect there, too. 
"While disinfecting the floors of your entire home is less necessary for most people, everyone can benefit from taking to task your entry spaces," says Dixon. "Floors and rugs near exterior doors are a great place to focus your disinfecting energy if you don't have time to regularly disinfect your whole home."

Read more: The Difference Between Cleaning, Sanitizing, and Disinfecting
How to Disinfect or Sanitize your Floors
The first step to preventing the spread of germs through your house is implementing a "no outside shoes" rule. Do your best to have anyone who enters from the outside leave shoes at a specific point. When it's time to sanitize that area, Dixon and Bell recommend the following process: 
Think about investing in a steam cleaner.
If you're going to deep clean your entire home regularly, a steam mop may be a good investment. Appropriate for most floor types, it kills bacteria with extremely high heat. (According to the CDC, heat of 167 degrees or more is sufficient to kill respiratory viruses like the flu, and many steam cleaners can reach temperatures of 200 degrees or more.) For carpets, see if your local hardware or home improvement store rents out heated carpet cleaning machines, which you can also use to sanitize a rug that won't fit in the washer or isn't safe to wash. For smaller, fabric door mats, you might have the option to hang them from the shower rod, for example, and use a handheld garment steamer to sanitize.
No steam cleaner? No worries. A regular mop paired with a floor cleaning product is effective enough to reduce the risk of germs, even if it doesn't disinfect by definition. "Regular floor cleaners use surfactants to loosen bacteria from the surface of the floor, to be mopped away—in most situations, this is an effective way to clean everyday household germs," Bell says.
For a list of registered disinfectants, visit epa.gov.