How to Remove Grease and Grime Buildup on Wood Kitchen Cabinets
We independently select these products—if you buy from one of our links, we may earn a commission. All prices were accurate at the time of publishing.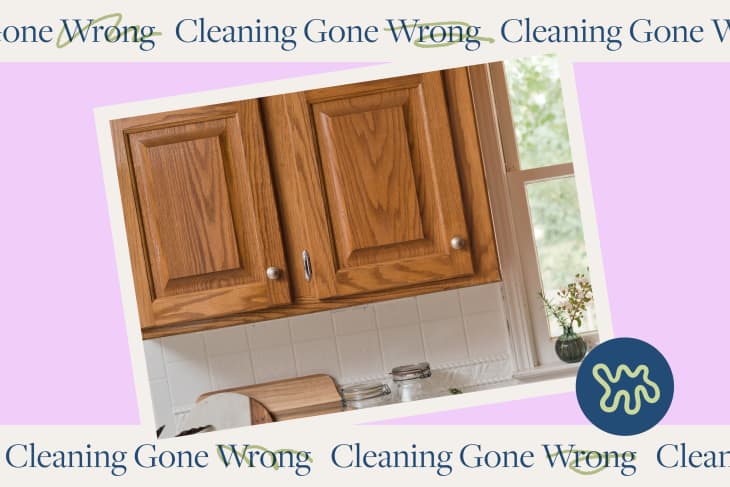 Maybe you just moved into a new apartment, and the kitchen cabinets look like they haven't been cleaned in years. Or perhaps you've unwittingly allowed more grime than you'd like to build up on the area surrounding your stovetop. No matter how much time you spend cleaning your kitchen, it's easy to end up with an unsightly layer of film on your wood cabinet doors after cooking. But the good news is that, with a bit of elbow grease, you can make your cabinets look as good as new. 
Follow Topics for more like this
Follow for more stories like this
Below, learn how to clean wood cabinets without messing them up, according to Jennifer Rodriguez, chief hygiene officer of Pro Housekeepers.
How to Clean Wood Kitchen Cabinets
Cleaning years of cooking buildup from cabinets can be a time-consuming task, but it's essential for maintaining a hygienic (and visually appealing) kitchen. Avoid using harsh chemical cleaners or abrasive sponges, which can damage cabinet finishes. And always dry the wood thoroughly after cleaning to avoid harm to the wood. To do the job well, you'll only need a few ingredients — many of which you may already have on hand! 
Dish soap
Baking soda 
White vinegar
Warm water
Microfiber cloth or sponge
Soft-bristled brush
Olive oil or mineral oil (optional)
Before you get to scrubbing, remove any loose dirt or debris from the cabinets with a soft-bristled brush or dry cloth. "This step will make it easier to clean the grime and prevent any scratching on the cabinet surface," Rodriguez says. 
Then, evaluate the cabinets and decide what type of cleaner will work best. For straightforward jobs, Rodriguez recommends mixing one tablespoon of dishwashing soap with two cups of warm tap water. Dip your microfiber cloth or sponge into the soapy water and wring out any excess liquid. (Be sure to use a soft cloth to avoid scratching the wood surface.)
Gently scrub the grime with the soapy cloth, using small circular motions. Avoid using too much pressure, as Rodriguez says this could damage the cabinet finish. 
For tough stains, you can use white vinegar instead of dish soap. Just mix equal parts vinegar and warm water in a spray bottle, and spritz the affected area. Let the solution sit for a few minutes before wiping it off with a damp cloth, and be sure to rinse the area with clean water and dry it thoroughly. 
If the grime is especially stubborn, Rodriguez recommends making a paste with baking soda and water. Apply it to the affected area and scrub gently with a soft-bristled brush. Be sure to rinse the stubborn area with clean water and dry it with a microfiber cloth or towel. 
Once you're happy with the results, you can apply a small amount of mineral oil or olive oil to the surface with a soft cloth, which should restore the shine of the cabinets and protect the wood from further damage.