How to Create a Self-Care Corner in Your Home
We
independently
select these products—if you buy from one of our links, we may earn a commission. All prices were accurate at the time of publishing.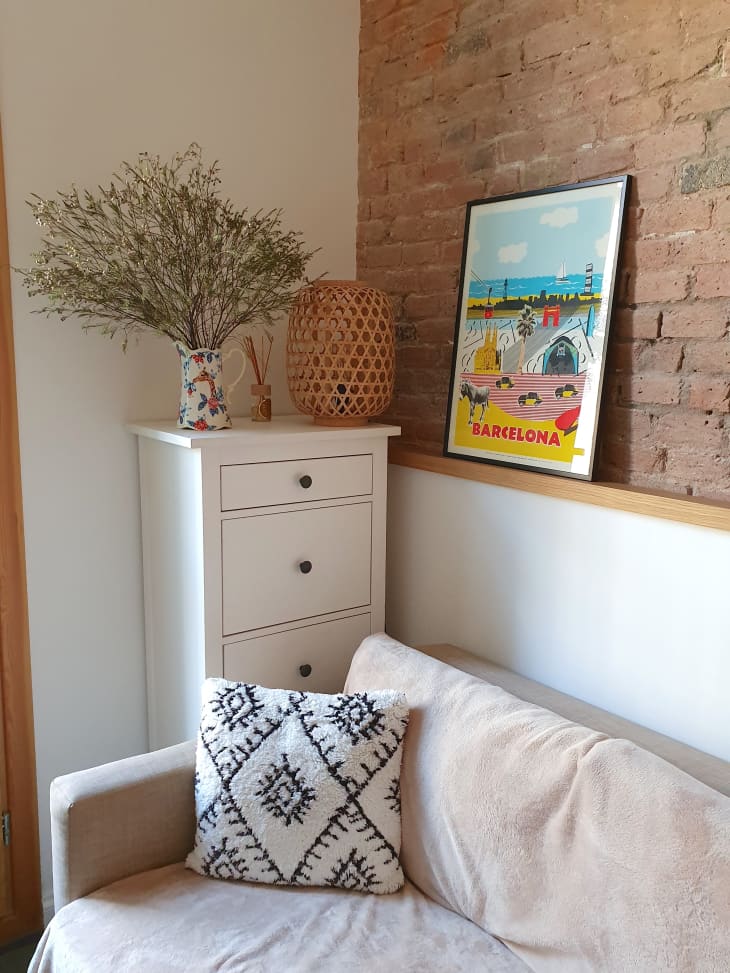 The Healthy Home Issue is an Apartment Therapy package dedicated to wellness where you live. We spoke with therapists, medical doctors, fitness experts, and more to put together a slew of health-focused tips and resources — find more feel-great insights here. 

One thing many people have learned from spending so much time at home over the last 16 months is that creating separate spaces for different functions in turn helps you function better. You need spots in our home to sleep, to prep and eat food, and — for more people than ever — to work. But you also crave places to relax and feel your best.
Of course, not everyone has space for one of those Instagram-ready meditation rooms. (After all, if you live in a studio or small home, you might not even have room for a full-sized couch!) Luckily, your self-care space does not have to be "the perfect big space," according to psychologist Andrea Bonior, Ph.D. "How you feel about the space psychologically is going to be important, so as long as it's a space that you can develop a positive association with and be physically comfortable in, I think that's a really good start."
Interior designer Maureen Stevens says that a self-care corner should simply be an area where you can block out the world. "Whether you have a spare room dedicated just for relaxation or just a small corner in your living or bedroom space," having an area just for you can "keep your mental and emotional self in check," she says. 
Ready to create your personalized self-care corner? First off, pick where you're going to build it out. 
Dr. Bonior says that, ideally, you should choose a spot that's a comfortable temperature and away from loud appliances and heavy traffic. Similarly, steer clear of setting up in your office or your child's playroom, both places that can tempt you to organize something or remind you of your growing to-do list. Working from home has eliminated our boundaries, explains Dr. Bonior, so form some for this space. "There is no real way to get the type of mental and emotional clarity and space that we're after if you're constantly being reminded by signals of work," she says.
Environmental psychologist Lee Chambers recommends picking a place that faces the outdoors or, if weather permits, appointing a spot outside. "For those who have a balcony or window box," he says, "creating a little space of serenity either outside or by the door or window allows the grounding power of nature to add to the effects of feeling connected to something bigger." 
Next, determine what you will — and won't — use the space for.
Decide how you plan to practice self-care in your newly designated corner. (Reading? Practicing yoga? Journaling? Spending just five minutes by yourself, pretty please?) "Once you know what self-care you will be using the space for, you will be able to assess the space you have, identify what you need, and create it in your own way," Chambers says.
For example, if you specifically want to use the spot for meditation, Ray Jolicoeur, a Brooklyn-based meditation guide and the founder of meditation goods company Renoo, recommends adding floor cushions to give the visual representation necessary to encourage meditation in that space. He adds that items that bring you peace and comfort — for example, a photo of a grandparent or a favorite book — can also find a home here.
However, you don't have to peg this space as a single-function area. Dr. Bonior suggests simply filling it with what brings you joy or peace, whether that's puzzles for practicing mindfulness, a yoga mat, or a cozy couch for lounging.
She also recommends considering sensory items, like massage rollers or a weighted blanket, while Chambers suggests using houseplants and natural materials to infuse the space with nature, and candles and diffusers to involve your sense of smell. If there isn't a door, Dr. Bonior says that a room separator, such as a folding screen or a curtain that can be pulled out, may be beneficial. 
All of this said, you don't have to add much to this area, and you definitely want to avoid the feeling of clutter. "Clutter can affect one's mood so much!" says Stevens. "If your outside world is in disarray, it bounces and reflects back to you and adds to stress and anxiety."
One way to influence the feel of the area without taking up much floor space is through color and light. "Any hue that's muted can be calming, as long as it's cohesive with the other elements in the room," says Stevens, adding that blues and greens like French blue, sage, and mint are "reminiscent of land and sky — nature, which is the most powerful space when it comes to stress relief." For equally serene lighting, opt for several sources, rather than one bright light. "Ones that create a meditative mood are those with warm whites, low wattage, and perhaps with a shade so it's not a direct light," Stevens says. If you must use overhead lighting, think about adding a dimmer. 
Above all, though, you do you in this area. 
Remember that this is your personal space and, says Jolicoeur, it "should inspire you to connect with your true self." 
Apartment Therapy's Healthy Home Issue was written and edited independently by the Apartment Therapy editorial team and generously underwritten by Dyson.