5 Ideas for Holiday-Neutral Winter Decor That's Festive, Cozy, and Fun
We
independently
select these products—if you buy from one of our links, we may earn a commission. All prices were accurate at the time of publishing.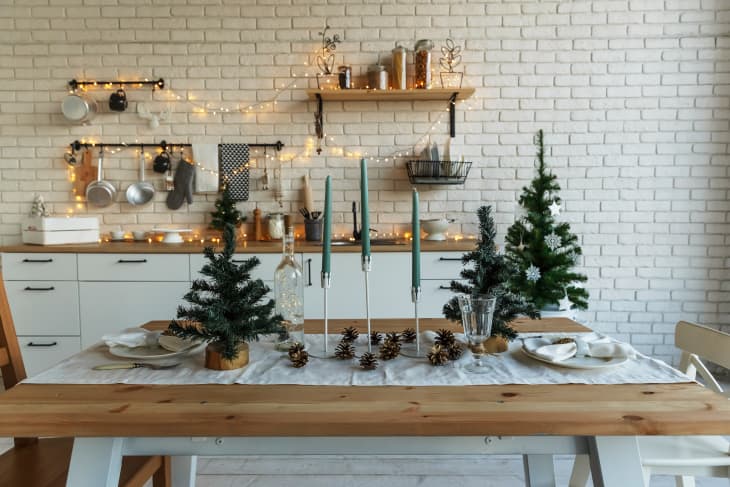 'Tis the season! Practically as soon as Halloween night ends, holiday decor goes up. Carols and Mariah Carey start playing in your favorite stores — and maybe on your Spotify. Christmas movies start streaming 24/7, and that's all great, but it's not for everyone. Not everyone celebrates Christmas, and some who do might not be super into going hard on the holly, angels, and Santa decorations.
If you want to decorate your home for winter or the holidays but don't want a specifically Christmas or religious vibe or anything too on the nose, it's possible to make your space feel festive without going overboard. These simple decorating tips and ideas bring touches of merriment and joy to your home, turning it into your own personal winter wonderland — and if you love the look, you can keep it up long past the holidays. 
Set the mood with warm, comfortable mood lighting. 
Strings of glowing lights or pine-scented candles that emit a festive, seasonal aroma make every room feel more magical, no tree required. "Nothing screams 'festive!' more than great ambient lighting, whether you're adding a few strings of lights to a staircase banister or dotting your mantle," says style expert Farah Merhi, founder of Inspire Me! Home Décor, who also suggests adding warm touches of light with candles on accent tables or candle-filled lanterns in your hearth. When winter nights feel dark and dreary, Merhi recommends adding mirrors throughout your space to maximize the light. 
Feeling festive is about how you feel in your space, not specific signifiers of one holiday or another. Adding textural elements to the room can transform it into a winter wonderland. "Festive is often synonymous with cozy, so festive, plush pillows and faux fur throw blankets are perfect to lay out during color months," says Merhi. They lend a warm, comforting vibe to your furniture or your bedroom, encouraging you to stop what you're doing, settle in, and relax.
Designer Lisa M. Cini at Mosaic Design Studio also loves adding a touch of cozy fur. "One of my very favorite winter accents are Mongolian lambswool pillows," she shares. "They are a great item if you're on a budget, wonderful to cuddle with, and make a fantastic design statement."
If faux fur isn't your thing, try rich velvets for a luxurious feel, especially in warm tones. Ground more traditional holiday elements with natural textures like wood or pieces of greenery. Add a snowy element with cozy throw blankets in shades of winter white and cream; cable knit and chenille are textures that feel seasonal but can be used all year long.
Skip the traditional hues — or mix them up.
To ensure your holiday decor stays neutral, eschew more traditional holiday color schemes like red and green or blue and silver. Go neutral with snowy white and earth tones, or try unexpected shades that can still convey a holiday mood, like metallics or even blush pink. Mix up the traditional colors with accent hues, like green with silver and white or red with burnished yellows and golds. 
When you think about the holidays, you probably think evergreen boughs, sprigs of holly, pine cones, and birch tree branches covered in lights. You can skip a Christmas tree and still bring a touch of holiday greenery into your home with real or faux branches arranged in vases or planters, or hung on the mantle or above your couch. 
Spray paint bare branches gold and silver, place pine cones in a bowl on the coffee table, or make a "bouquet" of eucalyptus, pine branches, and berries. Fruit can be a beautiful festive option too; there's nothing prettier than a bowl of shiny red and gold apples. 
If you want a wreath but don't vibe with the more traditional evergreen with a bow, there are many ways to think outside the box. For example, eucalyptus wreaths are gorgeous and enhance any space with their calming scent. A champagne-colored pine wreath feels festive but its quieter palette matches any decorating style.
Create your own winter design scheme.
You don't have to holiday like everyone else! You can decorate your home for the holiday season in any way you like, including with ornaments. For example, Target has tons of cute and affordable ornaments with no religious affiliation whatsoever, from felt fruits to gnomes to poodles. Don't want to hang them on a tree? No problem! String them up in the window, display them like a garland or a banner, or even create a chandelier-style centerpiece above your table. 
Don't feel pressured to do the holidays how you see them on TV or the way you were raised. Create your own traditions and celebrations — starting with your space.