Fried Treats Season Is Approaching — Here's How to Properly Dispose of Cooking Oil
We
independently
select these products—if you buy from one of our links, we may earn a commission. All prices were accurate at the time of publishing.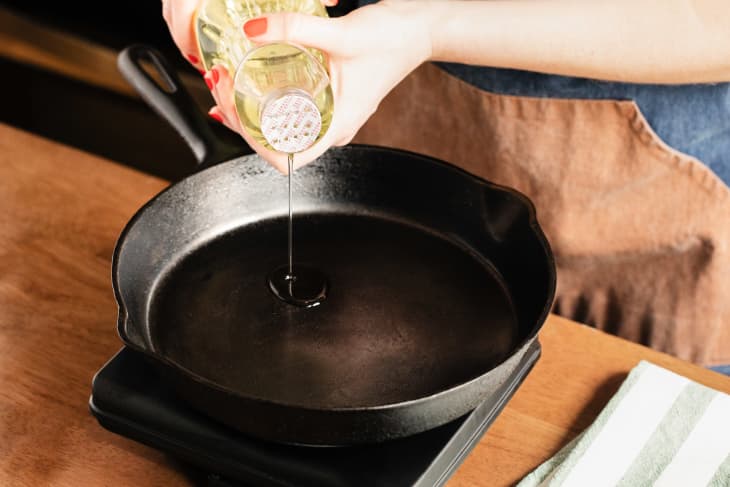 Summer is around the corner — and I can not only taste it but I can smell it. This is the time of year for outdoor barbecues and the parade of state fairs and carnival-like treats, and I am already drooling at the thought of grilled meats, refreshing fruits, and fried foods.
While I am excited for a food- and fun-filled season, I am a bit wary of the shocking amount of cooking oil it takes to fry up my favorite treats.
Once you're done frying, what do you do with it? Can you dump it or reuse it? One thing is for sure: You have to properly dispose of it. 
Why is it important to safely dispose of cooking oil?
Cooking oil should never be put down your kitchen drain. While you might think it's the easiest way to get rid of it, it's actually the most harmful thing you can do.
When you pour hot oil down the sink, you can potentially clog it and damage the drainage system. The oil will coat your pipes and collect waste over time, leading to blockages, slow drainage, and awful smells. It'll also get into the sewer system, affecting more than just your household, but your community and the environment, too.
Dumping oil down the drain can lead to some pretty severe issues, but it's easily preventable. All you have to do is get rid of your cooking oil safely and effectively. Here's how to dispose of cooking oil three different ways:
The best thing you can do is reuse your cooking oil as much as you possibly can. Once you let the oil cool, you can use a fine-mesh strainer or cheesecloth to strain and get rid of any remnants. Try to fry similar types of foods in the same cooking oil to avoid any cross-contamination. For instance, you wouldn't want to fry fish and fried ice cream in the same oil. (Unless that's your jam! We don't want to yuck your yum.)
Let it cool down before throwing it away.
Once you turn off the heat, you can leave the oil in the pan to cool down. However, this will take up much-needed space on your stovetop and can pose a hazard for little ones. Consider pouring the oil directly into jars so that the oil can cool down without taking up too much room on your counter. Bonus: If you are truly impatient and don't want to wait, try this simple and viral trick that involves a colander and aluminum foil.
Use a disposable product.
Nowadays, you can find a tool for almost anything. This FryAway powder allows you to solidify used cooking oil right in the pan. Its mess-free disposal solidifies up to eight cups of oil in three simple steps: sprinkle the powder in hot oil, let it cool down, and then toss it. Plus, it's made of 100% plant-derived fats, so it's all-natural and better for the planet. You can also try this hack using a common household product to soak up the liquid before disposal.