Feeling Stuck? Here's How to Get Gum Out of Clothes, According to a Laundry Expert
We independently select these products—if you buy from one of our links, we may earn a commission. All prices were accurate at the time of publishing.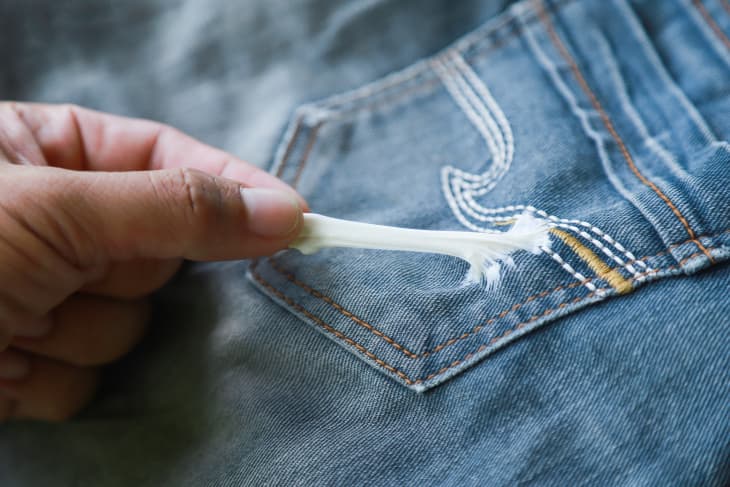 You're sorting your dirty laundry, just minding your own business, when you see it: A disgusting wad of chewed-up gum clinging to somebody's T-shirt or pants leg. Sure, theoretically, this sticky stain might be easier to deal with than gum stuck in hair. But like any other stain, it's still frustrating — and you're probably wondering about the best way to nix it.
Follow Topics for more like this
Follow for more stories like this
Gum can be tricky to remove from clothes. In addition to being sticky, many gums contain dyes that can easily stain fabric, too. Whether the wad's stuck to your favorite top or a pair of jeans, the right tools and strategies can help you in the process. 
How to get gum out of clothes 
To effectively remove gum from clothes, you'll need to follow a few important steps (and potentially repeat them if they don't work the first time). Here are Richardson's go to-steps for removing gum. 
Before you work the stain out, you'll need to remove the gum itself from the fabric. Richardson says the best way to do that is to put the entire garment in your freezer until the gum is frozen. (This should take about an hour or two.) Just don't put the clothing face down, or you could risk sticking it to the inside of the freezer. No time to fully freeze the clothes? Try setting an ice pack or bag of ice on it for 15 to 20 minutes instead. 
After you take the garment out of the freezer (or freeze the gum with ice), it should be easier to remove. Scrape off as much as you can with the edge of a spoon, butter knife, credit card, or paint scraper. 
Step 3: Inspect and scrub it.
Next, inspect the affected area. Odds are, there's a bit of sticky residue or some discoloration on the fabric. Richardson recommends grabbing a laundry brush and scrubbing it with an oil-based stain solution. It's counterintuitive, but oily soap is the best way to remove oil! (Richardson is a big fan of the Laundress' Stain Solution.) 
Launder your garment as you normally would, and be sure to check that the stain's gone before putting the item in the dryer. 
Still signs of gum residue? Repeat steps 3 and 4 until you're happy with the results.