How to Get Vaseline Out of Clothes in 8 Steps, According to Laundry Experts
We
independently
select these products—if you buy from one of our links, we may earn a commission. All prices were accurate at the time of publishing.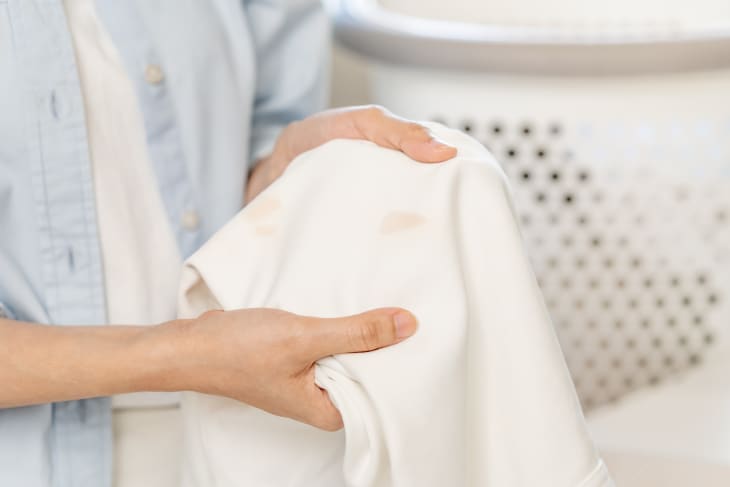 Removing greasy, oily stains is one of the most frustrating laundry jobs out there. Among the greasiest, oiliest stains you can get on your clothes? Petroleum jelly, also known as Vaseline. Whether you forget to wash off your hands after doctoring up a paper-cut or your skin-slugging routine gets a little messier than planned, your normal laundry steps won't cut it for a stubborn stain like this one. 
As with any difficult-to-remove spot on your clothes, removing Vaseline requires a few special tools and strategies, not to mention a good amount of patience. Luckily, though, removal isn't impossible — especially if you act fast. Here's exactly how to tackle a petroleum jelly stain, according to laundry experts.
Butter knife or flexible kitchen spatula
Terry cloth towel
Dish soap
A soft rag
Soft scrub brush or toothbrush
Laundry detergent
White vinegar
Stain remover
Rubbing alcohol
How to get vaseline out of clothes
First, scrape away as much Vaseline from the garment as possible without pushing it deeper into the fibers, which Jonathan Reckles, vice president of the Midwest drycleaning chain CD One Price Cleaners, says will only make your job more difficult. You can use the dull side of a butter knife; Wayne Edelman, CEO of Meurice Garment Care and CLEAN by Meurice, suggests using a flexible kitchen spatula to minimize fabric damage. 
Blot any remaining stain with a white terry cloth towel. 
Once the excess Vaseline is removed, take dish soap — which typically cuts through grease — and gently rub it into the stain. If the fabric is delicate, use your fingers or a soft rag to massage the stain; if it's durable, Edelman suggests using a soft scrub brush or toothbrush.
Next — and Reckles says this step is important — use hot water to rinse the excess soap (and hopefully, the rest of the stain) away. 
After washing the Vaseline out, launder the garment. Reckles recommends using the hot water setting with your normal laundry detergent and a tablespoon of white vinegar. 
Check the garment after you wash it to make sure the Vaseline stain isn't visible. If you can still see the stain, don't put it in the dryer. "Drying with stain residue present will only further set the stain," Edelman says. 
If the stain persists, he recommends a combination of stain remover (like Shout) and Dawn dish soap. You can also try applying rubbing alcohol (aka isopropyl alcohol), but use caution on colored fabrics to avoid altering the dye. 
Repeat steps two to four until the stain is gone. 
If the clothing is marked "dry clean only," then it's best to rely on a professional cleaner.