9 Easy Home Tips and Hacks for People Who Can't Stop Sneezing Inside
We independently select these products—if you buy from one of our links, we may earn a commission. All prices were accurate at the time of publishing.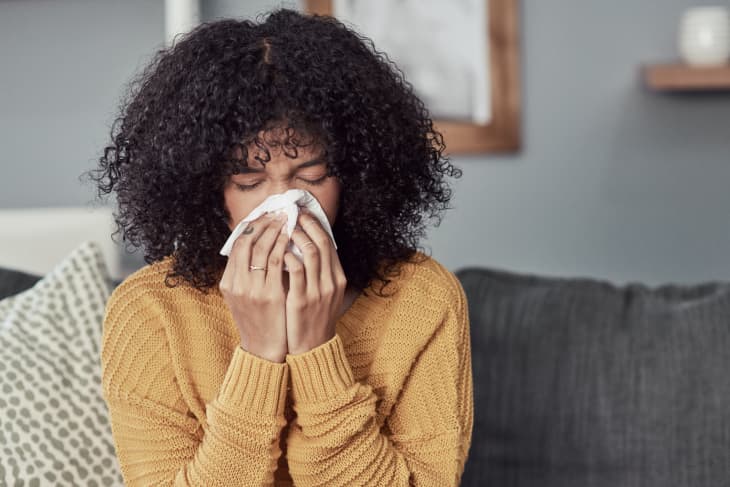 The Healthy Home Issue is an Apartment Therapy package dedicated to wellness where you live. We spoke with therapists, medical doctors, fitness experts, and more to put together a slew of health-focused tips and resources — find more feel-great insights here. 
It makes sense that you might deal with allergy symptoms when you step outside during certain times of the year (looking at you, spring). But when you start sneezing inside, it's a little confusing. Are you allergic to something in your house? Yep, it's possible.
Indoor allergies can cause all of those unpleasant symptoms that seasonal allergy sufferers struggle with — sneezing, stuffiness, runny nose, and an itchy throat, eyes, and ears — but year-round, says Purvi Parikh, M.D., an allergist and immunologist with Allergy & Asthma Network. Millions of people experience allergies to things that are found indoors, like dust mites, pet allergens, and indoor molds, according to the American Academy of Allergy, Asthma, and Immunology (AAAAI).
Sound like something you're dealing with? You don't need to just endure it. Try these indoor allergy hacks to get relief.
Avoid Fabric-Covered Headboards
Dust mites are a common indoor allergy trigger and, while they can be found pretty much anywhere in your home, they thrive in warm, humid spots like bedding, upholstered furniture, and carpeting, per the AAAAI. You can't see these teeny creatures without a microscope, but they can still cause uncomfortable symptoms.
"Any furniture covered in fabric is 'evil' in the eyes of allergists," says David Corry, M.D., professor of medicine-immunology, allergy, and rheumatology at Baylor College of Medicine. And a fabric-covered headboard will harbor dust mites right near your head, he points out, which can make your allergy symptoms even worse while you try to sleep. If you're shopping for a headboard, Dr. Parikh says "anything not fabric or upholstered," including those made of wood and metal, are a good choice. 
Use Your Vacuum on the Regular
The best way to keep indoor allergies on lockdown is to routinely clean — and your floors are an easy place to start.
Kara Wada, M.D., an allergist at The Ohio State University Wexner Medical Center, suggests running your vacuum weekly to suck up dust mites, mold spores, pet dander, and other indoor allergens that may be lurking on your hardwood and carpet. 
Heads-up: Dr. Corry says the best vac option is one that has a HEPA filter, which removes 99.97 percent of dust, pollen, mold, bacteria, and any airborne particles with a size of 0.3 microns or larger (as in, really small things). "They physically remove allergens from the air," Dr. Corry says. 
Wear a Mask When You Dust
Your go-to face mask does more than help protect you from COVID-19. Try putting one on while you dust to keep dust mites and their byproducts away from your nose and mouth. "This helps decrease exposure to dust mite waste and filters out some of the particulates that may also be irritating to the nose and sinus tissues," says Dr. Wada. 
In a perfect world, you'd wear an N95 mask, Dr. Corry says, "but they are very uncomfortable to use, especially when exerting, i.e. with cleaning." Instead, he says, a cloth face mask should help. "For the majority of people, a regular cloth mask is OK," Dr. Parikh says. If you have incredibly intense allergies, though, you probably want to opt for an N95, KN95, or KF94 mask. 
If you really want to ramp up the protection, you can wear protective glasses or goggles to keep dust away from your eyes as well, says Dr. Corry. "The more you protect your mucosal surfaces, the better," he says.
Open Up Windows and Doors While Cleaning
Try propping open windows or even leaving your exterior doors ajar when you dust and vacuum. This will create better airflow through a room, which can "reduce exposure to indoor allergens," Dr. Parikh says. Then, you're less likely to feel like you're having an allergic reaction during your cleaning routine.
One caveat/pro tip, per Dr. Parikh: "Don't do this during pollen season, as it may exacerbate pollen allergies." 
Purchase Dust Mite Covers for Your Pillows and Mattress
Simply putting a cloth pillowcase and sheets over your bedding does next to nothing when it comes to keeping dust mites out. Dust mite covers, on the other hand, swath your mattress and pillows in a special allergen-proof fabric or plastic to get the microscopic creatures away from your bedding, according to Dr. Wada. 
"The tight weave of these coverings helps prevent us from breathing in dust mite waste," Dr. Wada explains. They're easy to use, too: Just slip them over your pillow or mattress and then put your sheets on top.
Make Your Bedroom a No-Pets Zone
Speaking of your bedroom… you spend a lot of time in there, and if indoor allergens are lurking, you could get stuffy while you're trying to snooze. "Of all rooms, the bedroom is the most important to keep allergen-free," Dr. Parikh says. 
Pets can be a big source of indoor allergens, according to Dr. Wada, which is why they should stay out of your sleep space. "Pets not only have their own allergen they produce, but they also can track in pollen and mold spores if they are spending time outdoors," she says. "Keeping them out of the bedroom can allow your body a break from the ongoing exposure to allergens while you rest."
Even if you're a cleaning machine, it's nearly impossible to keep indoor allergens out of the air you breathe. But running an air purifier can help minimize the amount that's circulating in any given room, explains Dr. Parikh.
Dr. Corry recommends using an air purifier with a HEPA filter and, if you need your room to be silent when you snooze, running your purifier in the room during the day with your bedroom door closed so a lot of allergens from other rooms don't seep in, and turning it off just before you sleep. "The air in the room will be purified by then, assuring you an aeroallergen-free night," he says.
Limit Yourself to a Few Houseplants
Houseplants can perk up just about any space, but they also can provide a safe haven for indoor allergens. Keeping the number of houseplants you have at your place on the lower side can help reduce dust mite and mold exposure, since both can build up on your plants, Dr. Parikh says.
Don't freak, though! You don't need to completely eliminate plants from your home. There's no exact science to this, but Dr. Corry suggests sticking to one houseplant per room to limit possible exposure. 
Don't Leave Your Shower Running
Letting your bathroom get nice and steamy before you shower is a simple luxury, but it can also boost molds that may be lurking in there (in addition to, of course, using up a lot of water). That's why the Asthma and Allergy Foundation of America recommends that you don't run your shower for a long time before you hop in. 
Leaving the shower running doesn't just let mold thrive; it also can encourage dust mites. The habit "increases the humidity in the home, and dust mites thrive off of comfortable temperatures, humidity, and shed human skin cells," Dr. Wada says.
Another hack: Make sure you run the bathroom fan. "A fan will help with air exchanges and removing humidity, which will really help keep mold growth in check," Dr. Corry says. 
Apartment Therapy's Healthy Home Issue was written and edited independently by the Apartment Therapy editorial team and generously underwritten by Dyson.