Moving to Italy? Expats Share What Americans Need to Know
We
independently
select these products—if you buy from one of our links, we may earn a commission. All prices were accurate at the time of publishing.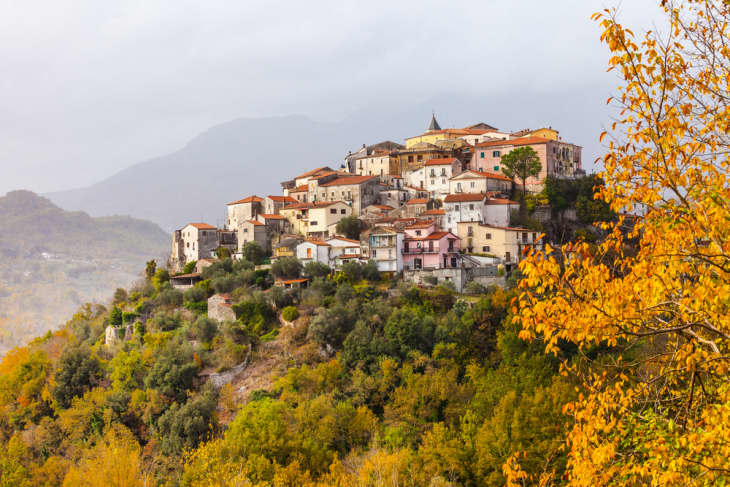 Italy is one of the top vacation destinations for Americans and for good reason. Many of us harbor fantasies of fixing up a crumbling old villa like Diane Lane in "Under the Tuscan Sun" or falling in love in Rome on the back of a vespa in the style of "Roman Holiday" . If you've ever visited beautiful cities like Rome, Florence, and Milan, or the charming villages in Tuscany or Umbria, you might have wondered what it would be like to live there. If you did, I certainly don't blame you!
I moved from New York City to Rome a little more than a year ago and I love living in Italy, but I can tell you from personal experience it's not as simple as it seems. From language barriers to navigating visa requirements and finding a place to live, there are a number of things to consider before taking the plunge. Here are some answers I've gathered to some of the most important questions you may have when planning a move to bella Italia. 
Can U.S. citizens move to Italy?
American citizens can move to Italy, with some caveats, as with any country. If your parents or grandparents were born in Italy and immigrated to the U.S., you can get an Italian passport, which grants you the right to live in Italy without going through the extra hurdle of getting a visa and/or permanent residence. Italy is part of Europe's Schengen Zone, which allows for seamless travel between member countries, so if you have, say, a French or German passport, you can also live in Italy.
If you're planning to spend more than 90 days in Italy and don't have an Italian or other E.U. passport, you'll need to apply for a visa and then a residence permit. 
There are two types of residence permits—permesso di soggiorno or carta di soggiorno—and the main difference between them is how long they last. (A permesso di soggiorno lasts one or two years, whereas a carta di soggiorno lasts five years.)
The easiest visa to get is a student visa, and some study abroad programs will help you with the application process. There are two main types of work visas: one for lavoro subordinato (if you're an employee of a company that will sponsor your visa) and one for lavoro autonomo (if you're self-employed and meet the qualifications). If you have a family member such as a parent or child in Italy or marry an Italian citizen, you can apply for a family reunification visa. Additionally, Erica Firpo, journalist and founder of Italian culture website Ciao Bella, says that there are personal wealth-based visas that can be obtained with proof that you have a certain amount of funds in your bank account. In light of the surge of remote workers, Italy is trying to make digital nomad visas easier than ever to obtain.
How difficult is it to move to Italy?
Unless you have an Italian or E.U. passport, the process of obtaining a visa and permanent residence in Italy is a long one full of bureaucratic hurdles. Generally speaking, Americans must first apply for a visa at the consulate that serves their state or region. Firpo says that depending on where you live, this can be quite a hike, so make sure to save time for a trip to their designated consulate, an in-person meeting, and a waiting period to get your documentation back. 
Next, you'll need to apply for a permesso di soggiorno or carta di soggiorno at select post offices within eight days of arriving in Italy. The forms for the latter are in Italian and are rather confusing, plus depending on the type of permit you're applying for, you'll need to submit supporting documents (tax return or other proof of income, lease for an apartment in Italy, etc.). So unless you're applying for a student visa or your employer can help, you will likely need to hire an immigration lawyer.
Once you've delivered your application to the post office and paid the fees, you'll receive an appointment for an interview and fingerprinting at the questura (a police station that also handles immigration), which might take place three to six months from the date you submit your application.
How expensive is it to move to Italy?
Aside from a plane ticket and application fees for a visa and permesso or carta di soggiorno, the cost of living in Italy varies depending on where you decide to live. Big cities like Rome, Florence, and Milan are more expensive than the countryside and small villages, but rents are generally lower than in American cities like New York, San Francisco, and Boston. When I moved here last year, I found a one-bedroom apartment in an amazing location in the center of Rome for about the same price I was paying to share a four-bedroom apartment in Brooklyn with three roommates. And now because of the economic crisis caused by the pandemic, rent prices in Italy are falling.
The housing market in Italy is quite different from what you're likely used to in the U.S. First of all, leases generally last longer than they do in the states—typically five years, during which time your landlord can't raise the rent. Apartments often have a washing machine, but not a dryer. Italians hang their laundry out to dry. And unlike in the U.S., unfurnished apartments sometimes come without kitchen counters or appliances. My apartment, for example, came semi-furnished with a bed, armoire, and side tables, a sofa, dining table and chairs, and a basic kitchen with counters, a sink, and a stove but no oven. However, it's also quite easy to find fully furnished apartments.
You may also want to consider leaving small appliances and certain other electric gadgets (i.e. hair dryer) at home. Firpo advises leaving the pricey items like your KitchenAid mixer and Dyson hair dryer at home for six months to a year until you're fully confident that you'll be staying in Italy for at least several years because you'll have to pay someone to convert them. Even so, Firpo warns that the voltage may still be a problem and you're better off purchasing similar items upon arriving in Italy.

If you're planning to relocate for the long haul, one thing to consider is that Italians pay high taxes, but have access to socialized healthcare, education, and other services. Italy's healthcare system may not be the most efficient in the world, but it's nice knowing that if you get sick or have an accident, your hospital bills aren't going to bankrupt you. Firpo notes that you do have to pay a small fee to become a part of Italy's healthcare system, so be sure to save a little extra. 
Can I move to Italy without a job?
Unless you have an Italian or E.U. passport, have family in Italy, or marry an Italian citizen, it's extremely difficult to move to Italy without a job. Italy's job market was already quite tough to break into (even for Italians) and the pandemic is wreaking havoc on the economy. According to Statista, the average annual salary in Italy was just under €28,000 in 2020. You'll be much better off if you can work remotely for an American or other international company while living in Italy.
"You can't just 'Air Drop' yourself in," Firpo says. "It's the same with changing states. You'll need rent and a deposit for rent, so if you're not working you'll need to think about how you'll make it happen. One of the nice things about living in the U.S. is the low unemployment rate, whereas in Italy, we have a high rate and it's tough to find a job. Give yourself time to make the connections you need to make." 
Is It hard to find housing in Italy?
Firpo says it's relatively easy to find housing in the country, depending on where you live. The journalist has been based in Rome for nearly 20 years and says, just like if you're looking for a home in another American city of the size here, you need to do your research and work with a reputable service to find the right place to live. Better yet, reach out to anyone you can to learn about the agencies and services they used. Firpo strongly advises having a legal, proper contract, no matter how long you'll be residing there. 
If you do decide to work with an agency, be prepared to pay a fee for that, but it will help give you peace of mind for those who want to settle in right away. If you'd like to avoid any additional payments, Firpo advises starting with a short-term rental or couch surfing until you can find a place that fits the budget and the neighborhood you want to be in. 
It's important to be prepared for a different type of living coming from the States. Firpo says that A/C is hard to come by in Italy, and if there is A/C in your building or home, it likely won't be as powerful as what you're used to back home. It's important to discuss any non-negotiables or essential creature comforts with an agency or service, if you're working with one, to find the right place to land. However, there may be some sacrifices required to get the location or other amenities you're looking for—you'll adjust in no time! 
Do I need to learn Italian before moving to Italy?
Especially if you're moving to a major city like Rome or Venice, Firpo says you don't have to learn Italian before moving, but it would be nice to get a basic understanding of the language. Don't stress yourself too much with having a poetic ability to speak Italian, but a little will go a long way while you get your bearings. 
"It's important to at least have a foundation with basic grammar for the past and present tense," she says. "But that's the homework side of it. Listening skills can easily be developed by watching Italian TV shows, like 'Gomorroah' or 'Suburra' with the subtitles or listening to Måneskin or, my childhood favorite, Luna Pop. It's really easy to get by without speaking Italian, but it's a pleasure for Italians when you make the attempt."
Firpo notes that you'll want to learn a few basic phrases to help you get started, related to things like opening a bank account, signing up for a gym, and getting around your new city.