How to Pack Lamps for Moving (Without Breaking any Bulbs!)
We independently select these products—if you buy from one of our links, we may earn a commission. All prices were accurate at the time of publishing.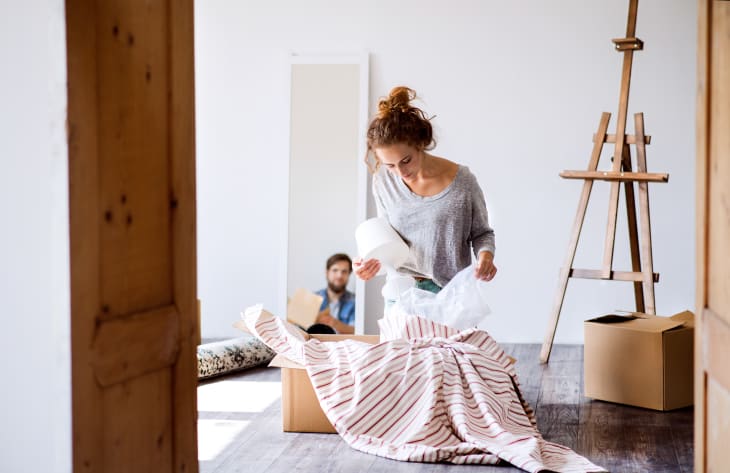 Lamps are the ideal home accessory. They're useful when there's not a lot of overhead lighting, they can bring an extra shine to a space you need to brighten up, and they're a fashion statement, as well. So when you move, you'll typically want to bring them with you. It's not as easy as you might think, though. You'll need to dismantle the lamp and properly pack everything for a safe arrival in your new home. Here's what the experts say to do. (And remember, these steps are for both table and floor lamps!)
Follow Topics for more like this
Follow for more stories like this
Step 1: Dismantle the lamp.
First things first — take apart the lamp, completely.
"Lamps can be a very difficult piece to move given the inherent fragility of most pieces," says Cameron Johnson, the CEO and founder of furniture rental company Nickson Living. "The most fundamental thing to remember when prepping a floor or table lamp to be moved is to disassemble it to the greatest extent possible."
Remove the bulb and lampshade, and take the screws out of the lamp stand itself and break it down. Keep all the small items together. For the cord, Michael Clarke, founder of home management platform Pulled, suggests wrapping it around the base and tucking the plug in. Johnson says to wrap it with a zip tie or Velcro so it doesn't get loose.
Step 2: Keep track of all the small bits.
Make sure you keep all the parts of your lamp in the same location. Screws can all go into one Ziploc bag with the hardware. If you want to keep the same lightbulb in your lamp, make sure it gets packed along with the shade. If everything is in one spot, it'll be easier to reassemble when you get to your new home.
Step 3: Pick the right boxes.
Don't have the original packaging anymore? It's alright — nobody ever does. Though that would be the best option for transporting your lamps, Johnson says the next best option is plastic totes.
"Packing the lamp in a plastic tote is more effective than a cardboard box as it will allow other items to be safely stored 'on top' of the lamp," Johnson says. "The shade can be transported in a separate tote to avoid it getting damaged — you can place the lamp shade inside a clean garbage bag, if you'd like, to protect it from dust and debris."
If you don't have any totes, cardboard boxes will be a good alternate choice. Alex Capozzolo, cofounder of Brotherly Love Real Estate, suggests using two boxes — one for the lamp and one for the shade. But since you may not know exactly which size boxes to get, "you'll want to measure all your lamps first and buy boxes from moving companies that will accommodate the tallest lamps," says Clarke.
Now, protect your lamps and wrap them up. You can wrap the base of the lamp tightly with bubble wrap, moving blankets, towels, or even throw blankets. For the lampshade, use clean and dry hands to wrap it in plastic or plain paper so it doesn't get any spots on it. Make sure you're covering it completely. Then box both the lamp base and shade.
"In both cases, make sure the packaging is full with peanuts or some sort of padding to keep things from breaking," Capozzolo says. "It is helpful to fill the inner area of the shade with a slightly more durable material, like a blanket or even paper to keep a fabric shade from creasing."
Make sure you put "fragile" on the boxes. You don't want to destroy all your careful packing work with a moving accident!