How to Paint a Tile Floor for a Budget-Friendly, Colorful Upgrade
We independently select these products—if you buy from one of our links, we may earn a commission. All prices were accurate at the time of publishing.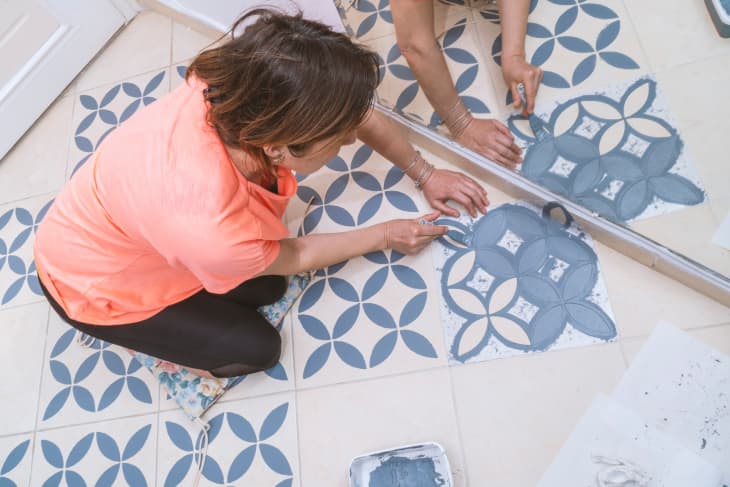 You already know that painting walls can totally change a room on a shoestring budget. But paint can be used to create budget transformation on other surfaces, as well. Painting floor tile has become a creative way to add some personality to bathrooms, kitchens, mudrooms, or any other space with tile flooring. Truly, some of the before-and-afters of painted tile floors are unrecognizable (in a good way).
If you take your time and do it correctly, painting your tile floor is a great money-saving DIY project—but, speaking as someone who has painted their kitchen tile floor before, trust me when I say it's imperative that you don't skip out on the prep work. Know that it's going to take a hot minute to complete this project—so if you're working in a high-traffic area of your home, perhaps consider relocating for the amount of time it takes you to complete the project.
Follow Topics for more like this
Follow for more stories like this
"The beauty about painting is you can change the perspective of any room, and it's economical," says Jonathan Rios, professional painter and owner of Rios Interiors in New York City. "It'll bring something different, because if you have to renovate, the cost will be 10 times more than if you do it yourself."
But the key question: Does it matter whether you're working with laminate, ceramic, or vinyl tiling? "The good thing is, now with the products that are on the market, you can basically paint almost anything," says Rios. The key is to pick and apply a good, strong binding primer.(more on that below). Here's what you'll need to paint a tile floor, and how to do it.
What you'll need to paint a tile floor
How to paint a tile floor
If you've been living in your space for a while, you'll want to do a good cleaning of the area before you even begin. We're talking a full-on mop-in-the-bucket floor clean to remove any scum or grime that has built up over time.
Using 220 grit sandpaper, give a light sanding to the tile. That helps remove any grease or anything stuck onto the tile you weren't able to get with a mop. It also helps the primer grip onto the tile. You can sand by hand, but if you're working with a good amount of flooring then a handheld sand orbiter will make your life much easier. 
3. Thoroughly clean and prep the area
Time to clean again. Wipe away any sand grit you've created, and really take a second look at where any dirt could be hiding—like in the grout. If you don't clean it away now, it'll get mixed in when you start painting and then it will be a part of your life forever (speaking from experience here!).
If you want an extra barrier of protection, tape off the wall so that if your roller or brush taps the wall, you won't accidentally paint the wall with your floor color.
4. Be strategic about where you start
You definitely don't want to paint yourself into a corner, so be strategic about where you start. "Don't start painting near the entrance," advises Rios. If the furthest thing from the door is the tub or shower, start there, and then paint by backing your way out of the bathroom.
"If you are painting tiles in the bathroom in the shower area or a place with a lot of humidity, in the end, it won't last 100%," warns Rios. But the key to it lasting as long as possible is to use the correct primer. He recommends a strong-bonding primer that will adhere to otherwise hard-to-paint surfaces such as INSL-X Stix, KILZ, or Fresh Start from Benjamin Moore.
After the first coat of primer has dried, apply a second.
"An epoxy paint will last longer than a water-based paint..or you could use a Sherwin Williams or Benjamin Moore Floor & Patio paint," says Rios. "It will hold better than a regular wall or ceiling paint."
Once your top coat of paint dries, if you want to go back and add stenciling or designs, this is the time. Otherwise, enjoy! While painting your tile is not a forever-fix—especially in high-traffic areas—it's still a project worth doing. And it's much cheaper than replacing your current tile with different colored or patterned tile! "Don't be afraid to explore," says Rios. "At the end of the day, it'll be something that's worth it."