12 Kitchen, Bathroom, and Other Baby-Friendly Habits New Parents Swear By
We independently select these products—if you buy from one of our links, we may earn a commission. All prices were accurate at the time of publishing.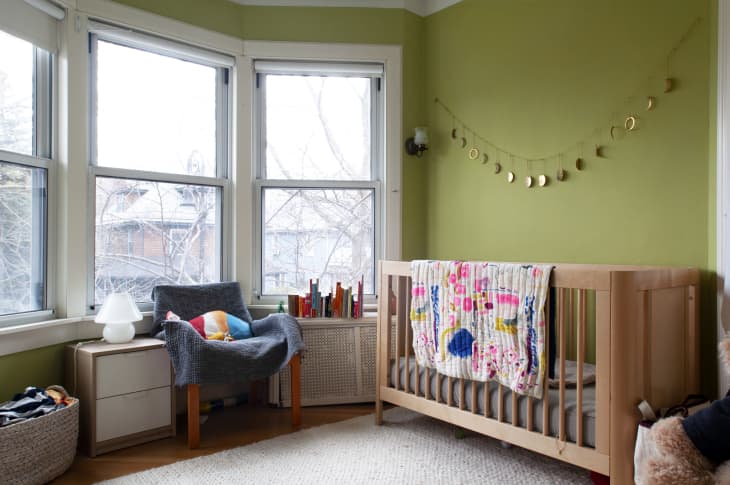 Welcoming a new baby to your family brings with it endless joys — and endless challenges, especially when it comes to incorporating diapers, bottles, and piles of teeny onesies into your existing routines. 
Follow Topics for more like this
Follow for more stories like this
As someone who's about to give birth to her first baby, I have a lot of questions about caring for my newborn while keeping my house in some semblance of order, so I reached out to the experts: parents! They shared their biggest hacks for the kitchen, bathroom, laundry and everything else baby-related, so whether you're expecting a new addition or currently adjusting to life with a little one, you'll find helpful tips for these exciting — and exhausting — days.
1. Keep a bottle of stain remover in the kitchen to stop food stains before they start 
The kitchen is the heart of the home, and a lot of baby-centric activities take place there, from meal prep to washing endless bottles to feeding the first solid foods. That means it can also be the hub for lots of messes and unexpected lessons.
"Keep a bottle of stain remover spray in the kitchen to immediately get it working after a messy meal so you're not spending a ton of time preparing laundry before anything goes in the machine," recommends Abby Sztein of Maryland. 
2. Invest in a splat mat to make messy eating less stressful
Sztein also advises investing in a washable splat mat to keep underneath the high chair once your baby graduates to sitting for meals. "It makes cleanup so much better," she says. "If the day is hectic, gathering up the mat and funneling [food mess] into the trash is a very quick way to get the worst off the floor so you're not losing kitchen space."
3. Keep essential supplies at the ready in all of the rooms you live in most
Some new parents even make the kitchen ground zero for all baby supplies to make life easier, or at least stock up on doubles of the products they use day in and day out. "I had an Ikea cart in the kitchen with all supplies so when I needed something it was there: bottles, formula, wipes, diapers, burp cloths," says Lauren Palay-Paletz of Minneapolis, Minnesota. "This way my husband knew where things were, and my oldest was also able to grab things for me off the cart."
4. Wash smarter, not harder
If you're nursing, pumping, or a hybrid of both, you'll likely find that pumping parts and bottles take up tons of counter space and require a lot of work to clean. Save time with a device meant to do the hard work for you. "Instead of having lots of bottles on deck, we bought a countertop dryer/sterilizer and it was amazing when I was still pumping to have fully dried parts in 40 minutes," says MJ Chinworth of Richmond, Virginia.
5. Set up changing stations all over the house
Babies go to the bathroom — a lot — but changing your little one doesn't have to be that much of a chore, and nor does finding time to care for yourself. Many parents recommend creating changing stations all over the house, especially where you spend the most time. There's no shame in a living room changing game! Stash a portable changing pad, wipes, diapers, and cream in a cute basket or tote on every floor of your house to make changes easier and avoid running up and down stairs.
6. Invest in extra lighting specifically for nighttime diaper changes
In the early days when sleep is scant and you're looking for any way to get through nighttime changes and feedings without waking your little one, you may want to consider clever hacks for nursery lighting. "Get a clamp or clip-on light for the changing table. That way you can just turn on the little light for nighttime diaper changes instead of turning on the overhead light or something that will illuminate the entire room. You can position it exactly where you need it," recommends mother-of-two Kate Kearns of Minneapolis.
7. If you or your partner are giving birth, create a special spot for postpartum care products
The bathroom is a key space for postpartum aftercare, so stock your space with any supplies needed to recover from birth. "Prepare for postpartum with everything you might need in a basket in the bathroom," recommends Holly Hulke of Minnetonka, Minnesota. "Pads, adult diapers, witch hazel, peri bottles… it makes recovery so much easier."
8. Make the bathroom do double duty for nighttime and naptime bottles
Make your bathroom do double duty as a storage and cleaning space, especially if you have your bedrooms on an upper level. "Everyone has those cute green grass bottle drying racks. I got two and keep one in the kitchen downstairs and one on the bathroom counter upstairs," shares new mom Jenny Hirschey of St. Paul, Minnesota. "We're constantly drying bottles, pump parts, and pacifiers."
9. Keep clutter at a minimum with designated storage spaces
Babies and kids tend to come with a lot of stuff, so to reduce clutter throughout your home, many parents recommend rotating toys on a regular basis. "Have a storage bin hidden somewhere and cycle through toys each month. It keeps things fresh for your kiddo and you aren't drowning in toys," shares Gina Dolski of Gather Birth Cooperative in Minneapolis.
10. Invest in cute baskets and bins
"Have a place for the baby's stuff," says Vicky B. from New York City. "Out of sight, out of mind — that really helped me feel like things were not a disaster, that I could toss things into a super cute set of fabric bins or behind the cabinet doors of my changing table." Her favorites are the canvas bins and baskets from chic baby and kid store Pehr. 
11. Pass items on when you're done with them
If you don't have friends or family to pass clothes and other baby gear onto once your child has grown out of them, head to Facebook! "I highly recommend joining your local Buy Nothing group. It's been a great way to acquire a ton of clothes for my baby and then pass them on when she's done with them," says Wendy Frink of New York City. "Babies use so much stuff and often for such a short amount of time, that it's nice to get these for free and then pass them on when you're done. Whether it's to save money, space, or the environment — or all three! — it's really a win-win."
12. Keep your last-minute must-haves by the front door
While many of us aren't currently leaving the house very often, trying to get somewhere with a new baby in tow can be stressful. Make things easier for yourself when traveling — even if it's just to Target or the grocery store — with a simple hack for last-minute needs.
"When packing up to go somewhere for the day or overnight, leave an empty tote bag at the front door to fill up with the last-minute random things you forgot to add to your bags," shares Annie Reeves Bradberry of Athens, Georgia. So many adventures await with your little one — be prepared!