How to Actually Get Coffee and Tea Mugs Clean, According to a Barista
We independently select these products—if you buy from one of our links, we may earn a commission. All prices were accurate at the time of publishing.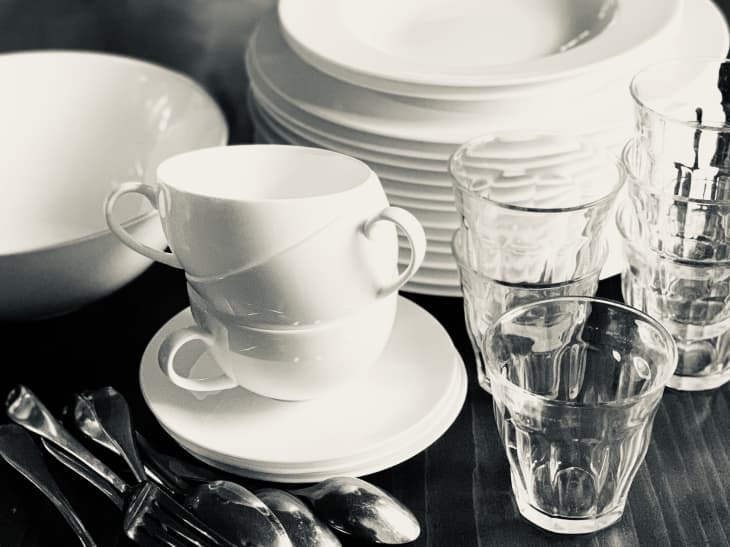 A few weeks after we got engaged, my now-husband and I spent the afternoon at Crate and Barrel, registering for our wedding gifts. One thing we chose that we still use now is a set of eight white mugs. I'm more of an iced coffee gal, but my husband makes an Americano in one of these mugs every morning — sometimes twice. So as you can imagine, these wedding-day heirlooms are definitely not as white as they once were. 
What shouldn't be surprising is that our mugs aren't bright white anymore — we use them all the time, and I haven't done anything special in terms of washing. I just rinse them and throw them in the dishwasher with everything else. What does surprise me is that I haven't figured out a foolproof mug-cleaning method yet. 
Follow Topics for more like this
Follow for more stories like this
For one thing, I write cleaning content, so it wouldn't be that hard to figure out. I'd also be remiss not to mention I spent most of my engagement working at a coffee shop. That, of course, involved serving drinks to customers (including one Josh Hartnett). But I logged probably just as much time in front of the sink, washing coffee and tea mugs. A lot's changed since then, and I don't remember how I cleaned them. I do remember they never had stains. 
If I'm being honest with myself, it's probably time to think about buying a new set — most of ours have shattered or chipped over the last decade. I feel a little attached to the remaining mugs, though, and I want to do whatever I can to get them actually clean. To figure out how to do that, I reached out to a couple of baristas who know a whole lot better than I do. Here's what I found out about how to get — and keep — coffee and tea mugs clean, no matter their color. 
Clean your mug right away 
As with any chore, cleaning a mug is a lot easier when the stain is fresh. "My first tip would always be don't let the cups sit there dirty for too long," says Tom Saxon, a former barista and the founder of Batch Coffee, a U.K. based coffee subscription. "The quicker you wash them, the easier the coffee stains will come out."
Mild stain in your favorite mug? Alex Mastin, CEO and founder of Home Grounds, shared a super-simple but smart method to erase it: Add a bit of baking soda at the bottom of the mug, followed by a few drops of tap water to form a thick paste, which will act as an abrasive. Then, scrub the inside of the mug with a sponge until the stain disappears and wash it normally. 
Bar Keepers Friend, a fan-favorite scouring powder, is another simple way to remove tough stains on coffee mugs and teacups—plus, it banishes strong smells, says Melissa Collins, partnership manager at Perfect Brew, food scientist, and owner of a cafe in Henderson, Nevada. "Just use it instead of dish soap and scrub with a ball of steel wool," she says. "You can use a soft sponge in case the cups or mugs have a decorative exterior." 
Soak overnight with BKF or vinegar
You may need more tools (and time) for stains that won't let up. Devinder Lamsar, a former Starbucks employee, says her go-to ingredients for cleaning pesky black tea stains are Bar Keepers Friend and vinegar. First, add a few shakes of BKF powder to the offending mug, followed by hot water, and leave it overnight. (Tip: If you don't have BKF on hand, you can use a dishwasher pod.) "Follow it with a baking soda and vinegar rinse so your caffeinated beverage of choice doesn't taste like chemicals," she suggests. 
None of these cleaning products on hand? In a pinch, lemon juice may just do the trick. Add a bit of fresh lemon juice to the stained mug, and leave it for a few hours to work on the stain. "Then, use a non-scratching blue sponge to rub the rest of the stain out," suggests Troy De Ville, a barista and founder of Carmel Bay Coffee. 
Your favorite toothpaste doesn't only whiten your teeth — the abrasive ingredients may also fend off stains in a mug, says De Ville. Add a bit of toothpaste to an old toothbrush, then use it to gently scrub out the stains. Just don't forget to give the mug a proper wash after so your morning joe doesn't taste like peppermint mocha!