The First Thing to Know About Renting Furniture
We independently select these products—if you buy from one of our links, we may earn a commission. All prices were accurate at the time of publishing.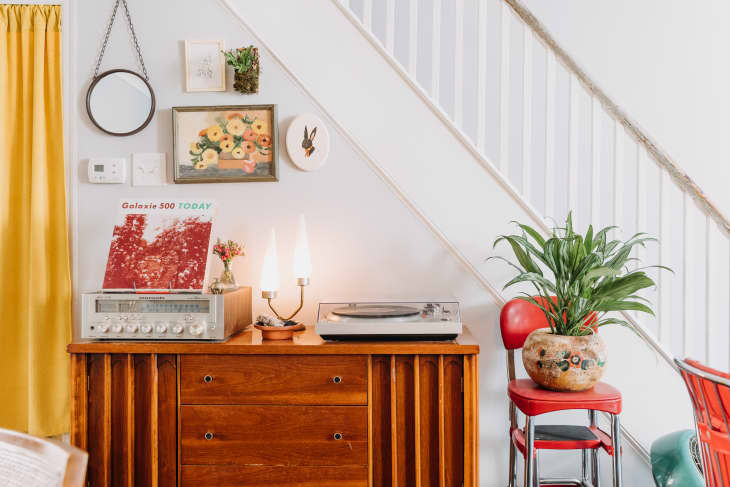 Renting furniture is an approachable option for renters and homeowners alike. If you're looking to decorate your space for a short period of time, or if you like to switch up your interior design style often, furniture rental may be worth considering.
Follow Topics for more like this
Follow for more stories like this
How Does Furniture Rental Work?
While each furniture rental company is different, the process is roughly the same. To begin, you'll choose pieces from their product lineup and select a lease term. Pricing will vary according to a few factors. Some places offer a whole suite to furnish a single room so you can bundle the items for a better rate.
Depending on the rental agreement, you may need to consent to a credit check, verify your income, and provide references. Once your application is approved, you can schedule delivery. Then you're able to enjoy your furniture for the duration of the lease. The company should contact you with end-of-term options when that time comes.
Furniture Rental Pros and Cons
Renting furniture can be great for short-term living arrangements. If you're subletting an empty apartment for a few months or need some items to furnish a dorm room, a rental service is a quick and easy solution. However, depending on your lease term, the cost to rent may outweigh the value of the items you choose — especially when you consider interest rates and other fees. The tradeoff for convenience is a higher total cost of ownership.
Furniture rental also helps fight the issue of "fast furniture" and promotes product circularity. The items you rent will be cleaned and renewed for the next person. This helps reduce the amount of furniture in landfills when consumers' tastes change and trends fizzle. Unfortunately, some companies may provide lower quality items to help maximize their profits. When in doubt, check the materials specifications, and always choose pieces made of solid wood over ones that use a fiberboard board mix.
Furniture Rental Companies
CORT aims to serve anyone "looking to make a house a home," according to their mission statement. Their service model includes an easy upgrade program so you can swap pieces out when the lease ends. Student packages, military packages, and move-in ready packages are available.
Also known as BFR, Brooke Furniture Rental claims to be a fast, easy, worry-free, and sustainable option for renters. They offer free returns and exchanges within the first seven days, and promote renting over buying for the flexibility, freedom, and ease. If you'd like to buy an item at the end of your lease term, the monthly payments are not applied to the purchase price, but they do offer a discounted rate.
Feather is a newer furniture rental service, established in 2017. The company's goal is to help consumers furnish their space "with quality items that are well designed," according to CEO Jay Reno. Feather lets you rent single items, as well as full-room or studio packages.
Fernish offers "premium" rentals from designers like CB2, Crate & Barrel, and more. Delivery and assembly are free, but they're currently only available in a few cities throughout the U.S.
Longer-established companies like Aaron's and Rent-A-Center are more widely accessible throughout the country, serving a broader group of people. Their rent-to-own programs are often a convenient option if you don't have the budget to pay for furniture in full up front and don't have the credit to qualify for traditional financing options.
Renting furniture is often more costly in the long run, but it can be a quick and convenient choice in certain circumstances. Pay close attention to the fee schedule when planning your budget, and make sure to read the contract thoroughly.