Leaks, No Coffeepot, Can't Get In? Here's How to Resolve the Most Common Airbnb Issues
We independently select these products—if you buy from one of our links, we may earn a commission. All prices were accurate at the time of publishing.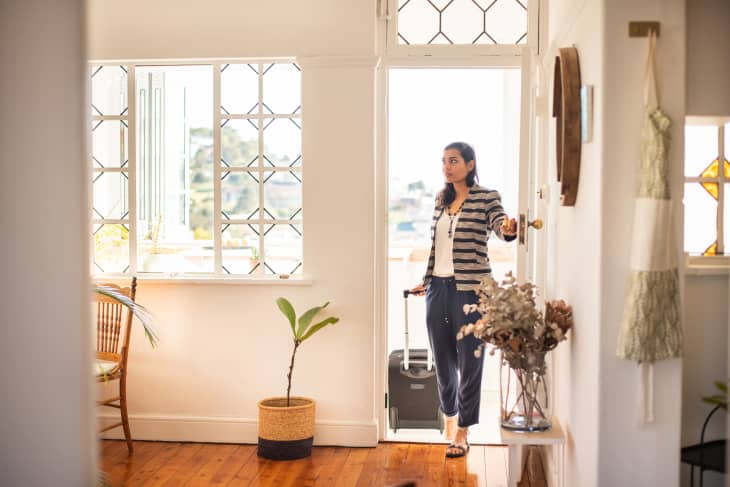 Summer is here, and one of the most exciting parts of the season is taking much-needed time off and exploring somewhere new, especially if you've been looking forward to your vacation for months. Although you've packed the essentials, curated your itinerary, and prepared for unforeseen circumstances, there are some surprises you can't plan for — especially when your Airbnb accommodations don't meet your expectations. 
Although most short-term rental hosts do their best to ensure their guests are safe and have a comfortable stay, sometimes the unexpected happens, which begs the question: What do you do if you have a problem during your Airbnb stay? Do you let it go, contact the host, or alert Airbnb? The answer is: Yes, depending on the situation. From common problems to feeling unsafe, here are six tips on resolving issues with your Airbnb the right way.
Consider whether you can solve the problem yourself.
Some issues are simple enough to resolve on your own. "Depending on the problem, see if you can fix it yourself first," suggests Chris Cerra, who has a newsletter that shares Airbnb deals with remote workers. If you can't figure out how to get in or find the coffeepot, scan the original listing to see if the host included that information. "Maybe there are instructions somewhere in the booking confirmation or the general listing page," says Cerra. Additionally, many hosts publish guidebooks within their listings to help guests navigate the property.
Give the host a chance to rectify the situation.
Although some problems may eventually require intervention from Airbnb, your first step should be to alert the host that you are having an issue. "Almost all problems can be easily solved when a guest contacts us directly," offers short-term rental host Amy Stride. "We know our properties very well. Often an issue for a guest is not an issue for us. We know the solution, or we'll work hard to find it."
Because Airbnb works on a reviews system, most owners are concerned about customer service. Future guests will read feedback from prior stays and look at the overall star rating to determine whether or not they want to book a property. Travel blogger Claire Summer frequently reserves Airbnbs and realizes how vital the rating system is. "Hosts need gleaming reviews from guests, and they will go out of their way to be accommodating to ensure you are happy," she says. Summer also notes that contacting the owner allows them to correct situations. "My first port of call when something goes wrong in an Airbnb is to contact the host," she says. "I'd say nine times out of 10 this will get the problem solved quickly."
Communicate with your host via the Airbnb app.
Even if your host lists their phone number, WhatsApp contact, or email address, only communicate with them through Airbnb messaging via the app or website. If you have a situation that amplifies or needs mediation, having documentation is essential. Think of the platform's messaging service as a system of checks and balances to cite the problem and keep things civil.
Alex Gillard is a wildlife photographer and avid Airbnb user who has stayed in over 50 short-term rentals. "When Airbnb is arbitrating disputes, they will be consulting your chat history with the host on the app," he says. "I always prefer to bring things like dirt, leaks, noise, and potential hazards to a host's attention both on the app and any other medium of communication we have open."
Document the issue with photos if necessary.
In addition to written documentation of a circumstance, if the issue is more unsavory — for example, damage, uncleanliness, bugs, or an unsafe situation — take photos. Your best defense is to take pictures and send them to your host through Airbnb messaging. "Without photo evidence of what you are alleging, it's going to be your word against theirs," warns Gillard. Sending an image gently alerts your host that you have proof that something's awry. Of course, not all situations require photos, so use images to clarify and explain issues to your host while having evidence should the need arise.
Ask Airbnb to intervene on your behalf.
When a host is unresponsive, uncooperative, or confrontational, you may have to escalate your plight by contacting Airbnb. Their website has a help center where you can find answers quickly, but your best bet is to call them directly. You can explain the conditions to an Airbnb representative, who can access your account and see the message exchange with your host. They will also contact the Airbnb owner to ask about the situation. 
"If an owner is not responding, then the next step is to contact Airbnb," advises Stride. "If a holiday has not met expectations and the host has been unhelpful, then that is the time to contact Airbnb. They will arbitrate in a dispute, and they will offer refunds if it is appropriate." 
In the event that you feel unsafe, it's best to vacate the property first before contacting your host and calling Airbnb. Representatives are available 24/7 to aid guests, and Airbnb also has tips on confidently choosing a safe stay.
Be honest in your review.
No matter how proactive a host is, things happen. For example, light bulbs burn out, appliances break, and the last guest may have misplaced the Keurig, leaving you unable to make your morning cup of coffee. If your host rectified the situation, praise their efforts, but if the listing was misrepresented or there was an issue, leaving an accurate review can benefit future guests. 
However, it's best to address issues immediately instead of simply leaving scathing feedback. "If you wait until after your stay when you're writing the review, it's too late for the host to fix the issue," says Airbnb Superhost Rena Pacheco-Theard. Owners rely heavily on Airbnb's rating system. "They can't fix what they don't know about, and a negative review can hurt their ability to host future guests. Timely communication is key," adds Pacheco-Theard.
Ultimately, hosts are in the business of hospitality, and guests are searching for unique stays, fair value, and accurately described listings. "Good hosts list their homes on Airbnb because they want to delight their guests, and they will go above and beyond to make that happen," concludes Pacheco-Theard. "Things come up during stays, so let your host make it right. Good hosts are not adversaries; they are doing their best to make your day."