I Only Ever Travel With Carry-On Luggage and This Is How I Do It
We
independently
select these products—if you buy from one of our links, we may earn a commission. All prices were accurate at the time of publishing.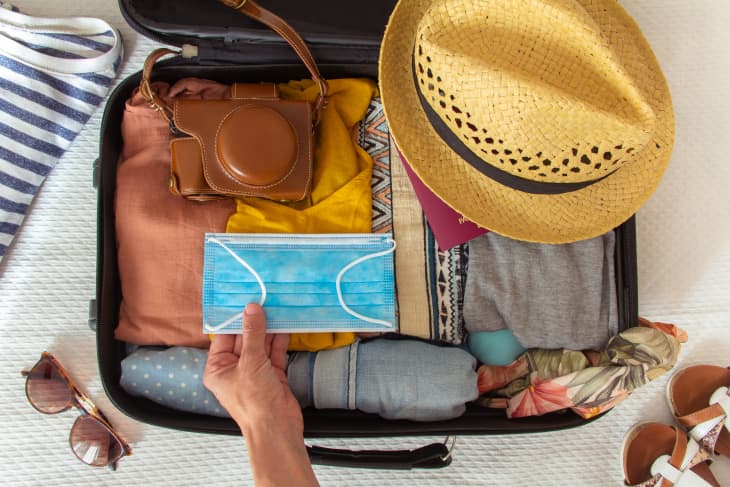 Ah, summer vacations! One of my New Year's resolutions is to go on at least one vacation this year, and I'm already flexing my packing muscles after two years of staying at home. I must admit, I pride myself on being able to pack everything I need in a carry-on, since the last thing I want to do once I arrive at my vacation spot is head to baggage claim and wait for my checked luggage. It always adds extra time, and I can't help but feel a slight sense of anxiety as I search for my luggage amidst everyone else's. Plus, in the past, if I was checking a bag, it was because I packed four extra pairs of shoes I thought I might wear, then never actually did.  I've learned a lot since then, and perfecting the art of traveling with carry-on luggage saves me time, money, and keeps travel anxiety at bay.  
Not all trips are created equal of course, and what and how you pack depends on a lot of different things, from how long your trip is to whether you're traveling alone or with family.  Wherever your wanderlust is taking you this season, the following tips will help any sort of traveler and encourage you to pare down at the very least, so you can focus on what your summer vacation essentials are this year. 
My rising sign is in Virgo, so it's no surprise that I love a neat and tidy suitcase. Not only do packing cubes help you stay more organized, they also make everything more compact, saving some space in your suitcase. How you pack your cubes is up to you, and my go-to is packing them by day, since it takes the guesswork out of picking out outfits, and the cubes help me visualize the length of my trip (i.e. four cubes for a four-day trip). You could also try packing by category — think, a large cube for tops and pants, a medium cube for swimsuits and a small cube for undergarments. This method also works if you're packing for kids — you can put daily outfits in each cube, along with backups for spills, rips, and other all-too common occurrences. Bonus tip: Roll your clothes instead of folding them, you'll save even more space!
Pack clothing you can mix and match.
Planning outfits is one of my favorite parts of any trip, but I think overpacking clothes is basically inevitable. Questions always pop into my mind as I'm packing like, what if it's cold? What if I want to be spontaneous and end up somewhere fancy? What if I don't feel like wearing the outfit I planned on wearing for a particular day? I have to have options!! This can obviously lead to packing way more than what you actually need, but one way to minimize the clothing you pack is to bring items that can be worn in one or two ways, and items you can mix and match. Creating a capsule wardrobe is great, and packing clothes that can be dressed up or dressed down is key to keeping your travel wardrobe minimal so it can all fit in a carry-on. For example, I love the versatility of a white button down, which can be used as a cover-up for the beach, and also as a top for an evening out.
Only pack your toiletry basics, then make them travel-sized.
Paring down things like my skincare and makeup for trips is really important, since TSA only allows a quart-sized bag of liquids through security. This is a time to get creative! I only travel with the toiletries I can't live without, and I use TSA-approved travel bottles so I know for sure there won't be a problem getting through security. If you're staying at a hotel, they will more than likely have shampoo, conditioner, and body wash available to you, and instead of packing every step of my skincare routine, I keep it simple and pack a cleanser, a moisturizer, and a sunscreen.  This is also a great time to find those sample sizes of face wash, perfume, and lotion piled underneath your bathroom sink — they're great to travel with and hardly take up space. If you have necessary medications or medical equipment, it's a great idea to pack them in a carry-on anyway, just in case checked baggage gets lost.
Pack a weekender bag as your personal item.
In addition to your carry-on luggage you stow in the overhead bin, most airlines allow you another bag or personal item, as long as it fits under the seat in front of you. This is when a weekender bag comes in clutch. Anything that doesn't fit into my suitcase ends up in my weekender bag, and mine is usually filled with an extra outfit and a lightweight pair of shoes, a book, my quart-sized bag of toiletries (storing them here makes it much easier to take them out when going through security), and leave room for anything new I may bring back home. Having easy access to my phone, wallet, and passport is key as well, so I keep a small purse on me, then pack it in my weekender bag when it's time to board the plane.  
Pack ahead of time so you can adjust if need be.
Packing everything into a carry-on isn't always easy, especially if you're used to checking a bag, you're going on a longer trip, or if your essentials simply don't fit into a smaller sized suitcase. If you're anything like me, you're probably going to have second thoughts about the things you really need on your trip versus the things you don't. Create a packing list a few days ahead of time, so you have time to think on it and change your mind. If you anticipate being tight on space, have a practice run and actually pack your suitcase a few days before, just to see if everything fits. It's definitely better to have to edit your items a few days out instead of as you're heading out the door!