Don't Throw Out Your Bubble Wrap — Here's What You Can Do with It
We independently select these products—if you buy from one of our links, we may earn a commission. All prices were accurate at the time of publishing.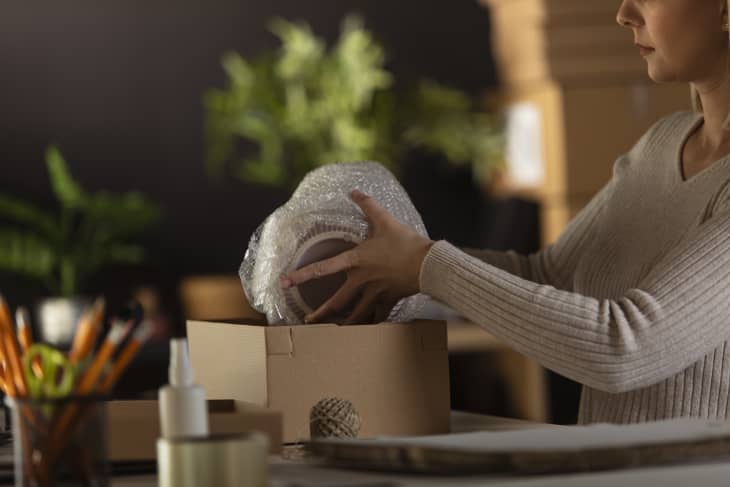 Moving into a different home is a tiring (and often messy) ordeal. The process of packing and unpacking everything — and then finding a perfect place to store all of your things in a new environment — can tucker anybody out. By the end of it, you're likely inundated with a load of loose bubble wrap. More often than not, that stuff is still usable — so don't throw it away just yet.
Although popping all the bubbles is a great way to relieve some stress, it might be a better idea to reuse the bubble wrap instead. That way, you can minimize plastic waste while improving your home. Here are five clever ways to reuse all the bubble wrap you've accumulated.
If you're shipping fragile items to friends or family members, it's the perfect opportunity to reuse some of that bubble wrap. 
Or, if someone you know is planning a move, you could give them some bubble wrap to help them out.
Give shape to clothes, shoes, and bags.
Bubble wrap has plenty of uses in your wardrobe, like stuffing handbags and shoes to maintain their shape in storage, says Piper. They're especially helpful for knee- and thigh-high boots, which are sometimes made with materials that tend to sag.
To avoid a potential mold problem, Piper recommends making sure that the items are completely dry and clean before adding bubble wrap to the equation.
You may also use bubble wrap to protect clothes from hangers, says Piper. Some are too pointy and have hooks that tend to snag more delicate items, like sweaters or silk pieces of clothing. Bubble wrap is perfect for DIY padded hangers as well, which you can use for jackets or costumes.
Keep plants standing upright.
Bubble wrap also comes in handy when gardening — especially when you want to keep a plant steady if the pot is too big.
"Because I have a lot of houseplants and I thrift all the pots for them, I find sometimes I have a plant that's too small for the pot," says Piper. "Using bubble wrap around the sides of the plant pot can keep a plant from leaning in a roomier pot."
This is best as a temporary remedy while you look for a more appropriate pot. Overpotting affects plant growth, and the bubble wrap might lead to drying and aeration issues.
Holding brooms, rakes, shovels, and similar tools often hurts your hands after prolonged use. Because tool handles are made of materials like wood or metal, they don't adjust to your grip and may sometimes lead to blisters.
However, if you use bubble wrap to act as a grip around the handle, you might feel more comfortable. Just secure the bubble wrap with some adhesive and you're good to go.
To protect your home from scratches or any unfortunate marks from furniture, bubble wrap may be the key. 
"I'm a renter, so I don't want to scratch my floors or walls," says Piper. "Some bubble wrap can help to create some cushion between chair legs and floors, as well as walls and tables."
Because bubble wrap works great as a buffer, it's a fitting material for baby-proofing your home as well. You don't have to look any further when you need to cover the sharp corners of coffee tables or cabinets.