Here's How to Ship a Car Abroad
We independently select these products—if you buy from one of our links, we may earn a commission. All prices were accurate at the time of publishing.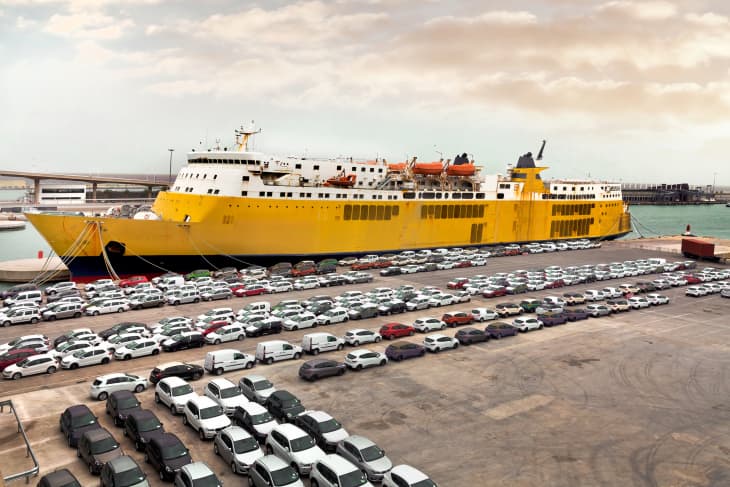 With the possibility of working remotely, more folks are choosing to live a nomadic lifestyle and explore other areas of the globe. Translation: It's time to start packing! While you can always host a yard sale to purge unnecessary items and donate clothing to a local charity, you'll probably have items that are a little more difficult to part with, such as your vehicle. After all, it's been a sturdy companion, and you've traveled many miles together. But, before you slap a "for sale" sign on your car, consider taking it with you. Shipping a car is easier than you think, and there are plenty of options depending on your budget. Here's how to send your vehicle abroad so you don't have to bid it a teary goodbye. 
Follow Topics for more like this
Follow for more stories like this
What do I need to know before shipping a car?
Getting your car from one place to another depends significantly on where you're headed, so it's best to know the laws at your final stop. "Before shipping a car abroad, you need to research the destination country's import regulations," advises Myer Aviv, the founder of iMoving, a company that facilitates moves. He also recommends gathering a few documents, such as a bill of lading and comprehensive insurance coverage.
The shipping cost may not be your only expense as you'll need to prepare to pay any fees when the car arrives. "When shipping a car overseas, you may be required to pay import taxes or duties upon arrival at your destination country," says Joe Giranda, the director of sales and marketing for CFR Classic, a company that ships cars internationally. You can research these costs beforehand so you aren't caught off guard, or ask your shipping company to help determine these fees.
You should also ensure that your car is in good condition before shipping, because any damage during transport will be your responsibility. "A good way to prepare the car is to clean it and document its condition with photos," Aviv tells Apartment Therapy. It's also smart to disable your alarm system and remove any personal belongings from the interior. 
How much does shipping cost for a car?
The best way to find out the exact cost of transporting your car is to get quotes from various freight companies and see if there are any additional expenses. "Be sure to ask about any hidden fees or charges so that you can budget accordingly," recommends Giranda. The dimensions and weight are also factors that impact the total price. "Generally speaking, the larger the vehicle, the more it will cost to ship," he adds. 
Once the shipping company knows the details of your vehicle and where you want it shipped to and from, they can come up with an accurate quote. However, costs can vary greatly. "The average cost to ship a car overseas using standard transport service is $1,000 to $5,000," says Aviv. In addition to your vehicle's stats, the distance traveled will also impact the final cost, as will the method of shipping. You can also choose various types of transport, from having your car in with other vehicles or purchasing a dedicated container for your car to go solo. 
What is the cheapest company to ship your car?
Several companies will ship your car overseas, but if you're looking for a budget solution, select one with a RORO (roll-on, roll-off) option. Instead of moving in a container, they will roll your car into the ship's belly with other vehicles. Sumanth Jois has had cars shipped to South Africa and believes that RORO is the best and cheapest way to ship your vehicle, although there is one caveat. "You will have to give your keys to the shipping company," says Jois. "The downside is people on the ship will have access to your vehicle."
Kayla Laatz paid $1,200 to ship her car from Las Vegas, Nevada, to Kauai, Hawaii, in 2021 and is adamant about emptying your vehicle.
"Never leave anything inside your car… it will all be taken. I learned that lesson the hard way," she advises, as she had everything from loose change to jumper cables taken from her car en route. Be especially careful not to put any valuables in your vehicle, as losing precious items or things you need to replace only offsets any savings on freight.